Lynden boys repeated with hoops title; LC football on rise; Lion freshman wins state golf 
WHATCOM — "Only" one team and one individual state title was collected by north Whatcom teams in 2019, which would be a success in most Washington state counties but is perhaps a slight down year for this one. In 2018, the county saw five state titles and three by Lynden alone.
Nevertheless, 2019 saw some monumental moments, multiple records shattered and even a never-before-seen occurrence. I tried my best to compile the top-10 prep sports moments in the north county, which means some great events don't make the list and not every sport makes an appearance.
Here they are in reverse order, the top sports moments of the year:
10. Lynden Christian volleyball notches its 23rd consecutive state appearance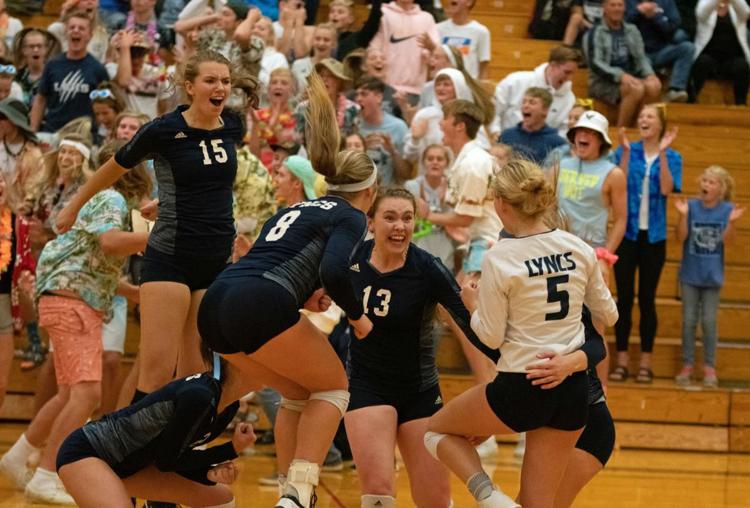 The Lyncs didn't repeat as state champions as they had hoped, finishing fifth at the state tourney in November in Yakima. What they did accomplish is a credit to the program 24th-year coach Kim Grycel has built, however: reeling off 23 straight state appearances, the longest active Class 1A streak in the state. It's likely one of the lengthiest across all classifications in the state as well.
The Lyncs (17-6) did it with just two returners, seniors Liv Mellema and Brooklyn Bosman. A bevy of newcomers stepped up and helped the Lyncs grab their sixth straight state trophy. In the last six years, the Lyncs have now won three state titles, along with placing second, third and fifth.
9. Five local girl wrestlers claim sub-regional titles
As the girls wrestling scene heats up in the county — including the annual Pride of the Lady Lions tourney that brings about 400 wrestlers from around the state to Lynden — five locals rose above the competition at sub-regionals in February.
Three of the five champions were Lynden wrestlers. Hailie Holestine (130), Beatriz Briceno (145) and Amira Hanowell (155) each helped the Lions to a second-place team finish at the tourney that included 200 wrestlers from 33 teams.
The other two area champions were Mount Baker's Shelby Sears (190) and Ferndale's Hope Jose-Day (100), as 14 county wrestlers in total placed top-four to advance to the regional tournament.
8. Mount Baker volleyball breaks five-year losing streak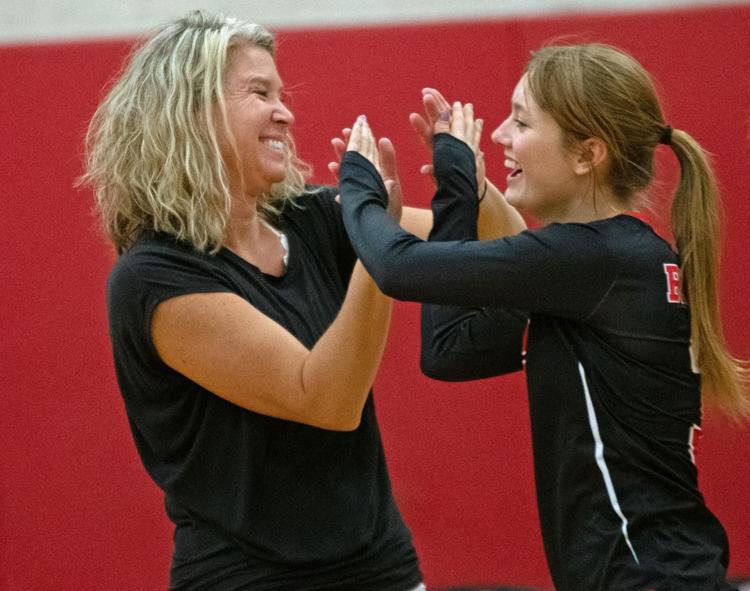 The Mounties had it just about as bad as it could get. Not only had they failed to win a match since Oct. 18, 2014, but they hadn't even come close. Baker had won just seven sets since 2014, a stretch consisting of 66 matches and 199 total sets. And three of those seven set victories came in 2019.
Baker conquered Class 3A Squalicum in a five-set match on Oct. 8, 2019, four years and 359 days to the date from their last match victory. "I cried," said senior Kenzie Ross, who served seven straight points in the final set. "We had been waiting and waiting for it to happen and it finally did. It made us realize we actually can win, and we're not going to just expect to lose every game."
7. Meridian boys win first district track title in 33 years
The Trojans garnered five individual titles and 16 top-4 finishes at the Class 1A District 1 boys track tourney in May, claiming the district title for the first time since 1986.
Senior Harlon Stuit's three individual titles — in the 100-meter dash, long jump and triple jump — paced the Trojans to victory. Senior distance runner Jaskaran Dhatt engineered a come-from-behind upset victory to win the two-mile for the Trojans. Senior Hesser Sotelo rounded out the Trojans' individual titles with a victory in the triple jump.
6. Multiple school records broken
I decided to lump all the record-breaking performances together, since there were so many by local athletes this year. There may be more, but these are the ones I could recall in sifting through articles. 
In swimming, Lynden's Sara Jones bested two of her previous school records at the state tournament, where she placed fifth and seventh in those two events, the 100-yard freestyle and 100-yard butterfly. She also owns the 50 freestyle record (25.59).
Lynden Christian's Cole Bajema broke the boys basketball career scoring record on Feb. 6, topping Isaac Reimer's mark of 1,602 points set in 2013. Now playing for Michigan, Bajema also won back-to-back 1A Player of the Year and Northwest Conference MVP while averaging 24 points and 10 rebounds.
In track, Lynden's Emmy Kroontje now owns the girls 800-meter record, claiming the new top time of 2:20.66.
Christian Zamora of Lynden scored 33 points against Ferndale in February to become the Lion boys' all-time leading scorer, breaking Eric Petersen's 33-year-old mark of 1,506, set in 1986. Zamora, now playing for Western Washington University, also owns the 3-point record (210), which he set a few weeks earlier.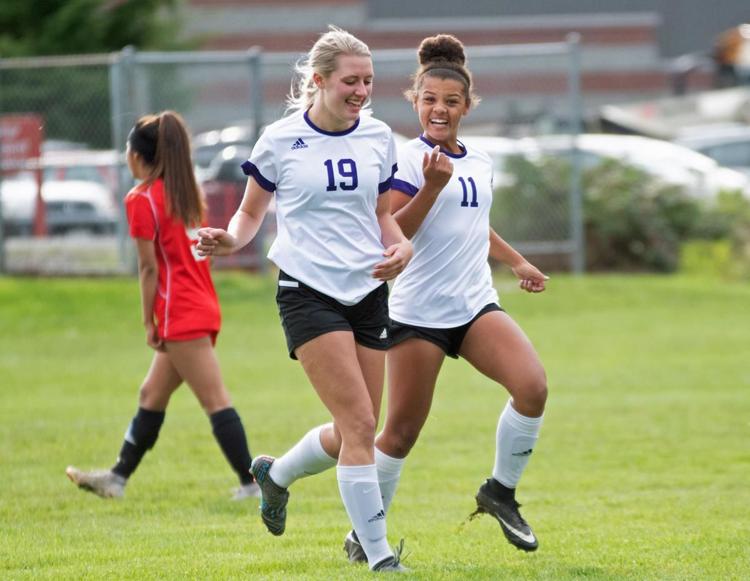 In girls soccer, Nooksack Valley's Tehya Moore notched a double hat trick, knocking in six goals to break the Pioneers' single-match record during an 8-1 win over Mount Baker on Sept. 28. Moore is also the Nooksack Valley girls' triple jump record holder.
For LC football, senior quarterback Trajan Schouten either set or reset his own numerous school passing records, including career passing yards (3,932), career passing TDs (46), single-season passing yards (2,046) and career completions (295).
In football, Lynden's Steven DiLorenzo reset the Lions' rushing record with a 320-yard outburst during the Lions' 56-47 win over Steilacoom on Sept. 20. It topped Nick Ellis' previous record of 311 yards set in 1996 against Anacortes. DiLorenzo ran for three touchdowns that night and averaged 12.8 yards per run.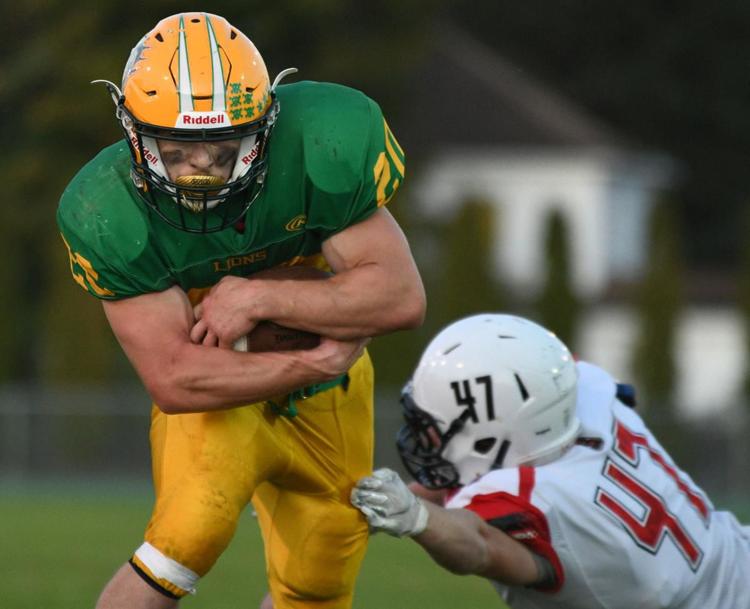 Lynden Christian's Eli Den Bleyker broke two kicking records in just his first year playing football. Den Bleyker now has the most single-season field goals (six) and extra points (46) in Lyncs' history.
Lynden Christian's Jackson Corkill is now LC football's career receptions leader, tallying 91 catches as a wideout. Corkill finished his senior campaign with 49 receptions for 912 yards and 15 total touchdowns.
Lynden's Nathan Doering broke the boys 300-meter hurdles record with a time of 39.77.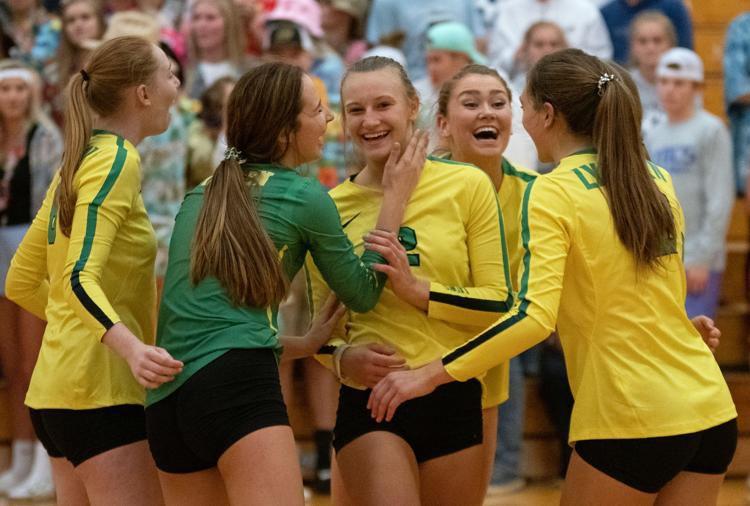 Lynden's Anna VanderYacht reset the volleyball program's 13-year single-season aces record during the district tournament, breaking Jessi Roberts' previous mark of 65. Vanderyacht would go on to finish the season with 80 aces.
Lynden Christian's Andrew DeVries is the newest record holder of the bunch, breaking the Lyncs' career 3-point record during the basketball team's season opener against Burlington-Edison on Dec. 16. DeVries' nine 3-pointers that night broke not only the previous career school record set by former teammate Cole Bajema last season, but also the single-game record (nine). He also owns the single-season record of 85, set when he was a sophomore in 2018.
5. Jordan Medcalf captures boys golf title
Medcalf stormed onto the high school golf scene, becoming just the second Class 2A boys freshman to win state since 2003 and the first Lynden boys golfer to win since Tim Feenstra in 2001. Medcalf, at age 15, shot a two-round score of 147 for a two-stroke victory at Liberty Lake Golf Course in Spokane on May 22.
4. Lynden girls soccer secures first league title in school history
The Lions' historic season ended earlier than they had hoped, in the 2A district tourney, but they set a new standard for next year's squad with a first-ever league title, playing to a 15-3 record, the No. 1 seed at districts and a first-round bye. 
  he Lions, who started the season on an 11-game win streak, will return their leading scorer for next season, junior Ellsie Saldivar.
3. Lynden Christian football advances to state title for first time in 22 years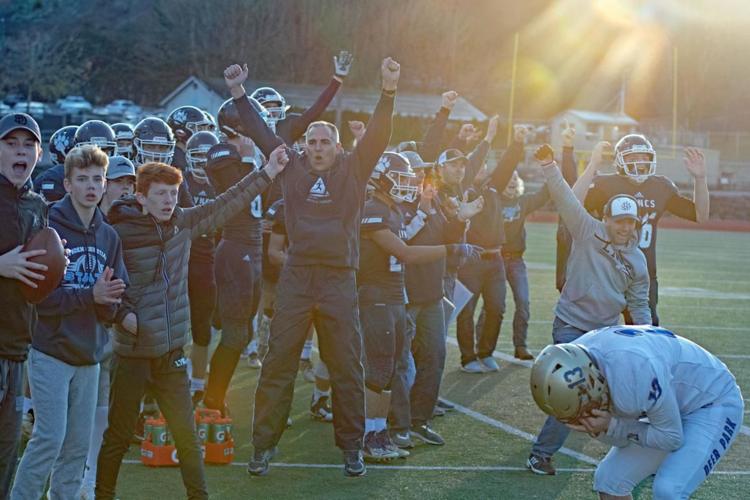 Although LC's dream of claiming its second state football title in school history didn't materialize in a 26-22 loss to Royal in the championship game, the Lyncs elevated their program to a level not seen in decades.
Lynden Christian won a second consecutive co-league title and knocked off three previously unbeaten opponents in the playoffs to reach the state title clash with Royal, a team that had ripped off a 66-1 record the last five seasons. The Knights have won six of the last 16 Class 1A state titles and the Lyncs pushed them to the brink, taking the lead with three minutes to play before faltering in the final minutes. Even with the loss, LC has set a new benchmark for the next wave of Lyncs lacing up their cleats.
2. Over 3,200 fans pack into The Jake for LC-Lynden showdown
The clash between two undefeated, top-ranked, defending champion crosstown rivals was one of the most important and gripping boys basketball matchups in the state.
Defending 2A champion Lynden entered with a perfect 17-0 record and signature wins over Seattle metro powerhouse O'Dea, a team that would go on to win the 3A state title, and Marysville-Pilchuck, the 3A fourth-place finisher.
Defending 1A champion Lynden Christian also entered unbeaten at 17-0 and featured one of the top players in the entire state, 6-foot-8 Michigan signee Cole Bajema, one of the top players to ever come out of Whatcom County.
At standing room only with well over the 3,200 seats filled, it felt like all 14,000 Lynden residents had packed into Jake Maberry Gymnasium to witness history. The show they got didn't disappoint. After four quarters of crowd-pleasing dunks from Bajema and Lynden star Clayton Whitman, along with deep bombs from LC's Andrew DeVries and Lynden's Christian Zamora, the Lyncs finally pulled away for a convincing 75-57 victory. It became the first time anyone could remember that the Lyncs beat the Lions a second year in a row.
1. Lynden boys basketball goes back-to-back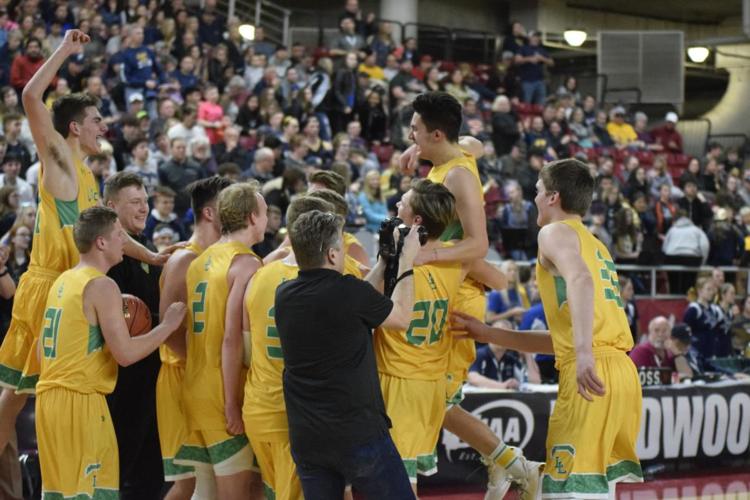 The Lions fended off the vaunted hometown Pepper brothers of Selah — Elijah and Noah — to become the third Lynden boys basketball team to repeat as state champions at the 2A state tournament in Yakima on March 3.
Shrugging off their lone loss to Lynden Christian a month previous, the senior-laden Lions, who returned all 10 varsity players and all five starters from a year earlier, were laser-focused against a formidable Pepper brothers duo, most notably Elijah, who is now playing for UC-Davis.
Lynden's Clayton Whitman and Christian Zamora, the two Lions stars and returning first-team all-state selections, combined for 32 points. Whitman, who now plays for Seattle Pacific, was named tourney MVP after averaging 23 points per game at state and would later be named the Associated Press 2A Player of the Year.
The victory marked Lynden's 10th overall state title and fourth under coach Brian Roper. Lynden is the only Class 2A or 1A team to capture back-to-back titles on three different occasions.