A mile in full firefighter gear: a speedy 6:33.28
BELLINGHAM ­— James Jasperson already owned one Guinness World Record. This time he wanted to collect another not for fame or glory, but for something bigger than himself.
Jasperson, 23, a junior Western Washington University student, broke the Guinness World Record on Tuesday, June 11, for running a mile in full structural firefighter turnout gear with a self-contained breathing apparatus.
His world-record-performance helped raise $1,300 for Four Season Firefighters, a nonprofit foundation that helps veterans, firefighters and police officers who have been affected while serving their country and communities.
Zach Ames, a friend Jasperson made while doing firefighting activity and attending Everett Community College, started the foundation, and Jasperson wanted to help people in need.
"It's really important to make an impact on the community around you," Jasperson said. "I was like, "Yeah, I'm going to do it for this cause.'"
He not only broke the previous record of 9:40 set in 2013 — he shattered it. Jasperson finished the mile  run in 6:33.28. Although he reset the mark by more than three minutes, it was no easy triumph.
He did so while wearing or carrying 53 pounds of firefighting gear consisting of leather fire boots, firefighter bunker pants and tops, helmet, mask, gloves, self-contained breathing apparatus and a 45-minute air-pack bottle. The bottle size was crucial, Jasperson said.
"It does matter because there are different bottles that weigh different amounts and I chose one of the heavier ones, so it was more official and there's no controversy that I tried to use a lighter bottle," Jasperson said.
The day's weather was also a factor, as temperatures reached 80 degrees for the outdoor track run.
"The heat absolutely destroyed me," Jasperson said.
"The worst part is definitely the boots. They're 12 inches high, steel-toed and extremely heavy. Then breathing through the mask. You can never get a full breath because you have so much more weight on your diaphragm."
Two days after the run, Jasperson's upper lungs were still sore, along with the front of his calves because of the weight of the boots.
This wasn't his first experience with breaking records, even a similar one. Jasperson broke the mile mark with full firefighting gear — but no breathing apparatus — on June 6, 2018.
The first time he ever attempted that record he was 19, a student at Everett Community College and in the Washington State Fire Training Academy.
"I was looking up random records and I found this guy named Andrew Drobeck, who had the fastest mile in firefighting gear," Jasperson said. "Saw the time and was like, 'Oh, I could get that.'"
Drobeck is a professional triathlete who works for the Missoula Fire Department in Montana.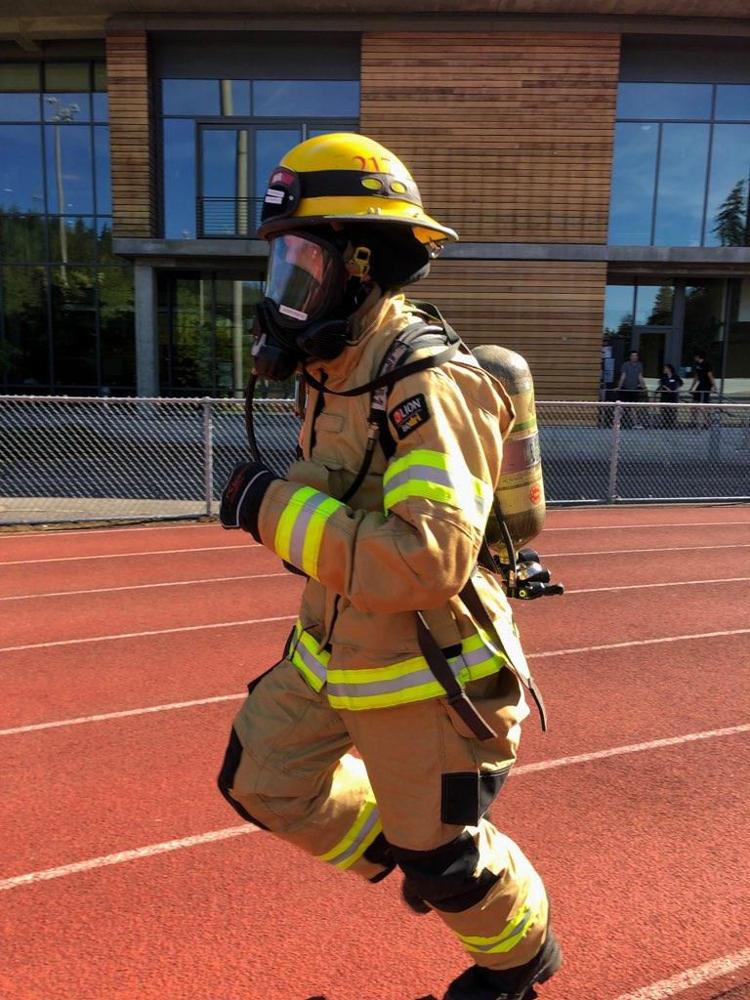 Jasperson beat Drobeck's time with a run of 6:11 a few years back, with two friends watching. He never submitted it to Guinness and didn't know you could apply to have a record ratified. He did send Drobeck a message and told him he beat his record but never heard anything back. 
Three months later, Jasperson saw Drobeck had beat his time of 6:11 with a run of 6:09. Jasperson waited a year and attempted to retry his feat after the WWU track season in 2018 with the mindset of properly ratifying the record if he beat it again.
He crushed it with a time of 5:51.40. Then he decided to beat the world record of running with firefighter breathing apparatus.
"I thought, 'If I'm going to do it, I'm going to raise money for a nonprofit,'" Jasperson said. "That's really what drove this year, was raising money for Four Season Fighters.
The last two times he went for a world record he didn't advertise it. His plan for this one was to raise $1,000. In fact, he's helped raise $1,300 so far.
"We raised enough money with this alone that it pays to take a double-amputee veteran out on a hunting trip for a week," Jasperson said. "Everything's paid for for him. They're going to take him out, show him a good time and show him there's still a reason to be here; that they deserve this for their sacrifices and everything they've done for us."
The record was one thing, Jasperson said, but helping people in need is what really drove his motivation.
"That was really cool to hear after I ran that mile and raised that money," Jasperson said. "That was the cherry on top. It's great, but I couldn't have done it without everybody donating. Everybody else made it happen. I was just the vessel to help propel this thing."
Jasperson is also a part-paid volunteer with the South Whatcom Fire Authority, having joined on the 16th anniversary of 9/11 in 2017.
He said his June 11 accomplishment isn't an official record yet. He still has to get it ratified, which is a lengthy process. He expects to have last year's world record up on Guinness' website in the next few weeks, and it may be another year before the most recent one is official.
"Guinness usually takes a very long time to get these things ratified," Jasperson said. "[My record] last year took them about a year."
Everyone has been asking him what's next.
"My goal is to win Firefighter Stairclimb [in Seattle] next March," Jasperson said. "That would be the next big thing to do, and raise money for the  Leukemia & Lymphoma Society."