Both Lions and Lyncs at home stadiums this Friday
WHATCOM ­— The football teams have had a chance to test themselves in two games so far. This is our preview of the Sept. 20-21 Week  3 round of games, before the counting Northwest Conference games begin Sept. 27.
Blaine (1-1) at No. 2 Lynden Christian (1-0), 7 p.m. Friday
The Lyncs are coming off an unexpected bye week after opponent Neah Bay, an 8-man team from the Olympic Peninsula, was forced to cancel out due to injuries suffered in a Sept. 9 win over Crescent. Fans didn't get to experience a unique game that would have been 11-man when LC had the ball and 8-man when Neah Bay was on offense.
Lynden Christian now takes on another 2A opponent after shelling Bellingham 49-7 in the season opener. LC exploded for 532 total yards against the Red Raiders, including 371 on the ground. Senior quarterback Trajan Schouten complemented the run game by throwing for 161 yards and three scores. LC will look to keep up a balanced offensive attack against the Borderites.
Blaine easily handled 3A Chief Sealth 27-8 in its opener, led by a staunch defensive effort holding the Seahawks to just 45 yards of offense, according to whatcompreps.com.
The Borderites were then blanked 21-0 by Lord Tweedsmuir of British Columbia on Friday.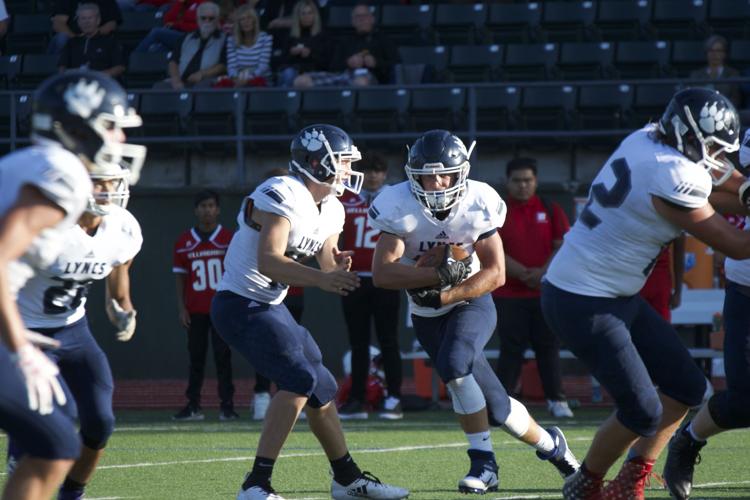 No. 2 Steilacoom (1-1) at No. 8 Lynden (1-1), Rollie DeKoster Field at 7 p.m. Friday
Lynden followed up from a 21-14 upset at the hands of Mount Baker in week one, its first loss to the Mountaineers at Rollie DeKoster Field since 1990, by forcing its will on Ferndale last Friday. The Lions battled the Golden Eagles in a rainy slugfest in the first half, highlighted by a goal-line stop and forced-fumble recovery by the Lions with three seconds left before the break. It allowed Lynden to hold its 13-7 lead going into the locker room, and gave the Lions a shot of confidence heading into the second half.
Lynden then steamrolled Ferndale in the third and fourth quarters, with senior QB Brock Heppner taking sneaks up the gut that the Golden Eagles couldn't stop. Heppner finished with 132 yards and three TDs on 29 carries, while senior tailback Steven DiLorenzo tallied 92 yards and a score on 17 rushes.
The Lions will need an equally effective run game against Steilacoom, a team boasting the No. 1 athlete in the nation for the class of 2021, five-star junior Emeka Egbuka, a 6-foot-1, 190-pound do-it-all wide receiver who has offers from 32 colleges, including Alabama, Clemson and Ohio State. The Lions haven't faced an offensive threat of this caliber since Hockinson's Sawyer Racanelli, a UW commit, rushed for five TDs in the 2018 state title game. Lynden's DBs will certainly need extra help over the top when defending Egbuka, who reeled in 72 catches for 1,492 yards and 23 TDs last year as a sophomore. 
Kings (0-2) at Nooksack Valley (1-1), Sid Lambert Field at 7 p.m. Friday
The Pioneers are off to a promising start, narrowly losing to Class 2A Sehome 14-13 in the season opener, and that only because NV went for the two points in overtime and came up short. The Pioneers rebounded to crush Granite Falls 42-0 last Friday. First-year senior QB Cole Eldridge, sliding up from running back, ran for 203 yards and threw for another 107 as NV exploded for 544 yards, including 437 on the ground.
The Pioneers might do that same against Kings, a team that's been blown out in both its losses, a 42-14 hammering by Lakewood and a 55-22 thumping by Lakeside. It should be noted that those teams are Class 2A and 3A, so it remains to be seen how Kings fares against an equally-sized school this season.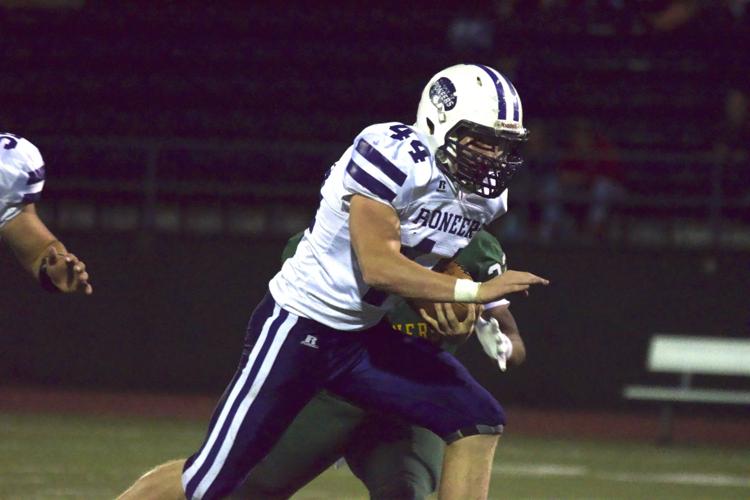 No. 4 Mount Baker (2-0) at Cascade (2-0), Peshastin/Dryden Sports Complex at 7 p.m. Friday
The Mounties must be feeling sky-high after now besting two 2A opponents, Lynden and Sehome, both of whom advanced to the state playoffs in 2018. And that's with only three returning starters from last year's Mount Baker team that made it to the 1A state quarterfinals. Fortunately, those three pieces are huge.
The returnees are: AP first-team all-state senior tight end Waylon Kentner, senior linebacker Mark Tikhonov, and senior tailback Jason Lee, who was the county's second-leading rusher in 2018 with 1,121 yards.
Baker's defense forced the county's leading passer in 2018, Sehome's Jacob Kaepernick, into 26 incompletions en route to a 28-10 victory at home on Friday. MB's Wing-T offense rushed for nearly 300 yards, highlighted by Ayden Rodriguez' 106 yards and two TDs on the ground, including a 43-yard TD reception.
Cascade has earned a 54-2 victory over Naches Valley and a 10-7 win over 2A Ephrata.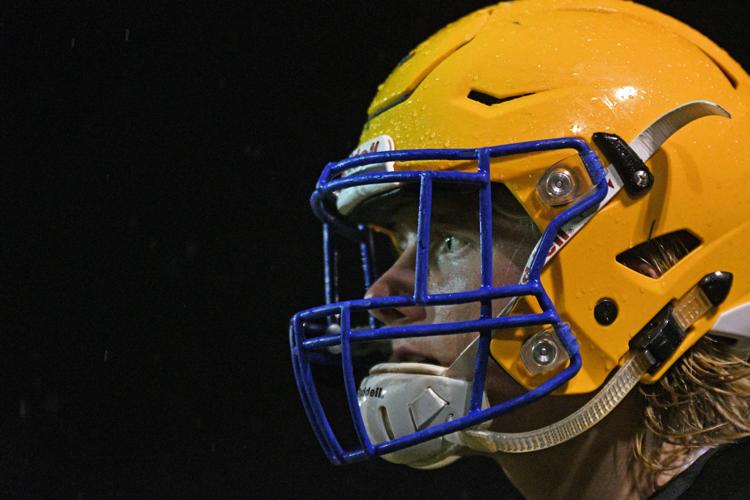 Ferndale (0-2) at Marysville-Getchell (1-1, 1-0 3A Wesco North), Quil Ceda Stadium at 7 p.m. Friday
Ferndale went toe-to-toe with Lynden in the first half of Friday's game and had a chance to take the lead just before halftime, before losing a fumble on the one-yard line with three seconds to go. The Golden Eagles never recovered in a 33-21 loss. They were blown out 55-0 by 2018 4A runner-up Lake Stevens in week one.
The Golden Eagles now open 3A Wesco North play against Marysville-Getchell, a team that narrowly lost to 3A Shorecrest in the season opener and pounded Stanwood 37-14 on Friday.
Amador (California) (3-0) at Meridian (0-2), 7 p.m. Friday
For the third consecutive week the Trojans will take on a formidable non-conference opponent. It must be 45th-year head coach Bob Ames' way of preparing them for an always-grueling league gauntlet. 
The Trojans absorbed a 44-14 loss to 2A Sedro-Woolley in week one, and had a lead against defending 1A state champion Colville on Friday at a neutral site before falling 28-14. Senior QB Cameron Webster threw for 155 yards on 15-of-30 passing, but the Trojans were limited to just 22 yards rushing.
Now Meridian faces an unknown California opponent in 2A Amador. The Buffaloes are undefeated with a high-scoring offense, putting up 43.7 points per game in three contests. Also of note, Meridian has 33 players on its roster, while Amador has 33 freshmen.
Marysville-Pilchuck (2-0, 1-0 3A Wesco North) at Squalicum (1-1, 0-1 3A Wesco North), Civic Field at 7 p.m. Friday
Squalicum was off to an encouraging start after topping Redmond 34-26 in week one. Then the Storm's offense was tamed in a 33-7 road loss to Arlington, a team that's allowed just 14 points in two games.
The Storm will need to keep sophomore running back Ben Schlenbaker, who has run for 225 yards and three TDs on 26 carries, upright to have a chance against Marysville-Pilchuck. The Tomahawks eked out a 17-14 win over Snohomish in week one, then shut out 10th-ranked Oak Harbor 42-0 last Friday.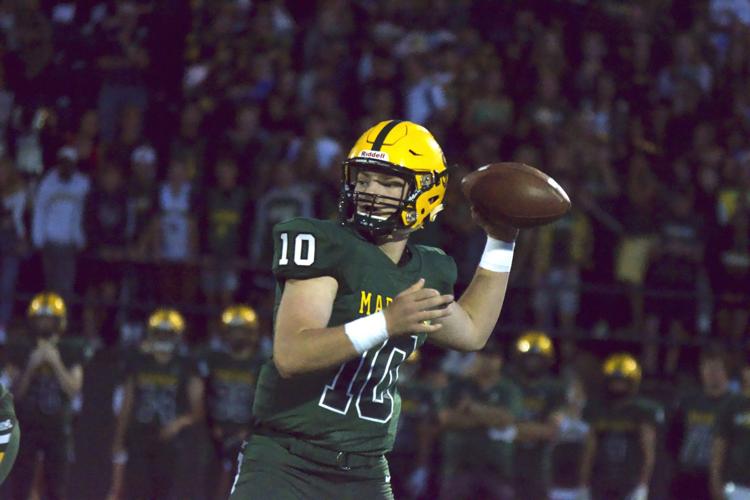 Centralia (1-1) at Sehome (1-1), Civic Field at 1 p.m. Saturday
It's not the start Sehome wanted or expected. The Mariners — coming off their best season in 17 years in which they upset Archbishop Murphy in the district playoffs and advanced to the state round — were expected to cruise by 1A opponents Nooksack Valley and Mount Baker. Both teams are with first-year QBs and the Mariners bring back the top QB in the county in junior Jacob Kaepernick.
Kaepernick threw for 25 touchdowns and over 2,500 yards in 2018, but has struggled getting the ball downfield in a close win over Nooksack and a 28-10 loss to Baker. Kaepernick was just 19-of-45 passing for 226 yards and zero touchdowns against the Mounties, while the Mariners' run defense surrendered 299 yards.
Centralia has a high-powered offense, averaging 49 points per game, but its defense allows nearly as much. The Tigers held off Columbia River 48-33 in week one, then lost a 62-50 shootout with Evergreen on Friday.
Bellingham (0-2) at Sammamish (0-2), Sammamish High School at 7 p.m. Friday
In short, it's not looking good for Bellingham. The Red Raiders have been shut out offensively in two games this season, with their only touchdown coming off senior defensive back Andre Triplett's 94-yard interception return for a score against Lynden Christian in week one.
Their defense has struggled as well, giving up 49 points to both LC and Lakewood in consecutive weeks. Week three is Bellingham's best shot in the early season to pull together a win, as Sammamish is also winless this season. The Totems haven't won a game since Nov. 3, 2017, and they've scored fewer points than the Red Raiders, so far. The Totems went scoreless in a 49-0 loss to Cedarcrest in week one, before falling 27-6 to Interlake.