No. 2 Mount Baker at No. 3 Lynden Christian is Friday's marquee match
WHATCOM — After three weeks of non-league battles, some ranging across the state and even with one team coming all the way from northern California, nearly every football squad in the county is now entering in-classification play that truly counts.
The action is all in the 1A and 2A ranks of the Northwest Conference or the 3A of the Wesco North. 
Here's everything you need to know about Week Four: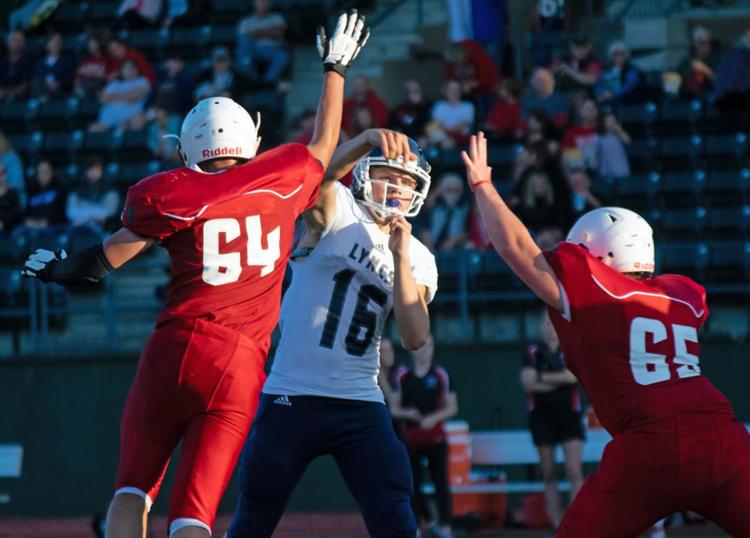 No. 2 Mount Baker (3-0) at No. 3 Lynden Christian (2-0), 7 p.m. Friday
It's the marquee matchup of the week. This clash between two undefeated, top-five Class 1A programs in the state is a can't-miss game.
The Lyncs looked rusty in playing their first game in two weeks versus Blaine on Friday. Their electrifying offense from Week One sputtered against the Borderites, for just a 3-0 lead going into halftime.
Their defense was lights-out for the second time this season, however, keying the 17-0 win. The Lyncs have allowed zero offensive points through two contests; the lone points coming off a pick six to Bellingham. Plus, LC has found a replacement for first-team all-state kicker Blake DeRuyter in senior Eli DenBleyker, who kicked a 23-yard FG on Friday that would have been good from 40 yards.
Baker is perhaps the surprise of the county, so far. Sure, the Mounties are good every year with coach Ron Lepper in charge. But few outside of Deming would have guessed that Baker, with a first-year QB and only three returning starters, would beat 2018 2A runner-up Lynden in Week One.
And the Mounties are legit. They followed up with a 28-10 victory over 2A Sehome and then a 24-2 win against Cascade of Leavenworth on Friday. Their one-two running back punch of Toby Jefferson and Jason Lee is tough to stop.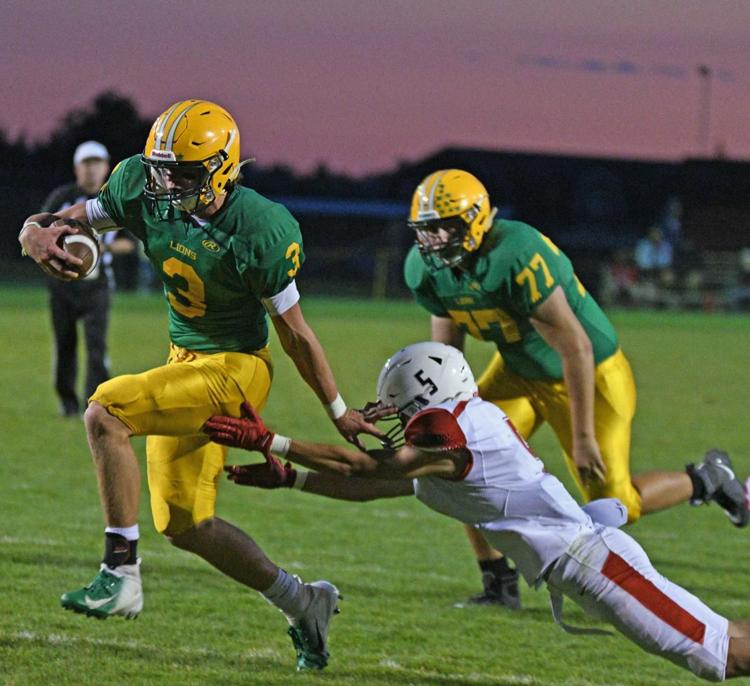 No. 4 Lynden (2-1) at No. 2 Archbishop Murphy (3-0), 7 p.m. Friday
The Lions have rebounded from that Sept. 6 upset loss to Baker by rolling over Ferndale 33-21, then overcoming second-ranked Steilacoom 56-47 in a wild ride on Friday.
Lynden will need everything it has again this Friday in taking on an undefeated Archbishop Murphy team that's coming off a 73-0 annihilation of Class 3A opponent Cleveland. Earlier, on Sept. 13 the Wildcats upset top-ranked, two-time defending champion Hockinson 27-21. The Wildcats are averaging 44 points per game.
Tailback Steven DiLorenzo broke Lynden's single-game rushing record with 320 yards on 25 carries against Steilacoom; the previous record was Nick Ellis' 311 yards versus Anacortes in 1996. 
The Lions will need every bit of skill out of DiLorenzo and do-it-all senior Brock Heppner, who threw, ran and caught for TDs against Steilacoom, to come out on top at Archbishop's home turf in south Everett.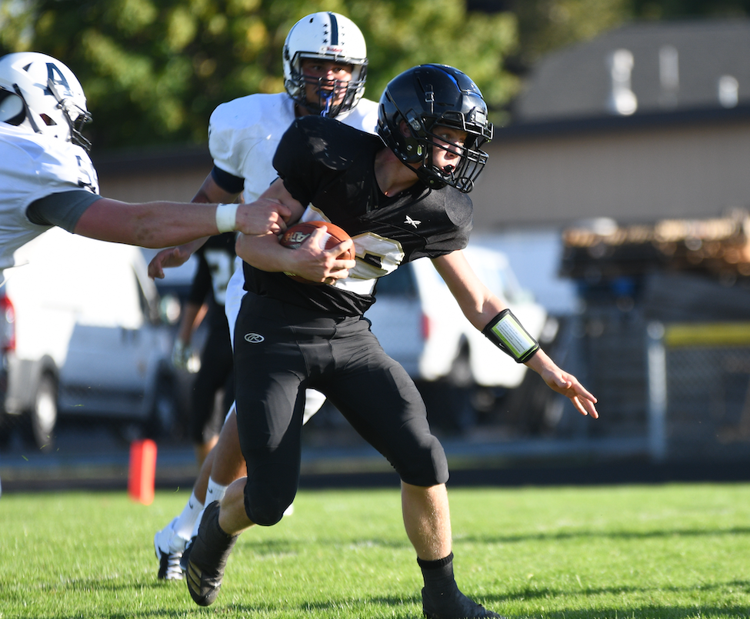 Nooksack Valley (2-1) at Meridian (0-3), 7 p.m. Friday
Not getting quite the same attention as their NWC 1A counterparts this season, the Pioneers and Trojans are always forces to be reckoned with. 
Nooksack Valley nearly upset Sehome, then blew out Granite Falls 42-0 the following week before edging Kings 28-21 at home on Friday. The Pioneers are a two-point conversion away from being 3-0 right now.
Meridian's winless record is as deceiving as it gets. The Trojans have played perhaps the toughest non-league schedule in the county. They lost to 2A Sedro-Woolley to start out, then to defending 1A state champion and now seventh-ranked Colville in Week Two and California powerhouse Amador High School last Saturday.
Now fans will get to see what Meridian is really made of, and if that brutal three-game stretch has toughened up the Trojans for the 1A NWC.
Arlington (3-0, 2-0 3A Wesco North) at Ferndale (1-2, 1-0 3A Wesco North), 7 p.m. Friday
The Golden Eagles didn't just rebound from back-to-back losses, they went into Marsyville-Getchell and blew out the Chargers with a 42-14 road victory on Friday.
Ferndale's offense caught fire as senior running back Jacob Broselle exploded for four touchdowns and 278 all-purpose yards, including 128 on the ground and 150 receiving, according to whatcompreps.com. That included a 73-yard TD catch and a 43-yard TD run by Broselle.
He will be called upon again as the Golden Eagles now take on an undefeated Arlington squad that's putting up 37 points per game and only allowing eight. Arlington is coming off a 44-10 thumping of 3A Wesco foe Stanwood.
Cedarcrest (2-1) at Bellingham (1-2), Civic Field, 7 p.m. Friday
Bellingham not only notched its first win of the season on Friday — it was a shutout of Sammamish 26-0 on the road. 
Sure, Sammamish hasn't won a game since Nov. 3, 2017, but the Red Raiders received a much-needed boost of confidence heading into league play this week against Cedarcrest.
The Red Raiders had been blown out 49-0 in back-to-back games to start this season before getting one in the win column. But the same thing happened in 2018; Bellingham was routed in its first two games, then won in Week Three to spark a five-game win streak.
Who knows if that will happen again? But this Friday's matchup against the Red Wolves, who have pitched two shutouts, will show where Bellingham stands in the 2A Lake division.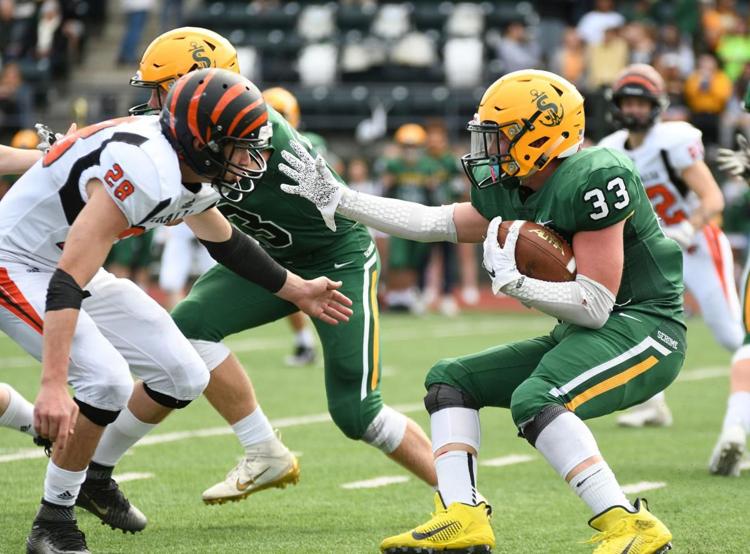 Sehome (1-2) at Mercer Island (2-1), 7 p.m. Friday
Sehome started the season with a one-point overtime victory over Nooksack Valley at Civic Stadium. In Week Three, the tables were turned. The Mariners' extra-point kick was blocked with 3:30 to play, leading to a 21-20 loss to Centralia.
It was a frustrating loss for the Mariners, who either led or were tied with the Tigers for most of the game. Junior quarterback Jacob Kaepernick tossed three touchdowns and junior wideout Tim Malo brought down two of those in the loss.
Now the Mariners will likely get a low-scoring battle against Mercer Island, a team averaging 14.7 points per game and allowing 11.7. The Islanders defeated third-ranked Class 1A Newport 27-17 on Friday.
Squalicum (1-2, 0-2 3A Wesco North) at Marysville-Getchell (1-2, 1-1 3A Wesco North)
The Storm ran into a buzzsaw on Friday against undefeated Marysville-Pilchuck, absorbing a 34-7 loss at home.
Now they get the other Marysville team, one coming off a 42-14 drubbing by Ferndale. The Storm have been without senior wideout Dedrick Mitchell, who caught 26 passes for 375 yards in 2018, due to ineligibility.
Also, tailback Devante Parker, who ran for 616 yards and seven TDs in 2018, elected to focus on basketball this year and not turn out for football. The Storm's offense is feeling those losses of personnel. Squalicum is averaging just 16 points per game while giving up 31.