Lions outrebound Red Raiders 35-15 for convincing win
BELLINGHAM — It was clear from the get-go Wednesday night — and really for the last month — that few teams are equipped to handle Lynden's frontcourt.
Posts Brock Heppner and Liam Hanenburg, combined for 44 points, 24 and 20 respectively, and Lynden boys basketball ran roughshod over Bellingham in a 97-57 Northwest Conference road victory Wednesday.
"Just grinded it out," said Lynden junior Koby Whitman, who scored 14 points off the bench. "We let them score a few more points than we would have liked, but it's all good. We got the win."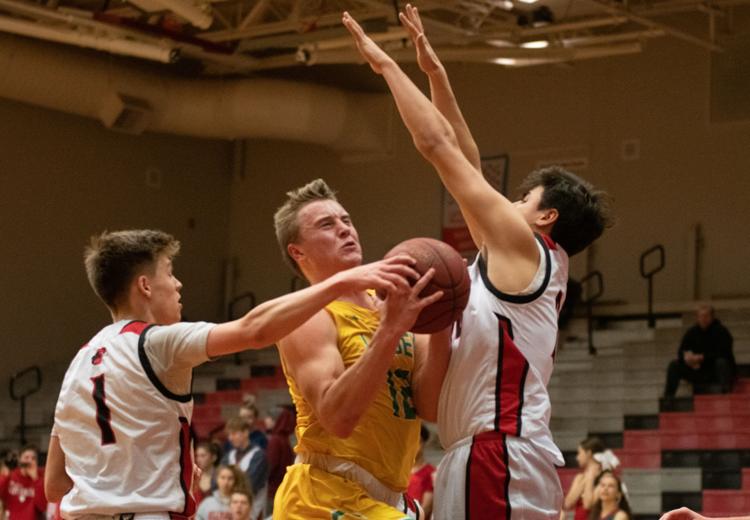 Heppner and Hanenburg, the only returning varsity players for the two-time defending Class 2A state champs, made mincemeat of a beleaguered Red Raiders' frontcourt, helping the Lions to a 35-15 rebound margin.
The Lions shot a blistering 62 percent from the field with Hanenburg knocking down 10-of-14 while pulling down nine boards. Heppner was even better, drilling 10 of his 13 shots, while dishing out five assists and grabbing four rebounds.
Only one team has had an answer for the Lions' post play, and most notably their 6-foot-10 tower Hanenburg. That was 3A's top-ranked Gig Harbor in the season opener when the Lions were still finding their identity.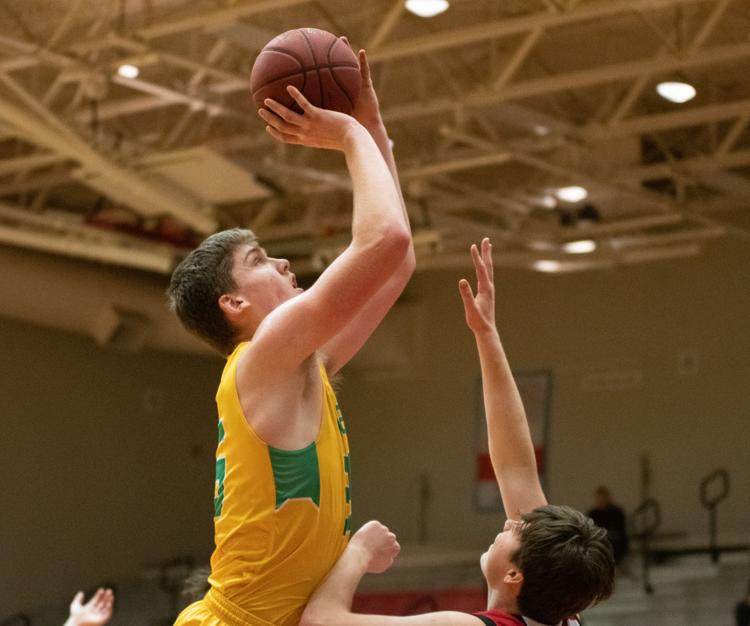 Well, they've found it, ripping off nine straight wins, averaging 71 points per game during that stretch while allowing just one opponent to score more than 58.
It's an impressive run for a team few picked to be sitting atop the Northwest Conference 10 games into the season; one that lost all five starters, including 10 players in all, and is now made up of 10 first-time varsity ballers.
Lynden (9-1, 4-0 NWC), ranked fourth in the latest WIAA RPI, is tied in first place in league with top-ranked Burlington (10-1, 4-0 NWC).
"It's a whole new team," Whitman said. "No one would have thought, right?"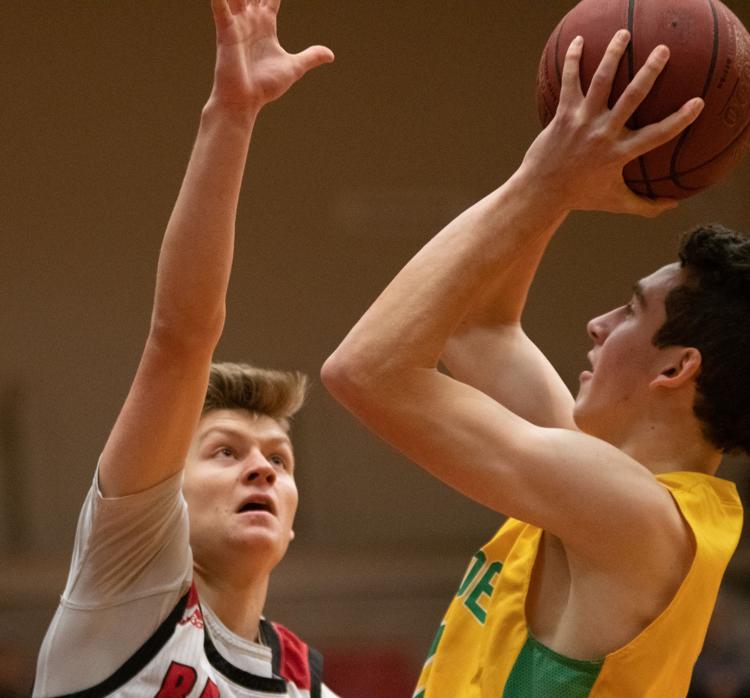 The early-season success hasn't all been on Hanenburg and Heppner. With so much senior talent taking all the varsity spots on last year's squad, the junior varsity was loaded with gifted underclassmen.
"On JV we subbed five every time because we were so equally [talented] as a team," Whitman said. "That definitely helped us to get to where we're at now. We're such a well-balanced team."
And now those underclassmen are getting their chance to shine.
Sophomore starting small forward Jordan Medcalf dropped 19 points Wednesday on a blazing 8-of-12 shooting from the field. Whitman was a scorching 88 percent on his 14 points.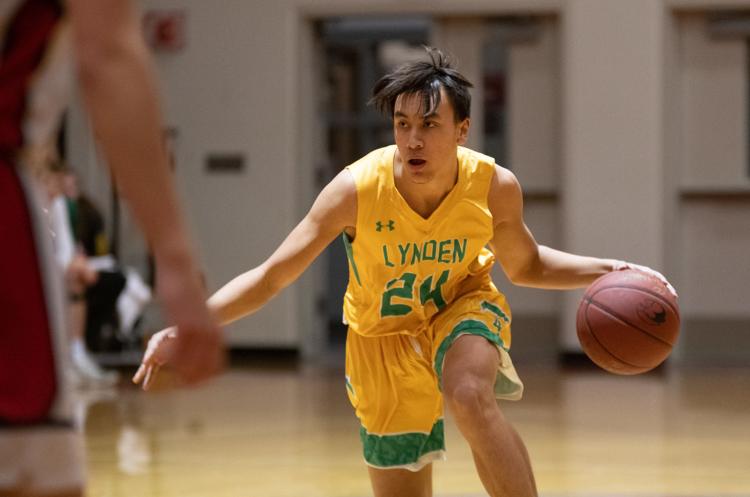 Ten Lions in scored points in all against Bellingham, including Austin Anderson (5), Kaleo Jandoc (4), Harley Vandenberg (3), Clay Kochuten (3), Jordan Elsner (3) and Elijah Lyons (2).
It's been like that all 10 games so far, with the newcomers stepping up in all phases of the game.
Whitman attributes the success to the team chemistry that was built while playing junior varsity together last season.
"Going up with these guys has been crazy," Whitman said. "We've built up a family over the past three years and it's a blessing."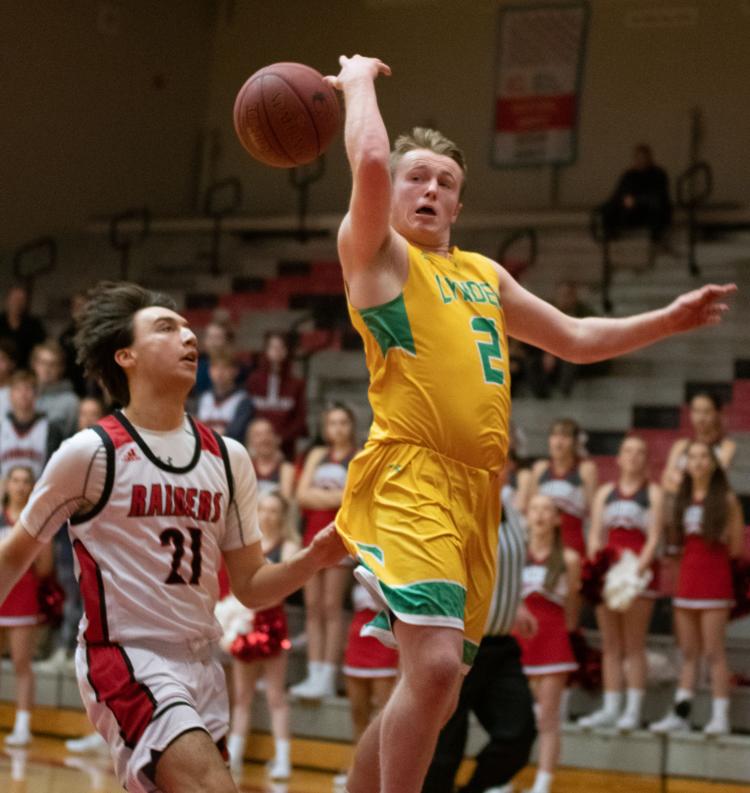 Lynden will look to keep its win streak going at 7:15 p.m. Friday when it hosts Sehome (4-6, 2-2 NWC) in the Lions' Hall of Fame game. Former boys basketball player Shawn Bovenkamp and former golf coach Russ Door are being inducted into the Lynden athletics Hall of Fame.
Bellingham (3-8, 0-4 NWC) has lost three in a row and will try to get back on track when it travels to play rival Squalicum (5-6, 2-2 NWC) at 7:35 p.m. Friday.
Scores from around the league
Lynden Christian girls 62, Ferndale 43
LC girls captured the program's 1,000th win in school history while winning their fourth straight Wednesday night in Ferndale.
The Lyncs (9-1, 4-0 NWC) are in a three-way tie Lynden (11-0, 4-0 NWC) and Sehome (9-2, 4-0 NWC) atop the conference after handing the Golden Eagles (8-3, 3-1 NWC) their first league loss.
Junior Emily Mellema scored a game-high 13 points to lead the Lyncs, while sophomore Libby Stump added 12 and Lexi Hernandez 11. Paige TeVelde contributed eight points, Riley Dykstra seven, Kenadi Fay seven and Kiley Roetcisoender four.
LC hosts Sedro-Woolley (3-7, 0-4 NWC) at 7: 15 p.mn. Friday.
Ferndale's Jamie Johnson scored 13 and the Golden Eagles have now lost three out of its last five. They travel to Burlington (8-2, 3-1 NWC) for a 7:15 p.m. matchup on Friday.
Burlington-Edison girls 68, Meridian 34
The Trojans (5-5, 2-2 NWC) lost their third straight and will look to get back in the win column when they travel to Blaine (4-7, 1-3 NWC) on Friday for a 7:15 p.m. match.
Anacortes boys 46, Sehome 38
Junior Elliott Tanovan scored a team-high 14 points as the Mariners (4-6, 2-2 NWC) lost their second straight after stringing together four consecutive wins.
Sehome next travels to Lynden on Friday for a 7:15 p.m. matchup.