1A games this week still help in sorting out seeding
WHATCOM — As area volleyball teams head into their final few matches of the season, Lynden is in reaching distance of claiming the Northwest Conference title. Here is a look at the postseason picture for each classification involving county teams:
Lynden Christian (9-4, 9-3 NWC 1A) traveled to Nooksack Valley (8-5, 8-4, NWC 1A) on Tuesday to battle it out to determine this year's top 1A district seed. The Lyncs had lost two of their last four matches and will look to fend off the Pioneers for their seventh straight No. 1 seed at districts.
Meridian (9-5, 7-5 NWC 1A) had one final regular-season match against winless Lakewood on Tuesday. A win over the Cougars, paired with an LC victory over Nooksack, would put the Trojans and Pioneers in a tie for second place in the conference. The Trojans hold the head-to-head tiebreaker over the Pioneers, however, due to a 3-0 win back on Sept. 18.
So LC can finish with no worse than the No. 2 seed. NV could end up with either the first, second or third seed and Meridian can wind up with the second or third seed.
Mount Baker (2-11, 2-10 NWC 1A) won its first games since 2014 this year and will get the conference's fourth seed. The Mounties face Sultan (6-9, 2-7), the 1A North Sound's fifth seed, in a play-in game for districts, set for today, Oct. 30. The winner travels to face North Sound champion King's (13-0, 9-0) at 1 p.m. Saturday.
Lynden Christian, Nooksack Valley and Meridian open district play at 1 p.m. Saturday. The top two seeds host, while the third seed hits the road. The top five teams at district advance to bi-district on Nov. 7.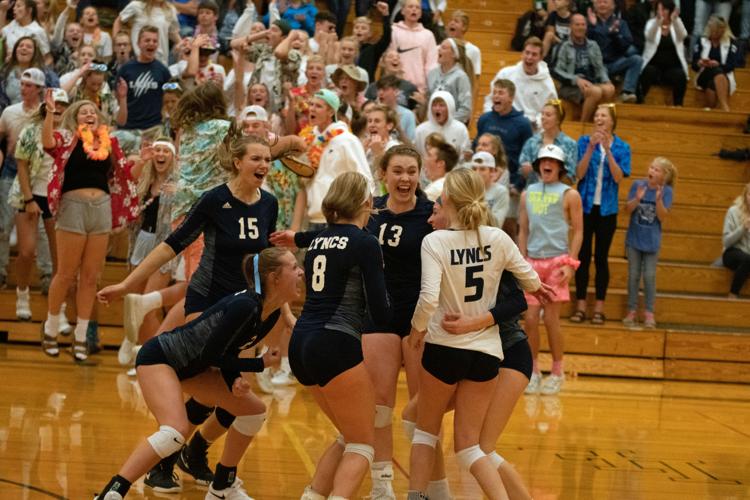 Lynden (11-1, 10-1 NWC 2A) and Burlington-Edison (11-1, 10-1 NWC 2A) are frontrunners for the conference title with two games left to go in the regular season. They were tied for first place as of Monday, and in the event they end the regular season that way they will be co-champions.
However, victories over Squalicum and Bellingham on Tuesday and Thursday, respectively, would secure the Lions the No. 1 seed in the Districts 1/2 tourney.
In any scenario, Lynden, Burlington, Sehome (9-4, 8-3 NWC 2A) and Archbishop Murphy (8-5, 8-4 Wesco 2A) will be the top four seeds at districts. Sammamish, with a 5-6 league record, is too far back in the RPI to catch up.
Seeding for the District 1/2 playoffs are based on RPI, a rating percentage index. RPI is determined by wins, losses and strength of schedule. The top 12 RPI teams between the 2A Northwest Conference and the two 2A Sea-King conference teams, Liberty and Sammamish, advance into the district playoffs. As of Monday, all Whatcom County teams were ranked in the top 12 of the RPI. Lynden was ranked No. 1 in RPI. 
The top six seeds, based on RPI, of the 14 district teams will secure district playoff berths. Seeds 7-10 will face each other in play-in games for the district tourney on Nov. 7.
Ferndale (8-3, 7-3) was ranked No. 5 in RPI Monday, with three regular-season matches to go. Squalicum (6-5, 5-5) was ranked No. 8, with three games left as well. The top six seeds play on Nov. 12.