Lynden girls go from down 42-36 to winning 53-50 over B-E — six straight free throws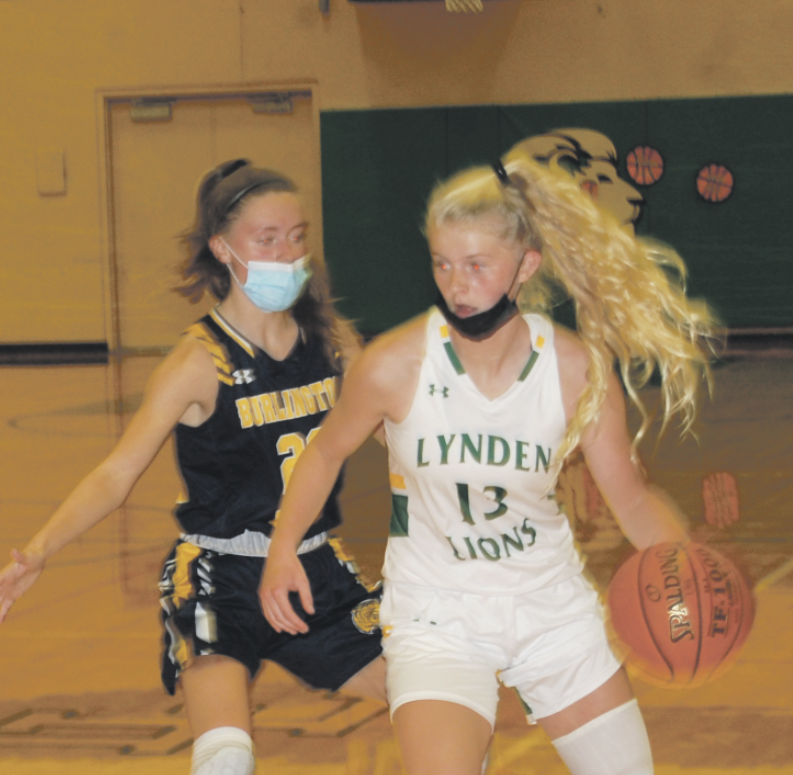 LYNDEN — The Lynden Lions needed scoring and leadership from Anna VanderYacht  in the second half against Burlington-Edison, and she delivered like a Swiss watch — precisely on time.
  VanderYacht, a 5-foot-8 senior guard, scored 20 of her 26 points after halftime to lead the host Lions to a 53-50 victory in a Northwest Conference girls basketball matchup Saturday, June 5.
  After a sluggish first half had left the teams tied 20-20 at halftime, Lynden coach Aaron Bogaard employed a 1-4 offensive set to get VanderYacht the ball. It required the senior standout to beat her defender and then either shoot a 3-pointer, drive to the basket or pass to an open teammate. Bogaard knew she would make good decisions.
  "They like to get up in it and pressure our ballhandlers," Bogaard said. "If they're going to faceguard her, we're still giving it to her to put it in her hands."
  Both teams held a 6-2 record this season coming into the game. The Lions had defeated the Tigers 69-59 a week earlier in Burlington and this time Burlington-Edison was without two key starters. Point guard Amey Rainaud, an all-Northwest Conference second-team selection last season, and 6-foot post Gabbie McKenzie were playing for their club volleyball team at a major tournament in Las Vegas. That became a conflict because of the delayed high school basketball season.
  However, Lynden's apparent talent and size advantage was reduced when 6-foot-1 post Faith Baar went to the bench with two fouls in the first two minutes of this game. Baar then missed the last four minutes of the first half after being shaken up when she fell hard on the court. She returned to action in the second half and finished with 4 points.
  VanderYacht scored 12 of Lynden's 16 points in the third quarter. Still, the teams were tied 36-36 going into the fourth quarter.
  A pair of 3-pointers by the Tigers then put them up 42-36, the biggest lead either team held during the game.
  Burlington-Edison still led 50-47 with just over three minutes left, but the trademark defense of the Lions kept the visitors scoreless the rest of the way. Lynden then sank six consecutive free throws, four by VanderYacht and two by sophomore guard Adia Newcomb with 20.7 seconds remaining to earn the seventh consecutive win.
  VanderYacht also grabbed 12 rebounds for the Lions. Sydney Reisner scored 13 points and Miranda Maskell added 11 for the Tigers.
  Bogaard said the Lions have had their two scheduled games this week, Monday against Mount Vernon and Wednesday against Anacortes, canceled due to COVID-19 outbreaks involving those teams. However, their remaining game of the week will be a strong test. Lynden will play at 7 p.m. Thursday, June 10, at LaConner, the Class 2B state runner-up last season and 9-0 this season heading into a home game Tuesday of their own against Burlington-Edison.
  Lynden, last season's Class 2A state champion, will conclude play with three games against traditional Whatcom County rivals: June 14 at Nooksack Valley, June 15 at home against Ferndale and June 17 at Class 1A Lynden Christian in a battle of defending state champions.