Lions drop 7-0 match to Sehome Wednesday, but confident moving forward
LYNDEN -- Two weeks before the boys tennis season started last year Jake Tucker's dad got a call from Lynden's JV coach. He wanted Jake to try out for the team. Tucker, then a freshman baseball player, had never picked up a tennis racket before. He also wasn't trying out for any other fall sports.
His reaction: "I'll play. Why not?," Tucker said. "I've got nothing better to do. So I hopped on and here I am."
Now a sophomore, Tucker has worked his way up to Lynden's No. 2 singles spot. His story is just one of many in the Lions' rebuilding plan, centered around eight brand new courts. Located at the Lynden Middle School, its eight courts are currently the most of any high school in the county ­— and the reason why Lynden coach Trey Ballard is excited about the future of the program.
A match against perennial powerhouse Sehome on Wednesday flies by in 50 minutes. Partly because Sehome won 7-0, but also due to every match being played at once with eight courts, rather than taking turns.
Tucker faced a formidable opponent in Sehome's Tully Scott, who qualified for No. 1 doubles state last season before breaking his collarbone. Scott controlled the point from the get-go, forcing Tucker to sprint back and forth and won in two sets, 6-0, 6-1.
But Tucker stayed in the points long, won the first game of the second set and improved his groundstrokes and lobs. He's still trying to hone in his serves, spots and angles.
"It was better than I expected," Tucker said. "Sehome's a tough team."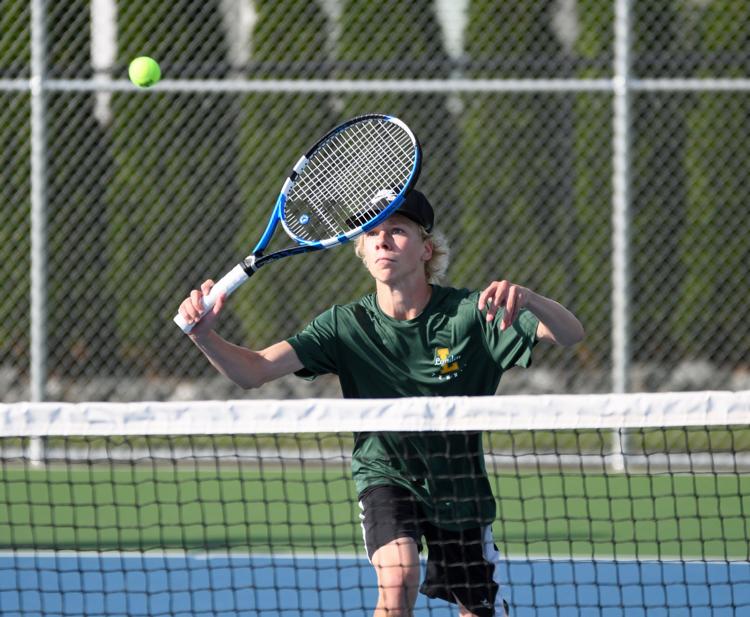 Coming off a 6-1 season-opening defeat to Ferndale on Monday, Ballard's game plan coming into the match against Sehome focused on winning games, not sets. The Lions know they're not going to win many sets against a team like the Mariners.
"Going into Sehome, we know that, so we talk about games," Ballard said. "But when we play [teams like] Sedro-Woolley we talk sets. Like hey, 'Steal this, steal that and then we'll see where we're at. We'll worry about yesterday, tomorrow.'"
Part of the reason is that teams like Sehome are so close to the Bellingham Training and Tennis Club that they can go there after school and still have time to come back before practice. Lynden, meanwhile, is the farthest away from a tennis club of any schools in the county.
"My guys, we don't have that luxury," Ballard said. "So, we're always kind of outmatched, just by hours on court."
Still, the Lions program is trending in the right direction, Ballard said. Another player whose stock is skyrocketing is junior Christian VanRooyen, who plays with Trevin Bosman on the No. 1 doubles team.
VanRooyen was the Lions' No. 1 singles player last season but decided to make the switch to doubles to speed up his development. It's his first time on doubles since his freshman year, his first playing tennis.
"I found out I like doubles way more than singles," VanRooyen said. "There's a partner that I can also rely on. It's less running and more fun."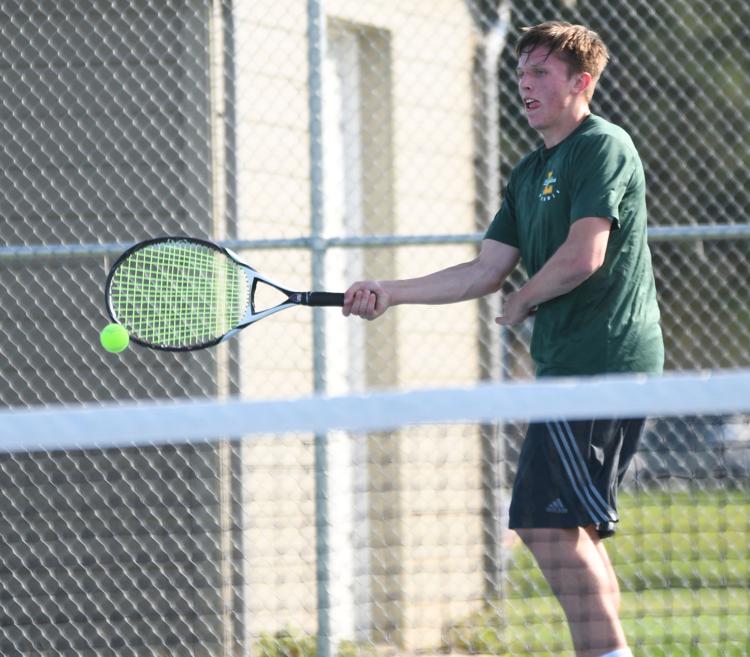 Doubles has helped him improve his serves, something he struggled with last season. He practices by serving and returning on a wall at the middle school, working on placing the ball where he needs to hit it. Sometimes he'll practice with Brenna VanderYacht, Lynden girls tennis' No. 1 singles player.
"She'll kick my butt and then I get better in the long run," VanRooyen said.
On Wednesday, despite not winning any matches, Ballard saw promise from his young team that graduated nearly all its varsity players from a year ago. The Lions had a tough practice on Tuesday where they went over the things they did wrong against the Golden Eagles.
"After our first match with Ferndale I think we all stepped up today," Ballard said. "We played our first match Monday and it looked like it. We played a much stronger team today and we looked better today than we did against Ferndale."
He pointed out the guys at the top of the ladder, No. 1 singles player Grant Heeringa, and doubles partners VanRooyen and Bosman, saying they all played solid matches against formidable opponents.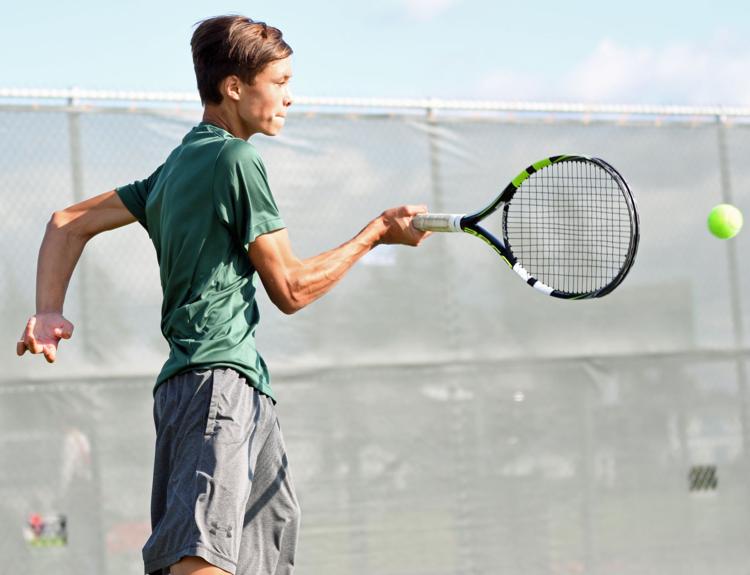 "Just that they're battling and stepping up to the challenge to play in this league," Ballard said. "It's nice to see. They fight hard. We're getting better each step. The learning curve is straight up right now and it's exciting to be a part of.
"We don't always win, obviously, but over time, with all these courts, the program's going to get stronger and stronger. That's my hope."
Results from the Lynden-Sehome match:
No. 1 singles: Sehome's Matthew Lloyd 6-2, 6-1 over Lynden's Grant Heeringa
No. 2 singles: Sehome's Tully Scott 6-0, 6-1 over Lynden's Jake Tucker
No. 3 singles: Sehome's Carter Birade 6-1, 6-0 over Lynden's Ethan McCaig
No. 4 singles: Sehomes' Nick MacPhee 6-1, 6-1 over Lynden's  Jacob Anderson
No. 1 doubles: Sehome's Garret Capristo and Warren Rose 6-2, 6-0, over Trevin Bosman and Christian VanRooyen
No. 2 doubles: Sehome's Thomas Kanenaga and Jordan Gill 6-0, 6-3 over Lynden's Parker VanderYacht and Jett Moore
No. 3 doubles: Sehome's Liam Romanyshyn and Tyler McGiverin 6-0, 6-0 over Lynden's Kai Hutchison and Coleson Blankers