Bowler, DeWaard led in points column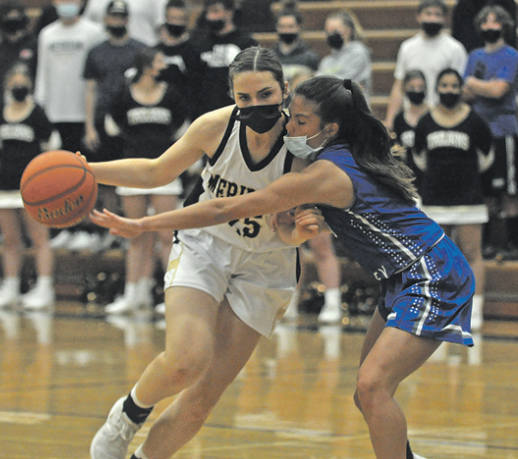 LAUREL — The Meridian girls rolled past Sedro-Woolley Monday evening, containing the Cubs and draining many shots from beyond the three-point line.
The Trojans finished ahead 50 points at 74-24, kicking in the running-clock rule partway through the fourth quarter because they were up by 40 with less than nine minutes to play, as per WIAA rules.
The Trojans closed out the first quarter ahead by 15 with the score at 25-10, and 18 of their points came from three-pointers. Maddie Bowler made three of those three-point shots and Brynn Neal, Finnley Claeys and Avery Neal recorded one apiece.
Trojans head coach Vic Wolffis said the Cubs managed a few looks at the beginning, but Meridian ended up containing them and pulling in the rebounds and steals.
"I thought early on they did a great job of getting the ball in to the high post," he said of the Cubs' offense. "Almost all of the action in the early part of the game was all off of the high-post feed. They did about three different things. We just tried to take that away, and I think we got a lot of tips."
Bowler said her team did a good job of contributing as a unit. Nine out of the 11 players on the roster scored, with Bowler putting up 18 and Ellie DeWaard recording 16 of her own. Kadance Blankers had 12 points and Skyleigh James scored 10.
"We have good communication and a good team bond," DeWaard said.
The short season has its ups and downs, Bowler said, and the lower stakes allow the team to focus on getting stronger.
"I think it's more of a learning environment than it is an end goal-motivated environment," she said. "It's a little bit more relaxed, especially for the new girls that are coming in."
The Trojans are down to just four games left to play this school year, and Wolffis said the game against the Cubs was actually only their second time together as a full team due to COVID-19 protocols earlier in the season.
"First of all, they're awesome girls to coach," he said. "They're a lot of fun to be around and it's been a lot of fun teaching them the game. Secondly, I think they've just journeyed through a lot of adversity."
In all that adversity, DeWaard said she's looking forward to seeing how the team does with a full roster.
"I'm excited too because our whole team's back together," DeWaard said. "We have everybody. We can play as a team and see how well we can do, just take each game at a time and do our best."
With graduation set for June 15, seniors Annie Vekved, Brynn Neal and Bowler will play two games after they graduate. Next up is Bellingham on Friday, followed by La Conner on Monday, June 14, Squalicum June 17 and the finale against Lynden Christian June 19.
"I'll be graduated and playing, so that'll be different," Bowler said. "I'm just excited to finish out my high school years with my team. They're like my family now."