Big sixth inning helps Trojans mount come-from-behind victory
LAUREL – Ella Zander ran out of the pitcher's circle and toward her teammates streaming out of the dugout, tossing her face guard and yelling in joy.
Moments earlier, with the bases loaded, two outs and a full count in the top of the 7th, Meridian's senior pitcher whipped a fastball by Squalicum's final batter for a swinging, game-winning strikeout to give Meridian a 4-3 Northwest Conference victory Friday at Meridian High School.
"Don't hit her, don't walk in a run," Zander said. "That's my main priority because that's controlled by me. And try and get the ball on the ground to try and get the last out. That's what was going through my mind.
"I've been the only pitcher for two years now, so I've learned to keep my cool and know I have a defense behind me and I know I can do it."
That final strikeout was Zander's third of the inning and 10th of the day to cap a dazzling complete-game performance on the mound for the Trojans' ace, who gave up three earned runs on five hits.
The Trojans (6-7, 2-4 NWC) and Storm (2-10, 1-7 NWC) had battled to a scoreless stalemate until the top of the sixth when Zander gave up a walk and a single. Squalicum's two-run triple to deep center knocked in both baserunners – Zander's only mistake of the evening – and Squalicum left the top of the sixth with a 3-0 lead.
"I told them not to get down, not to bury their heads in the sand," Meridian coach Megan Monaghan said. "It's still a ballgame and they still have a couple at-bats left, and they're very capable of beating [Squalicum]. And they responded. I'm very happy about that."
The Trojans answered back.
Senior shortstop Makayla Wright walked to start the bottom of the sixth, then stole second. Wright scored from second and gave the Trojans their first run after the Storm's first baseman dropped the throw to first on Brenna Mitchell's bunt. Mitchell stole second, setting up Sarah Lagerway's RBI single to right field that scored Mitchell to make it 3-2.
Zander was hit by a pitch in the helmet, then sheand Lagerway advanced to second and third after Audrey Mark's groundout. Danielle Graybill knocked in the go-ahead run with a 2-run single to center that scored Zander and Lagerway putting the Trojans on top 4-3.
All Meridian needed was three outs for the win.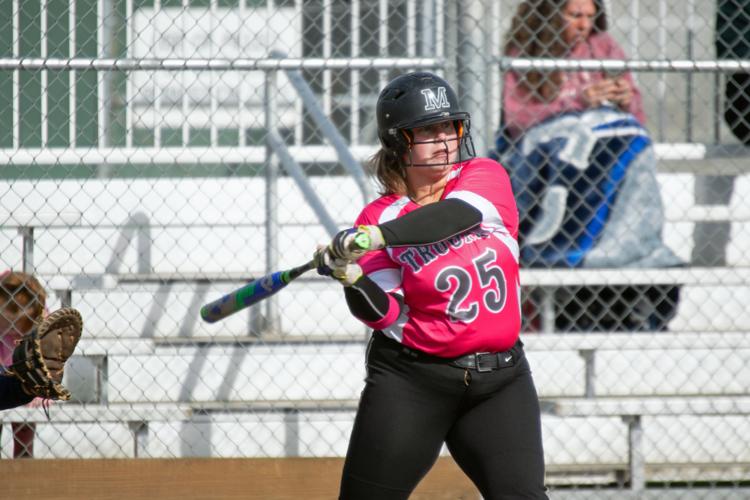 Zander surrendered a single up the middle to Squalicum's first batter, then fanned the second. Two passed balls allowed the runner to steal second and third, then a walk put runners on first and third with one out. Zander struck out another batter, then hit the next to load the bases. She worked a full count on the final batter before zipping a fastball in for a swinging strikeout for the win.
"It's really impressive," Monaghan said. "I haven't seen them play like that in a long time. I knew they had it in them, it just took this opportunity to pull it out of them. They responded just the way I knew they could. It was really exciting to watch. I'm glad they had that fight in them."
Graybill led the Trojans offensively, going 2 for 4 with two RBIs. Zander, who uses more location than speed, threw fastballs and screwballs from her six-pitch repertoire to fend off the Storm.
"It feels great," Zander said. "It really lifts our spirits. We've had struggles in the past years, so knowing we can get these league wins is really big for us."
Meridian trails Lynden Christian (7-8, 4-4 NWC) by two games and Nooksack Valley (9-7, 4-5 NWC) by 2.5 games in the 1A NWC with seven regular season matchups remaining. Two rainouts earlier in the season give the Trojans some cushion to catch up as LC has five games left and Nooksack four. Mount Baker (12-4, 5-3 NWC) currently leads the 1A NWC. The top three teams will make the postseason.
Meridian next hosts Ferndale at 4 p.m. on Monday, and the Trojans' next league matchup is at Blaine at 4:30 p.m. on Tuesday.