The Trojans stop late-game Borderites drive to win 21-15
LAUREL – Meridian came out on top at home against Blaine in a back-and-forth affair under the Saturday night lights.
The youthful Trojans squad was able to withstand a late-game drive by the Borderites that ended in consecutive shots to the end zone with seconds remaining.
Turnovers were the difference in the game. Meridian walked away with four interceptions while their offense didn't give the ball away once.
Senior defensive back and wide receiver Daniel Short had two of the interceptions himself. It was exactly what the Trojans needed to get their first league win of the season.
"Daniel Short played a great game," said Patrick Ames, Meridian's head coach. "They scored in their first two plays going right after him because he was the one in single coverage. Then after that he played tremendous."
As Ames alluded to, it was a quick start to the game for the Borderites. Junior wide receiver Ethan Koreski put his team on the board quickly with a long catch and run.
Blaine went for two and converted, taking an 8-0 lead only 50 seconds into the game.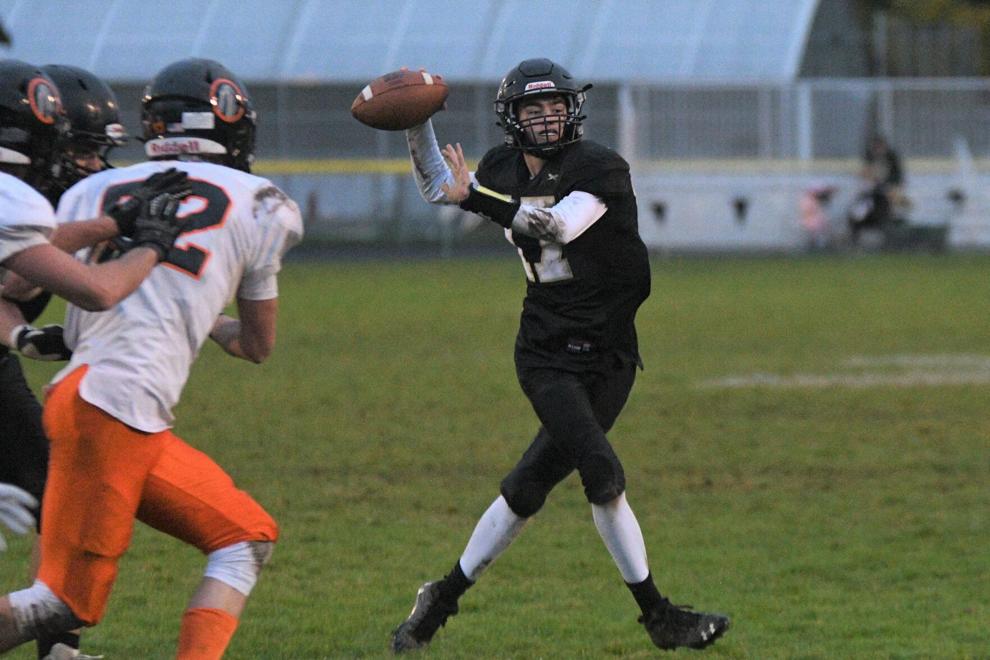 "They're an aggressive team, they really work hard," said Trojans senior quarterback Tucker Harrison. "We just knew we had to match their physicality to win."
For a moment, it was looking like we'd be heading towards a shootout. The Trojans, on the first play of their ensuing drive, answered right back.
Harrison found junior running back Hunter Jones for a 74-yard score on a deep pass capped off by Jones' legs.
"The shot was built into the play, and it worked out that way," Ames said. "He ended up having enough time and that's where the read took him. He [Tucker] made a great throw, and what a great catch and run by [Hunter] Jones."
Despite their not being a ton of scoring, Harrison did a good job of moving his offense up and down the field throughout the night.
"I was just looking to sneak it in anywhere I could find it," Harrison said. "They're a good defense, they cover well. It's just split-second throws that I had to make."
Jones also made good on the two-point conversion, tying the game at 8 only a little over a minute into the contest.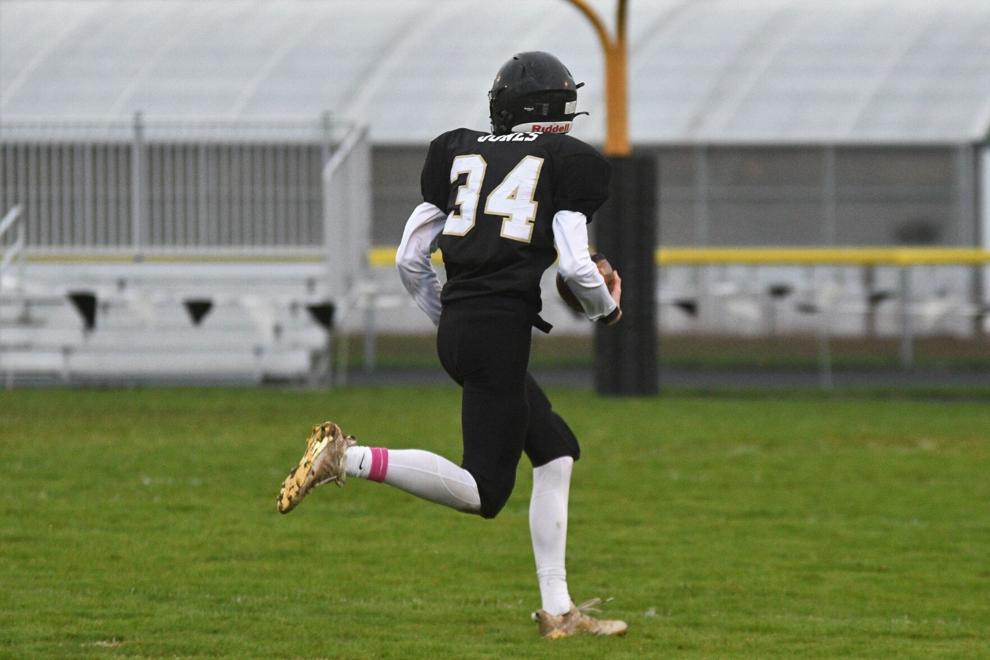 After the Borderites turned the ball over on downs, Meridian got another chance. Jones picked up 18 yards on a critical 4th and 12 inside the Trojans' 50-yard line to keep the chains moving.
A few plays later, Jones punched in his second score from two yards out. Meridian kicked the point-after attempt and the led 15-8 midway through the first.
With just under three minutes left in the first, Short secured his first interception of the game. Meridian possessed the ball at the end of the inaugural period.
However, the Trojans missed a big opportunity to extend their lead 80 seconds into the second, turning it over on downs at Blaine's 10-yard line.
Harrison, though, would get another Meridian interception on the Borderites' next drive.
Unfortunately, this is where things slowed down for both teams.
Avery Dohner, one of Blaine's senior quarterbacks, cracked the scoring drought by running in a score from a yard out. They made the point-after attempt, and it was tied at 15 with a minute left in the first half.
That would also be the halftime score.
The only other score in the game came on a 9-yard run by Trojans sophomore running back Joshtyn Elmer. Blaine tipped the kick to follow, and it was 21-15 with 2:45 left in the third quarter.
Prior to the end of the period, Meridian nearly had another interception, but it was called back. Senior defensive back Bryce Johnson picked one off that was negated from offsetting penalties.
Each of the Trojans' last two picks came inside of four minutes. Jones tipped a ball at Meridian's goal line that found the hands of junior defensive back Eli Jensen with 3:54 remaining.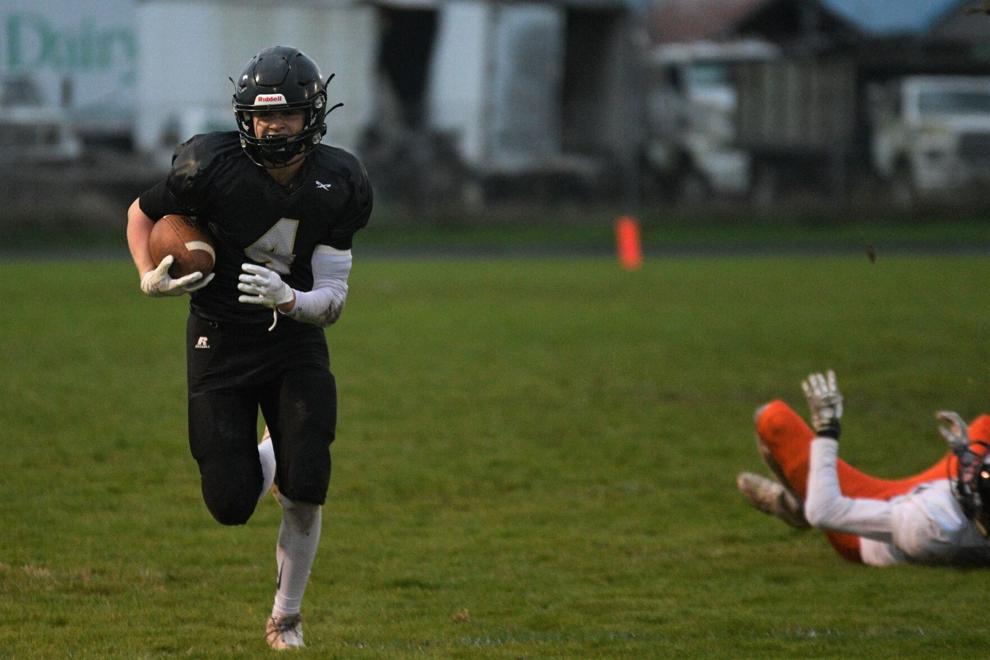 Short grabbed his second on the last play of the game while Blaine was sending shots toward the end zone.
The Borderites put together a solid one-minute drive to give themselves a chance to tie or win the game — but Short, well, cut it short.
"I knew it was going to be a challenge with their really good deep threats," Short said. "I just had to play confident and play back, not push up too much."
With the win, Meridian moves to 4-3 overall (1-2 NWC) this season. They will travel to Mount Baker (4-3 overall, 2-1 NWC) for their last regular season game of the year on Friday, Oct. 29 at 7 p.m.
Blaine dropped to 3-3 overall (1-2 NWC) and will host Nooksack Valley (3-4 overall, 1-2 NWC) on Friday, Oct. 29, at 7 p.m. as well.