Raveen Kaur's goal keeps Trojans' season alive
BELLINGHAM — Meridian girls soccer played most of the regular season short-handed, and in an ironic twist, their loser-out, winner-to-bi-districts match was against a limited Granite Falls team.
The Trojans took advantage, scoring early on a Raveen Kaur goal in the 23rd minute to come away with a 1-0 win over the Tigers at Whatcom Community College Saturday afternoon.
"I feel fortunate to get here," Meridian coach Paula French said. "To move forward is great. It wasn't our best game but I'm just happy we got the win and get to move on."
The victory gives Meridian (4-13-2) the fifth and final District 1 seed into the bi-district playoffs next week. The Trojans play an unknown Bear Creek (12-3-1) team in the opening round at 3:30 p.m. Monday at Robbinswood Community Park in Bellevue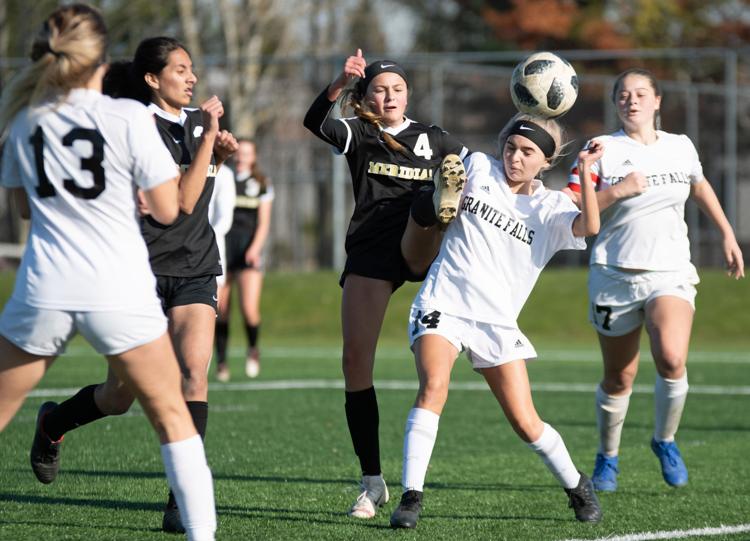 "I don't know anything about Bear Creek," French said. "I didn't even know where it was. Knowing nothing about the other team is a tough one."
What is known is the Grizzlies are unbeaten in seven of their last eight matches and are coming off a 2-1 win over a 6-9 University Prep team in its district tourney.
The top five teams at bi-districts advance to state, and the Trojans need to collect three straight wins to earn their state bid.
Against Granite Falls, the Trojans capitalized on the Tigers playing the first 60 minutes with only nine players. The rest of their team was taking scheduled SAT tests, and it wasn't until the final 20 minutes when two Tigers' seniors arrived as reinforcements.
By then the Trojans had taken a 1-0 lead from senior Aurya Downey's slick pass from the corner down to Kaur, who knee'd the shot through the net to put the Trojans up for good.
Competing against eight players was a huge advantage for the Trojans, Kaur said.
"It really helped," Kaur said. "It made us play more up instead of defending. Our team is very aggressive."
The two teams played in a non-conference friendly mid-season, and the Tigers only suited up nine players for that match, as well.
"It was unfortunate they didn't have a full squad the whole time, but we had to take advantage of it and we did," French said.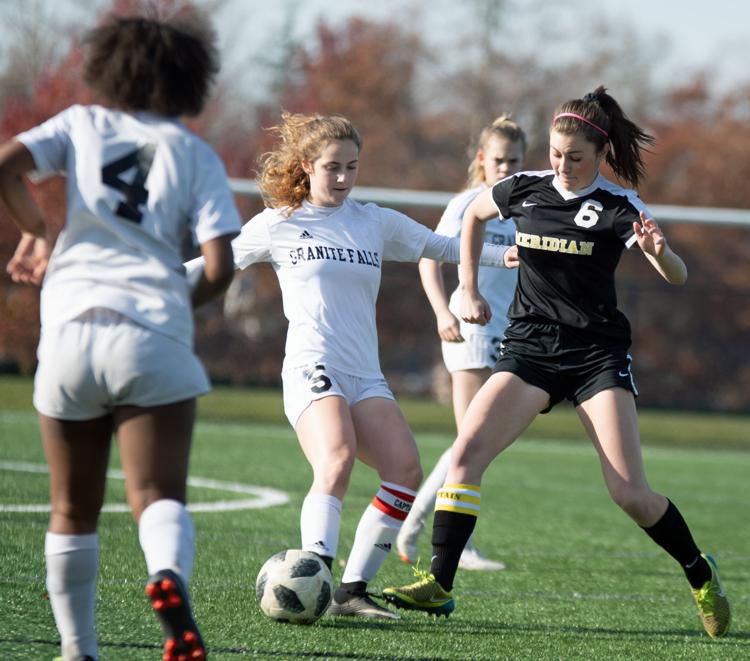 That previous match helped Meridian calculate in-game on how to counter the Tigers offensively.
"We were more aggressive than we have been, which is great," French said. "We had a few girls come back from injury. I don't know if they'll be available Monday, but we knew this was a loser-out game so they had to come in and give it their all."
Now the Trojans head into the Bear Creek game, a team they don't often draw in postseason. Meridian narrowly missed state the past two seasons, falling two games short in bi-districts last year and one game short two seasons ago.
Meridian is searching for its first state appearance since 2016, when it went 1-1 with a win over King's Way Christian in the opening round, followed by a 2-0 loss to Overlake.
French plans to spend Sunday researching Bear Creek, while her team gets iced up and rested. The Trojans leave early on Monday to head down to Bellevue, and French hopes they continue to play a  controlled, aggressive game.