From sea to summit — and back — in about 14 hours
BELLINGHAM — Jake Hartsoch is no stranger to the mountain.
The 44-year-old Bellingham resident has summited Mount Baker nearly 15 times — including four trips alone in 2019 — but this trip would be unlike anything he had attempted before.
Hartsoch, along with two friends, brothers Matt and Lane Seeley, set out on Tuesday, June 11, to bike, hike and ski from downtown Bellingham to the summit of Mount Baker and back. Their goal: to break the 21-hour known record for this feat.
Fourteen hours later, Hartsoch and the Seeley brothers pedaled into Waypoint Park in downtown Bellingham and leaped into Bellingham Bay, in a record-shattering triumph of endurance that tested the limits of three former triathletes now in their mid- to late 40s.
"It's definitely a record, but I only know three other parties that have done it," Hartsoch said. "There may be others, but I doubt it. It's a pretty hard thing to do. We all were inspired by the Mount Baker Marathon in 1911. I thought we would do it human-powered. I've been wanting to do it for years and see how fast I could do it."
The long-defunct 1911-13 Mount Baker Marathon — also inspiration for today's seven-leg Ski to Sea Race — challenged competitors of the time to go from the Chamber of Commerce building in downtown Bellingham to the mountain summit, and then back. The routes were either by train to Glacier and then running 14 miles to the summit, or driving a car to east of Deming and running 16 miles to the summit, according to whatcommuseum.org. The race was abandoned because of its dangers. The Ski to Sea race that began in 1973 starts at the Mount Baker Ski Area lodge, not at the 10,781-foot summit.
With only three groups of modern time known to have made a man-powered trek from Bellingham to the top of Mount Baker and back, Hartsoch and the Seeley brothers wanted to do it faster than anyone else ever had.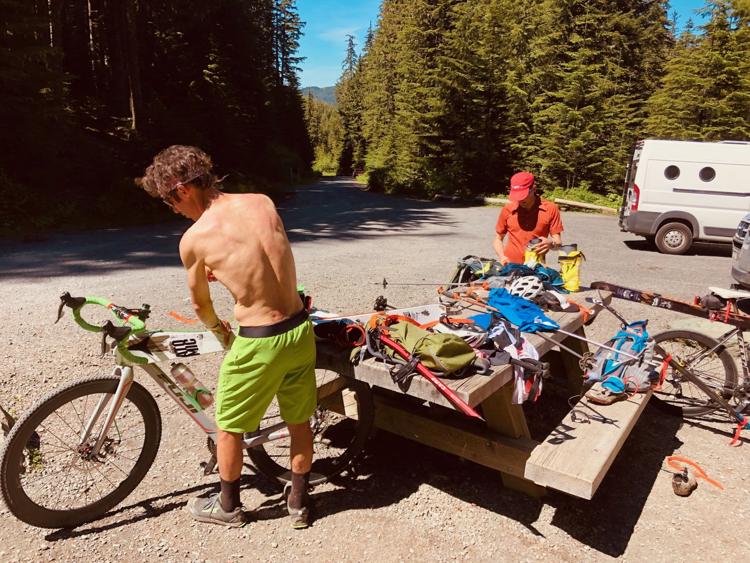 "It seems kind of contrived to try to do it fast, but the three of us just wanted to challenge ourselves," Hartsoch said. "We decided, 'Let's see how fast we can do this. Let's stop at the summit, stop for snacks, but when we are in motion let's try to set the record.'"
The three may be past their age prime, but they are anything but average athletes. 
Hartsoch, a college runner, met the Seeley brothers while competing in triathlons and all three have won multiple competitions. Hartsoch won the Lake Padden Triathlon in 2012, the Deception Pass Challenge in 2013 and the Clear Lake Triathlon in 2005, 2007 and 2010.
Matt Seeley, 48, was a professional triathlete in the 1990s and has won the Grizzly Triathlon in Montana six times, most recently this past April.
"Matt is one of the best triathletes ever to come out of the Northwest," Hartsoch said. "Lane is a very accomplished triathlete too."
Their latest endeavor was hatched when Hartsoch gazed over at the mountain years ago from his home in downtown Bellingham and thought, 'Wouldn't it be fun to just go right from here all the way up and back?'"
Hartsoch called up the two people he thought might be crazy enough to make the trek with him. Matt and Lane agreed. Hartsoch began mapping out the reoute, estimating how long each section would take and figuring out which items were absolutely essential. 
"I've been wanting to do it for years and I've never kind of found the right partners," Hartsoch said. "Matt and Lane have a real similar skillset and I knew would be perfect. It just kind of came together that they had a window of time."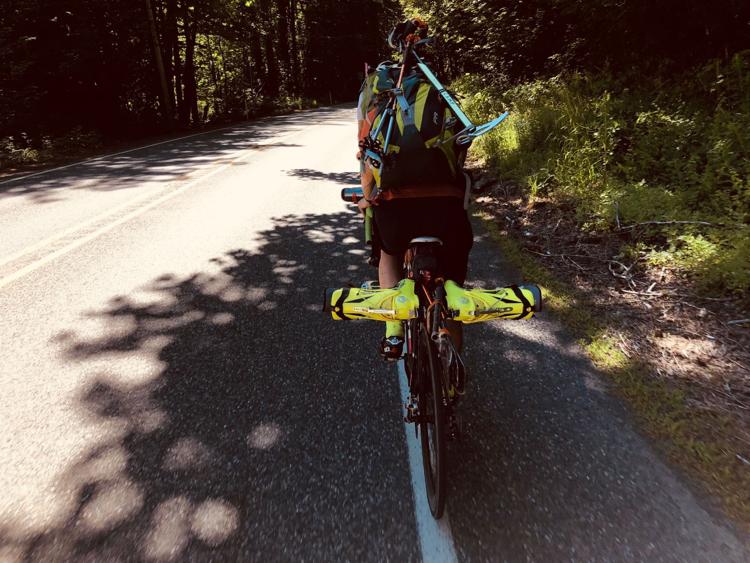 Matt and Lane came to Bellingham on Monday, June 10, and the three began packing their skis, climbing equipment, food and water. In the darkness of 4 a.m. Tuesday morning they touched their bikes in the water at the new Waypoint Park downtown and began pursuit of a record.
From Waypoint Park they pedaled down Roeder Avenue, up F Street to Cornwall Avenue and onto Sunset Drive. That becomes the Mount Baker Highway on which the trio continued as their main route up.
Just five miles in, Hartsoch got a flat tire in the dark.
"I said, "Alright, I think this might be a bad omen,'" Hartsoch said. "Then I thought, 'Well, maybe this is a good omen. Maybe this is the only problem we'll have.'"
At 30 miles they reached the Glacier Public Service Center where they refilled their water bottles for the steeper eight miles up Glacier Creek Road to the Heliotrope Ridge Trailhead. 
"That was definitely a really challenging part," Hartsoch said. "It's really steep and we had an extra 20 pounds of climbing and ski gear attached to our bikes."
They arrived at the trailhead about three hours and 45 minutes in, unloaded their bikes and went into ski-climb mode. They took off jogging down the trail until they hit snow, then "skinned" up the Coleman-Deming glacier route to the summit with ski skins, attachments used for climbing uphill. 
Hartsoch's had summited Baker four times previously this year, including just the week before. 
"I knew where the crevasses were, how dangerous or not dangerous they were," Hartsoch said. "I knew the route was pretty safe. I did quite a bit of legwork to see what we could get away with."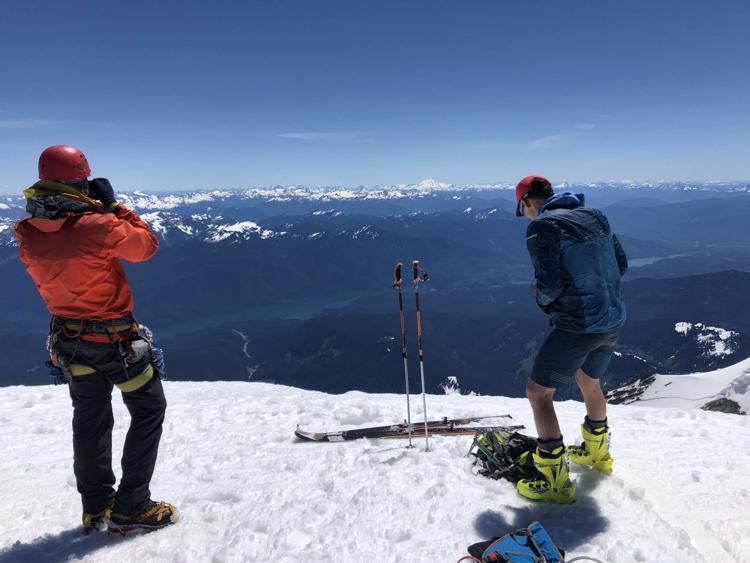 The three were exhausted by the time they reached the peak. They met a few other climbers at the top, asked them to take pictures of the three, took a lunch break and then headed down the mountain.
Halfway down, the tip of Hartsoch's skis caught in the softening snow and sent him tumbling. The impact broke one of his skis in half, along with a pole, puncturing his leg and painting the white snow red with blood. He dressed the wound right there on the slope and was able to continue on one and a half skis down to the trailhead.
"There were a few moments there where I thought my dream was dead and those guys were going to have to finish without me," Hartsoch said. 
Reaching the trailhead, they threw their skis on their backs and ran downhill two miles to their bikes, then descended down the road to Glacier. 
By this time their energy and motivation were both zapped. They started talking themselves into taking it easy.
"When we got back down off the mountain and were packing our stuff up, thinking about riding back home, we were not very excited," Hartsoch said. "We even said, 'We could just ride 10 miles an hour, coast from Glacier, take our time and stop at all the gas stations. Mentally we were thinking we were just going to limp in."
They made a pit stop at Graham's Store in Glacier for some ice cream and coke, hoping it would spark their motivation.
It was a temporary reprieve. The ride from Glacier to Bellingham was marred with traffic and road construction delays. Temperatures crept up to 80 degrees as the sun whipped their backs.
"We were just so hot and we were pretty much over it by then," Hartsoch said. "That last 35 miles was probably the low point. I was severely dehydrated; my body was just shutting down. The guys really had to wheel me in."
Matt and Lane took turns riding in the front to block the wind while Hartsoch brought up the rear. The three planned to hobble back to Bellingham — until the Seeleys looked at their watches.
"Then the guys were like, 'Oh, we might be able to get under 14 hours,'" Hartsoch said. "They started going faster and I was like, 'I don't know. This is getting a little ridiculous.'"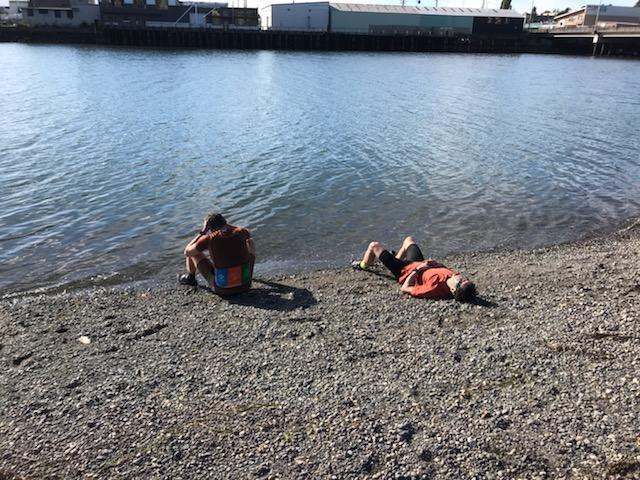 They reached Waypoint Park at 6:03 p.m., 14 hours and three minutes after their adventure began. All three bounded into the water in celebration. 
"I still can't quite believe it," Hartsoch said. "We're really happy with the time. We're older and semi-retired [from triathlons], so we just find more obscure things to do like this now."
Hartsoch plans to take a long rest before exerting himself to this level again. The total round-trip was 102.8 miles with 12,665 feet of elevation gain, counting all the ups and downs. They burned nearly 8,000 calories that day.
"It's a big day," Hartsoch said. "It's not something I do normally. We were just kind of excited to test our limits. I don't think I'll find the energy to do something like this for another year or two."