Strong fourth quarter propels Trojans over Borderites
LAUREL — Sixth-ranked Meridian boys basketball watched a 13-point lead evaporate, then recovered from a five-point deficit to hold off Blaine in a tension-filled 60-58 Northwest Conference victory at home Thursday.
The Trojans (8-2, 3-2 NWC) rebounded from a 79-53 loss to Burlington Tuesday after winning five straight to keep a fast-paced Blaine team (6-5, 1-4 NWC) that has now lost four in a row at bay.
"To have that lead, to give it up and then not let them get too far away, and to persevere through that and to keep them within reach," Meridian coach Shane Stacy said, "that's senior leadership. That's being gritty kids."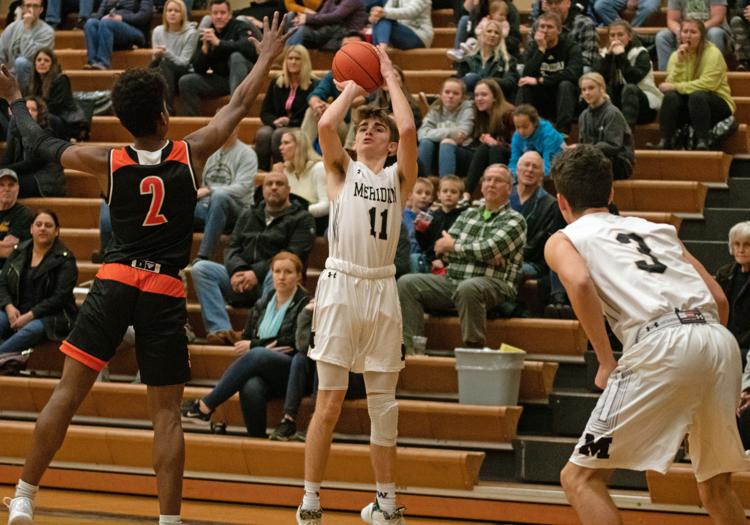 Meridian's 6-foot-3 senior star Jackson Short, who scored a game-high 17 points, said the team calls it overcoming the Lakewood bug.
The Trojans lost a 52-51 match to Lakewood back on Dec. 17. Since then, they've won six of their last seven. While narrow matches were the team's weakness last year, the Trojans have turned them into their strength as of late, including a 61-58 come-from-behind win over ninth-ranked Bellevue Christian on Dec. 27.
Being able to grind out those close wins this season has been a confidence booster for the Trojans, Short said.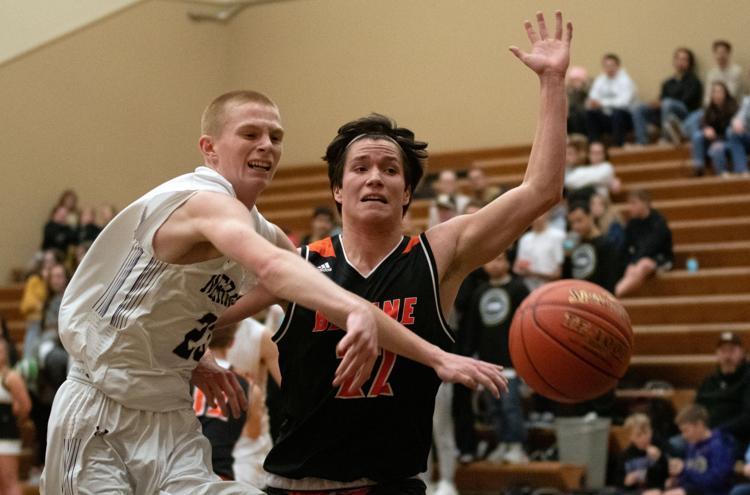 "Like coach has been saying all year, 'Games are long, seasons are long,'" Short said. "We believe in what we can do."
Wednesday's match looked like it might turn into a blowout early on as Meridian raced out to a 19-6 lead after one quarter. But Blaine finally got its offense going, breaking off two 9-2 runs over the next two quarters to take a 46-41 lead late in the third quarter.
"I probably panicked more than they did," Stacy said of his team.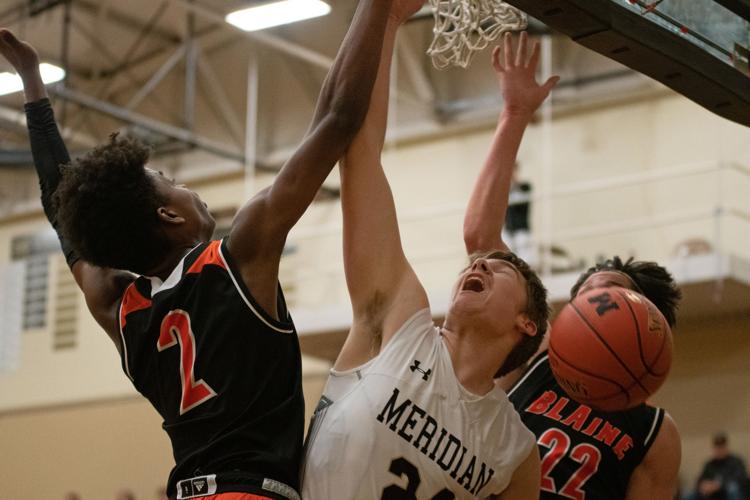 The Trojans stood strong, retaking the lead on senior Joseph Plagerman's layup with 4:19 to go, part of an 11-2 run to start the fourth quarter.
Senior Ryan Johnson had a big fourth quarter for the Trojans, highlighted by a crucial block in transition that stopped Blaine from tying it up with 20 seconds to play.
"He was somebody that every time he made a mistake he would go down on the other end and capitalize," Stacy said of Johnson. "He's got a high ceiling. This kid is a freak of an athlete."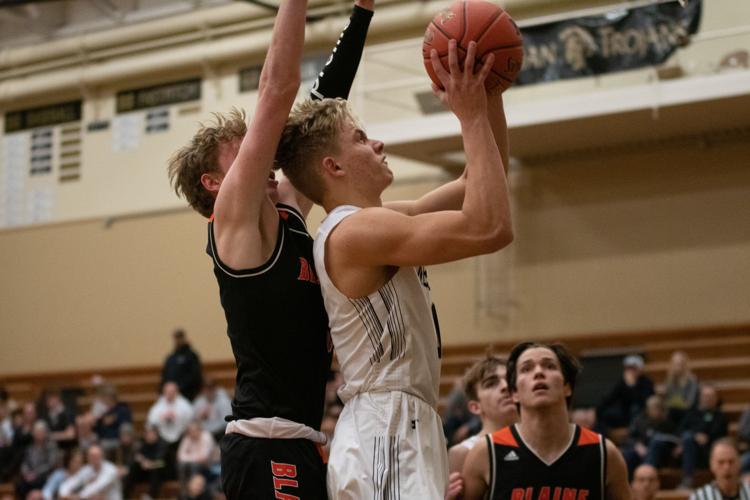 Senior Jordan Veenstra, who finished with 15 points, was clutch at the free throw line in the final 20 seconds, draining 4-of-4 from the charity stripe to seal the win for Meridian.
Eight Trojans in all contributed on the offensive end, including junior Eli Hayrynen with nine points, Plagerman's six, Johnson's five, Ethan Brook's four, Trent Martin's two and Trey Naidu's two.
"Our senior leadership held us together," Short said. "We kept the team together, even when Blaine got up. We were able to rally back."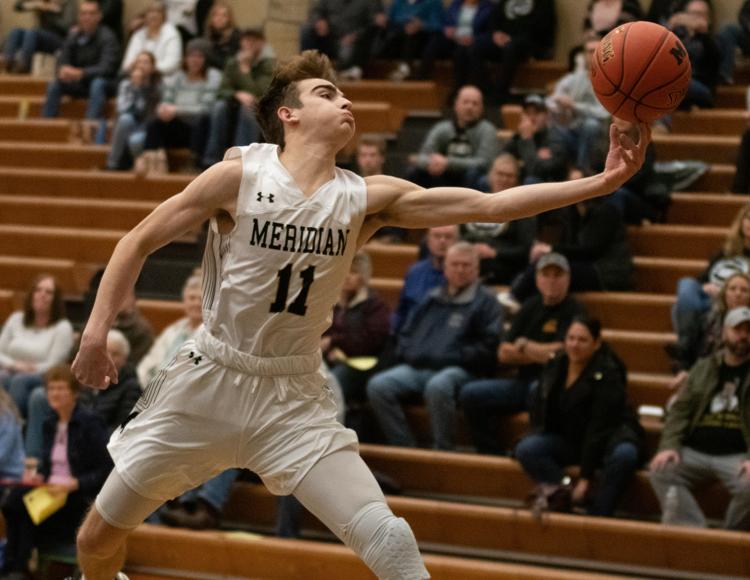 The Trojans next travel to Cedar Park Christian Bothell for a non-league match at 7 p.m. Saturday.
Boys scores from around the league
Lynden Christian 68, Sedro-Woolley 57
Junior Jaden DeBoer scored a team-high 15 points and dished out six assists and the 10th-ranked Lyncs (6-3, 4-1 NWC) won their third in a row.
Seniors Bryce Bouwman added 14 points and seven rebounds, Andrew DeVries contributed 11 points and Zach Sipma scored 10 points to go with nine rebounds in the win for the Lyncs.
Nine Lyncs in all got on the scoreboard, including sophomore post Andrew Hommes who tallied five points and seven rebounds. Lyncs coach Roger DeBoer praised Shale Whittern, Cole Moorlag and Brevin Zylstra for their defensive efforts in slowing the Cubs.
Burlington-Edison 79, Ferndale 77
Ferndale sophomore Jazen Guillory exploded for a season-high 35 points, but the Golden Eagles (7-5, 2-3 NWC) dropped their third straight after reeling off a seven-game win streak in December.
Freshman Isaiah Carlson scored 15, Mark Schlichting 11, Jesse Sapp eight and Andrew Monks seven in the loss.
Ferndale next travels to Blaine on Tuesday for a 7:15 Northwest Conference matchup.