Lions looking to get back into the state quarterfinals
LYNDEN — Lynden football turned a sloppy first quarter into a full-on blowout and a 48-21 district playoff win over Sehome on Friday. The score does not indicate how dominant Lynden was for most of the game.
Lynden coach Blake VanDalen got his wish for a top-four seed at state when the Lions (7-2) were given the No. 3 seed on Sunday. It means they'll take on Othello (6-4) at 5:30 p.m. Saturday at Civic Field.
The Lions also were placed in the top bracket, with the only higher-seeded team being Steilacoom, which Lynden defeated 56-47 in a thriller on Sept. 20. Both two-time defending champion Hockinson and top-ranked Tumwater are in the lower bracket.
Othello is led by BYU commit Isaiah Perez, a running back and defensive end, who was the Central Washington Athletic Conference's Defensive Player of the Year in 2018.
Othello is a large, physical team, with first-team all-league offensive lineman Elijah Roylance and Liddel Giles paving the way for the Huskies' old-school offense that features pro, slot and wishbone sets.
"We're talking like, this is grassroots football, hard-hitting Football 101 stuff," VanDalen said. "It'll be great for our kids to get away from the spread concept defensively, load the box and go to war."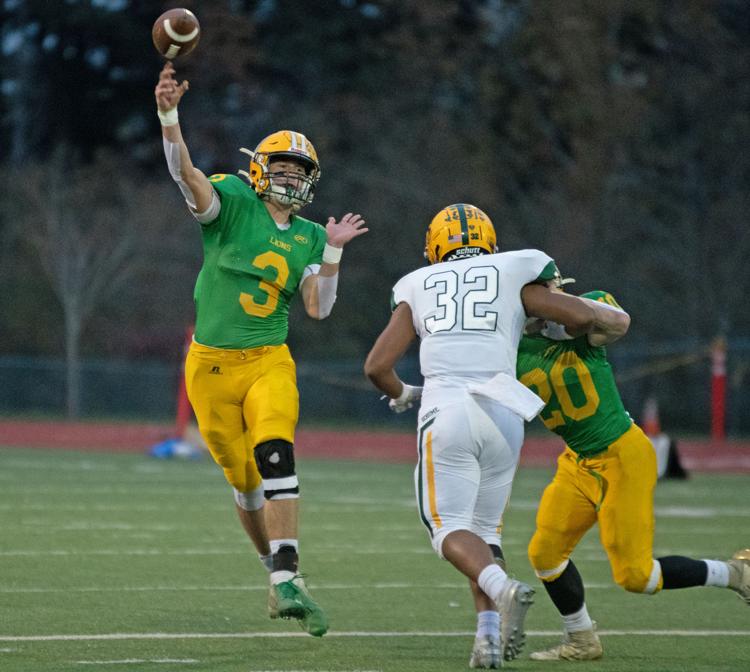 The Huskies like to put all 11 players in the box — what VanDalen calls a phone booth.
"It kind of sounds a lot like us," VanDalen said. "They've had a lot of success running the ball and have a really strong defense. It should make for a great matchup."
Ferndale and Burlington are the closest in similarity among Lynden's previous opponents to Othello, a team that will throw the ball if necessary but prefers to run it.
"I do feel like after the games we've watched that they do know their identity," VanDalen said. "They're not out there trying to figure out what they're good at, and that is running the ball right down your throat."