Lyncs grab sixth straight victory with rout of Lake Stevens
LYNDEN — After a week of postponed and canceled games, the Lynden Christian girls basketball team was finally able to hit the hardwood on Saturday against Class 4A Lake Stevens. 
In a fast-paced and physical game on both ends of the court, the Lyncs (11-1, 5-0 NWC) were able to work around early turnovers and secure the win taking down the Vikings (9-3, 5-1 Wesco) 69-45. 
Lynden Christian jumped out to a quick 10-4 lead in the first quarter, but Lake Stevens' solid defense created turnovers, and the Vikings were able to close the gap late in the quarter. The Lyncs led 22-20 after the first quarter. 
The second quarter was much of the same and LC held a slim 30-29 lead with 2:15 left in the half when Lyncs coach Brady Bomber called a timeout. The Lyncs went on an 11-2 run over the next two minutes to close out the half with junior Paige TeVelde hitting a 3-pointer at the buzzer to give LC a 41-31 lead at the break. 
TeVelde drained five 3-pointers in the game and led the charge offensively for the Lyncs with 18 points. Junior Lexi Hernandez scored 16, junior Emily Mellema dropped 12 and junior Kiley Roetcisoender added seven. 
"We stopped turning it over for a couple-minute stretch there which didn't let them get in transition," Bomber said. "They did a really good job running it down our throats [earlier in the game] and put a lot of pressure on our transition defense." 
He added the team was able to attack the basket in the paint effectively and make the extra pass which led to higher-quality shots. Not letting those early turnovers hurt the team was made possible by playing as a whole, he said. 
"It was a really fast-paced game so there were a lot of possessions," Bomber said. "Both teams are working out some of that winter break rust, but I thought we played really hard. That's probably a simple thing, but I thought our effort and togetherness was really good. That allowed us to play through some mistakes."
The Lyncs pulled away in the second half outscoring the Vikings 15-2 in the third quarter to take a commanding 56-33 lead. 
"They were putting a lot of pressure on us [in the first half], but we just needed to focus on playing our game and being strong," Hernandez said. "We had to really focus on not giving them second chances with their post players. That was really important for us. We just had to respond."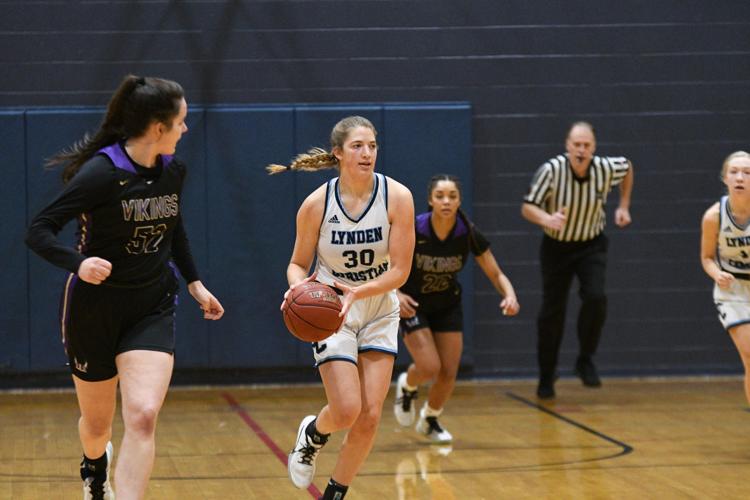 The Lyncs played tighter on defense in the second half and forced Lake Stevens, particularly guards Raigan Reed and Baylor Thomas, into putting up harder shots. 
"[Lake Stevens does] such a good job of setting ball screens for their guard so I thought we did a better job on the ball and with weak side help," Bomber said. "[That] allowed us to at least make those shots more difficult than they were earlier." 
The victory was the Lyncs' sixth straight since their only loss to Class 4A Woodinville in late December. Lynden Christian is currently tied for first place in the Northwest Conference with Lynden; the teams are set to meet on Jan. 30. 
Up next for the Lyncs is a Northwest Conference matchup with Sehome in Bellingham on Tuesday, Jan. 21.