Teams looking for trips to state playoffs once again
WHATCOM — The girls soccer season starts this weekend and for the first time in two years, there's something to play for. 
Here's a look at the north county teams in the Northwest Conference.
This past spring, the Lions compiled a 9-2-1 record with losses coming to Burlington-Edison and Ferndale. 
Lynden will open its season Saturday, Sept. 4. The Lions are traveling to Sammamish for a match against Class 4A Skyline. 
Head coach Carlos Melendez said he expects the team's strength this year to be on defense. 
"I think we're going to be super strong defensively," he said. "We have, to my estimate, probably two of the best center backs in the whole league paired together which is pretty awesome."
Melendez said Megan Sloane, Sam Villars and Adrianna McLendon should all be key pieces for the Lions this year to hang with the top of the conference. 
After struggling with numbers last season, Nooksack Valley coach Ashley Homer is looking forward to seeing what the Pioneers can accomplish this year with numbers on their side. 
Nooksack Valley finished the spring season with a 1-10-1 record with a win coming against Mount Baker. 
Homer said she sees everyone on the team contributing to a season of growth this year. 
"I'm looking forward to seeing Tehya Moore lead our offense in scoring goals, while our leaders in the back including Stacey Mendoza, McKenna Wichers, America Oettel and Sierra Anderson put up a good battle this season," Homer said. 
The Trojans are coming off a 7-2-2 record this past spring. 
Meridian will be fielding another young team this season, with most of the Trojans being freshmen or sophomores. 
Leading the Trojans will be seniors Mayah Torok, Jerisa Sandlund and Sydney Zanstra and leading scorer junior Maris Baklund. 
Beyond that, Meridian will look to its youth.
"Leading our back line is sophomore Morgan Adams who did an amazing job in her freshman season," head coach Paula French said. "Back also is newbie keeper Gracie Knutson who volunteered least season and filled in admirably. Sophomore Katie Prengaman will be key in our midfield as well as Erica Stotts who missed most of last season."
French said she's also expecting immediate contributions from freshmen Katie Nolton, Brooklyn Fuller, Sofia Brooks, Jovi Jensen and Bethany Bryon.
The Trojans' season will start Saturday, Sept. 4, with a jamboree at Oak Harbor.
The Lyncs' season opens Thursday, Sept. 9, at Squalicum after a 5-4-2 record earlier this year. 
Lynden Christian loses a handful of seniors from last season, but returning are a new batch of seniors and juniors.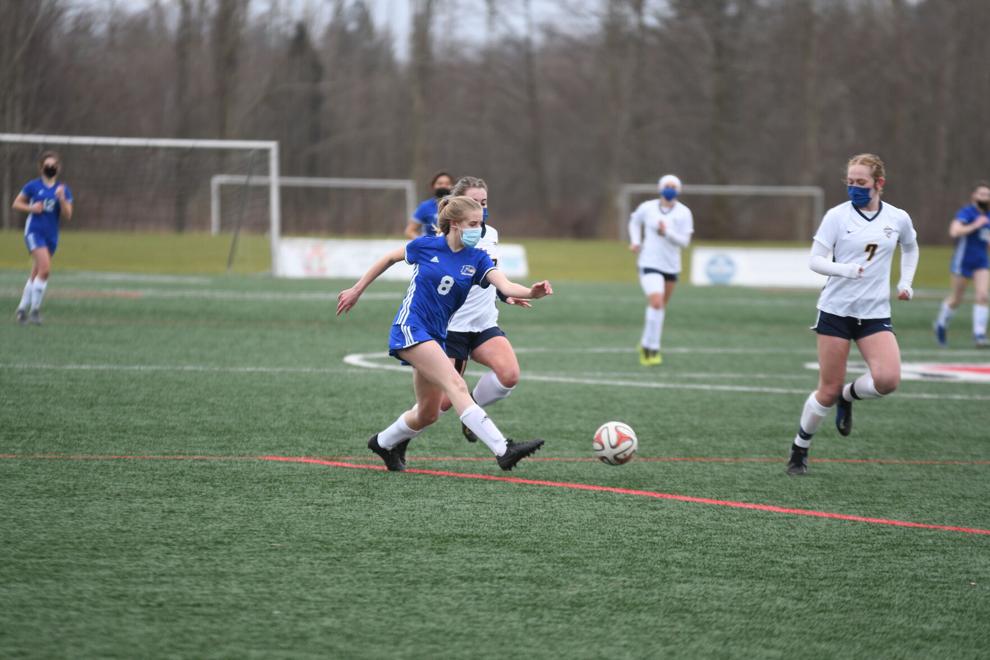 Experience will be on the Golden Eagles' side this season.
Ferndale fielded a young team of mostly freshmen and sophomores last season who now all have valuable minutes played. 
Losing only one senior to graduation, the Golden Eagles will look to their younger players once again this year. 
Ferndale's first game of the season is Tuesday, Sept. 7, at Sedro-Woolley. 
The Mounties are looking to bounce back from an 0-6-1 spring season. 
Mount Baker loses only three seniors and returns mostly now sophomores and juniors. 
The first game of the season for the Mounties is at home Thursday, Sept. 9, against Ferndale.