Pioneers earn second win of the season
NOOKSACK — After his team lost its first five games of the 2018 season, Nooksack Valley softball head coach Tom Harmon knew the best days were still ahead for his young Pioneers squad. 
Coming off a 20-0 Northwest Conference win over Bellingham prior to spring break on March 29, Monday's home contest against Ferndale provided another sign of positive things to come for the Pioneers as they used some timely hitting to squeeze out a 5-3 win over the Golden Eagles at Nooksack Valley Middle School. 
"Ws are always nice," said Harmon, who is also the high school athletic director. "Any win is a good confidence boost. I've told (the team) 'the best days are in front of us.'" 
In the pitcher's circle for the Pioneers on Monday was Harmon's granddaughter, sophomore Jasmin Harmon. In her second win of the campaign, Harmon pitched a complete game with five strikeouts and six hits allowed. 
During multiple frames, she quickly worked through Ferndale's lineup with groundouts and flyouts, and when the Golden Eagles got runners on base and put the pressure on, Harmon was able to work out of a couple of jams to keep Nooksack afloat. 
"She's growing," Tom Harmon said of Jasmin Harmon. "She did a good job hitting her spots and mixing her pitches well. She battled back when she fell behind in the count and we played some decent defense behind her."
Following a scoreless first inning, Nooksack Valley got on the board first in the bottom of the second. Sophomore Kaity Paz lined a deep double into the outfield to start the frame before being pushed to third on a successful sacrifice bunt by senior Ally Strong. Paz then scored on a groundout by senior Tanaya Pike to give the Pioneers a 1-0 lead.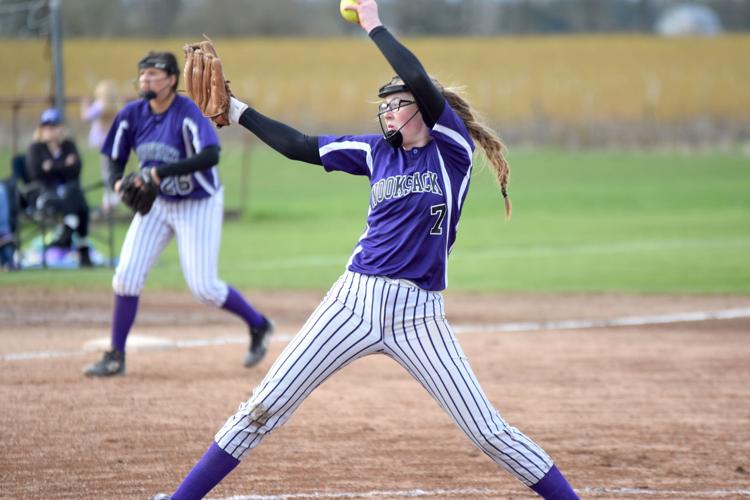 Ferndale responded in the top of the third inning to tie the game at 1-1. Then in the top of the fifth, it looked like the Golden Eagles would take the lead when they had runners on first and third base with two outs, but Jasmin Harmon worked out of trouble to keep the contest knotted. 
In the bottom of the fifth, the Pioneers were quickly faced with two outs with Harmon coming up to bat. The pitcher blooped a single to the outfield to start a rally. Junior Allie Bird then reached first base on a Ferndale error, and her freshman sister Aubree Bird came in to run for Harmon at second base. Junior Kendall Newton finally broke the tie with a double to score both Bird sisters as Nooksack took a 3-1 lead. 
NV wasn't done producing offense, however, as senior Makenzie Unser came up next and drove in Newton. Unser reached third base on the play, and freshman Destiny Dunlap brought her home with a single to wrap up the Pioneers' four-run burst that put them on top 5-1.
"That was pretty timely with two outs," coach Harmon said of the inning. "It shows the growth (of the team). You saw some kids put together some really nice at-bats. It's really good for them because they need to see that growth."
Ferndale responded with two runs in the top of the sixth, but the Pioneers got through the final two innings with their lead intact as Nooksack closed out the Golden Eagles with a 5-3 victory. 
"We still need to work on some things defensively, but we'll take it," coach Harmon said. "That was two evenly matched teams and it feels good to squeak one out."
Senior pitcher Alyssa Berg played well for Ferndale (1-5, 0-2 NWC), pitching six innings with five strikeouts and picking up three hits at the plate. 
Nooksack Valley (2-5, 2-1 NWC) was at Anacortes on Tuesday (for results, see www.lyndentribune.com). The Pioneers next take on Blaine at home on Thursday at 4:30 p.m.
Softball review
DRYDEN — The Mount Baker softball team took a long trip to Chelan County over spring break, taking on Cascade (Leavenworth) in a doubleheader on Friday. 
Game one went to Cascade 4-1 as sophomore pitcher Kennedy West took the loss in the circle, going six innings with five strikeouts in defeat. West also had two hits at the plate, including a double. Sophomore Tyler Miles also managed a double as one of just four hits for the Mounties' offense. 
Things went more according to plan for Baker in game two as the Mountaineers earned a 14-3 victory. Miles pitched seven innings and struck out nine batters and allowed just three hits and no earned runs. At the plate, senior Erica Brown had four RBIs, three of which came off a three-run home run, West had two RBIs and senior Kaylea Sleveland had three hits and scored three runs. 
Mount Baker (6-3, 1-1 NWC) hosted Ferndale on Tuesday (for results, see www.lyndentribune.com). The Mounties welcome Lakewood at 4:30 p.m. Thursday and head to Burlington-Edison at 4 p.m. Monday, April 16.
Lynden 3, Sedro-Woolley 2 
SEDRO-WOOLLEY — Lynden (4-1, 2-0 NWC) got past the Cubs in Monday's league game. 
The Lions battled Lynden Christian at home on Tuesday. Lynden next travels to take on Sehome at 6:15 p.m. Thursday, and then hosts Squalicum at 4 p.m. Friday and Sehome at noon Saturday. 
Lynden Christian (9-0, 3-0 NWC) was at Lynden on Tuesday. The Lyncs host Meridian on Thursday and play at Squalicum on Monday. Both games start at 4:30 p.m. 
Meridian (2-6, 0-3 NWC), which lost 18-0 to Coupeville on Friday, April 6, was at Sedro-Woolley on Tuesday ahead of Thursday's game at Lynden Christian.