WHATCOM — Last season, three of the four Class 1A girls basketball programs in the Northwest Conference reached the Hardwood Classic State Tournament in Yakima, with Mount Baker winning the title. On the boys side, 1A Lynden Christian managed fifth place at state, providing further evidence of the power of Whatcom County's smallest schools. 
Looking at the NWC standings this winter now in the final days of the regular season, and looking ahead to the postseason, the county could be in for another busy and memorable visit to the SunDome. 
Here's a breakdown of where the NWC 1A teams stand:
Lynden Christian (18-0, 11-0 NWC) has rolled to double-digit victories in every one of its game this season. The Lyncs entered Tuesday's contest against Bellingham with a chance to wrap up the league crown for a second straight season. 
LC's dominance has been highlighted by their play against a very tough slate of 1A teams in the conference. Nooksack Valley (12-6, 7-4 NWC) lost to LC 54-49 on Jan. 5, Meridian (14-4, 8-3) fell 52-35 on Dec. 15, and Mount Baker (7-10, 3-8) was just trounced 67-36 by the Lyncs on Saturday. 
Coach Brady Bomber's deep team is led by seniors Avery Dykstra and Sam VanLoo and junior Isabela Hernandez. Meridian head coach Mark Gilmore said LC is "as good as any team in the state," regardless of classification. 
Unlike the boys situation, the three NWC girls basketball teams moving on to the district playoffs have already been determined, as Nooksack and Meridian will join LC in the tournament that starts on Feb. 5. All that remains to be determined is seeding. 
Baker won't reach the postseason after winning its first state title in program history last March, but the Trojans and the Pioneers are two teams more than capable of making a run to the Yakima SunDome. 
Last season, the Trojans qualified for state for the first time since 2004. Meridian won its first-round game before losing its final two contests, coach Mark Gilmore's team has been out to prove all winter long they are worthy of a state trophy now. 
After losing a tough one against LaCenter 56-49 in the Cloud 9 Christmas Tournament on Dec. 27, the Trojans won nine straight games, including a 52-47 victory over Lynden on Jan. 4, and sat in second place overall in the conference. 
Meridian then lost to Ferndale 61-57 last week Thursday and fell 56-54 at Nooksack Valley on Saturday, but the team is still in control of its own destiny entering the final games of the regular season. 
A win over Squaliucm on Tuesday and over Burlington-Edison on Thursday, both home games, would assure the Trojans the No. 2 seed out of the conference in the district tournament. But those are both 12-5 teams. 
"There's not a league around that prepares you better (for the postseason)," Gilmore said of the Northwest Conference. "You play against some of the best teams in the state (on a nightly basis), and once you get in you should be ready to go." 
Coach Gilmore said last season's run to the state tournament has played a big role in his team's success this winter. 
"You can't beat that motivation of trying to get back and get a trophy," the coach said. "It creates a lot of excitement. The girls have been after it right from the beginning of the season." 
Meridian has been led by seniors Ellesse FitzGerald and Kyrin Baklund and sophomore Jolee Sipma, who all score right around 10 or 11 points per game. 
For Nooksack Valley, coach Shane Wichers' bunch has been focused on a return to the postseason after just missing out on the playoffs last winter.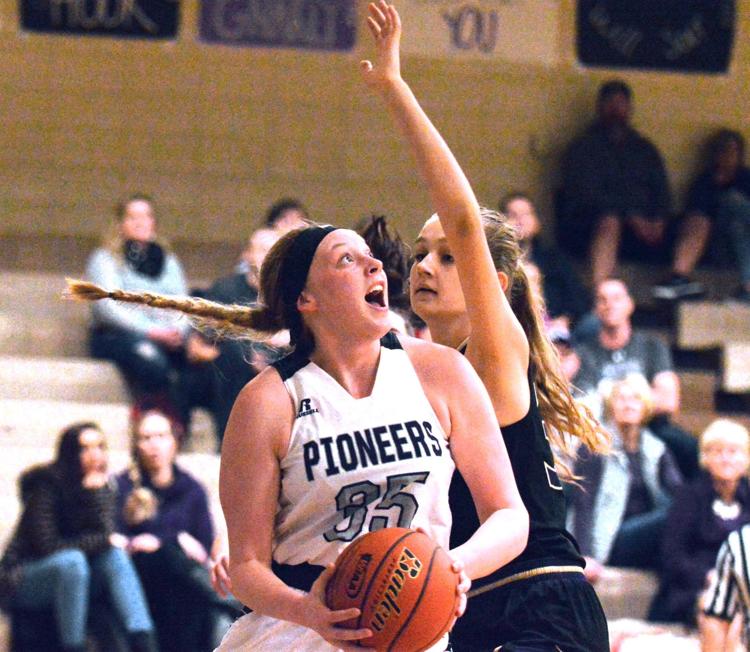 Two seasons ago, the Pioneers took fifth place at state, and they appear to have the strength to accomplish a similar feat this season. 
"Our win against Meridian was a great win for us because (the Trojans) are a great team, they play really hard and they are above us in the league standings," Wichers said. "Any time you can beat someone who is above you in the standings is a good thing," 
The Pioneers have been consistent all season, beating Mount Baker twice and losing just four league games in a loaded conference as of Tuesday. The biggest win of the campaign for Nooksack was, without a doubt, Saturday's victory over Meridian, which gives the Pioneers a chance to snag the NWC No. 2 district seed.
"This league has been tough again this year," coach Wichers said about the NWC. "On any given night, anybody can beat anybody. 
"I tell our team all the time that 'come postseason, you're not going to see anything you haven't already seen from someone in our league, so trust your training and your teammates and good things will happen.'" 
Wins over Sedro-Woolley on Tuesday and Squalicum on Thursday, coupled with one more Meridian loss, would hand that No.2 spot to Nooksack. 
The Pioneers have been led by senior Katrina Gimmaka (19.6 points per game), junior Jenna Tenkley (7.9) and junior Kora Larsen (7.9).  
Lynden Christian (19-0, 11-0 NWC) has already secured the top spot among NWC 1A schools heading into the 1A district tournament, which starts on Monday. With a victory over either Bellingham on Tuesday or Lakewood on Friday, the Lyncs will also add a league title to their resume, which would mark the first time in the 12-year history of the Northwest Conference that a 1A school won the league. 
The Lyncs, under coach Roger DeBoer, have been led by a group of sharpshooters this season, highlighted by junior Cole Bajema. Looking to improve on last year's finish, LC has clearly been the class of the league this season, winning 14 games by double-digits and outracing its fellow 1A schools — Mount Baker, Nooksack Valley and Meridian — by a combined score of 240-170. 
After the Lyncs, things are tight between Baker (9-8, 4-7 NWC), Nooksack (9-9, 4-7) and even Meridian (5-13, 2-9). 
The Mounties beat Meridian 67-56 on Jan. 22, three days after losing to Nooksack 49-46. The Pioneers have followed that win over Baker with three straight losses, most recently to Meridian 68-59 on Saturday. 
"As far as how competitive our league is, I think the Northwest Conference is always tough to play in and this year has been no different," said Nooksack Valley head coach Rich Skillman. "This year, the league is more balanced from top to bottom, and on any given night any team can win."
The top three teams qualify for the district tournament, which sends four teams to the bi-district round on Feb. 12. The district champion automatically qualifies for the regional round on Feb. 23, and four teams in total will reach regionals out of the 1A bi-district. 
The state tournament runs Feb. 28 through March 3. 
Nooksack Valley has had a nice bounce-back season under second-year head coach Rich Skillman.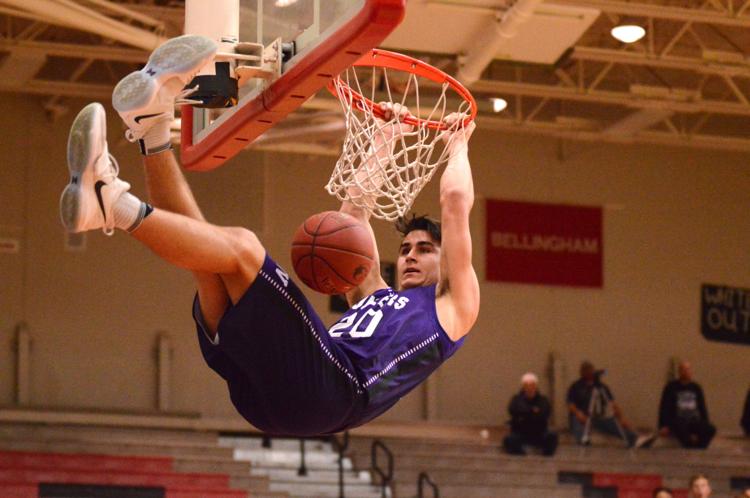 Led by senior big men Casey Bauman (19.8 points per game) and Jordan Veening (12.6), the Pioneers have the size to make noise in the postseason, should they qualify. Shooting threats Zach Johnson (8.2) and Ty Rawls also make Nooksack a dangerous team. 
Mount Baker graduated a large senior class last June, but the Mounties have stayed competitive under coach Rob Gray this winter. They've suffered some tough losses to the likes of Ferndale, Burlington-Edison and LC, but Baker also has big wins over Lakewood (twice) and Squalicum to its credit.
"Our conference does help prepare you for the postseason, just by the sure fact that every night you have to play a good team," coach Gray said. "There are no nights off." 
Sophomore Kaleb Bass (12.1 points per game) and seniors Thomas Barbo (9.5) and Ethan Gates (8.4) pace the Mounties on offense. 
With the Meridian football team making a run to the 1A state title game, the Trojans had to wait until nearly mid-December to get their season started. The team didn't win a league game until beating Blaine 70-39 on Jan. 12, but Saturday's win over Nooksack has the Trojans clinging to life in the race for the postseason. 
If Nooksack lost Tuesday's game against Sedro-Woolley and loses again to Squalicum to finish the season on Thursday, and if Meridian beat Squalicum on Tuesday and gets past Burlington-Edison in Thursday's finale, the Trojans would advance to district by virtue of owning the tiebreaker over Nooksack. 
"If we can make it out of the league healthy, I love how the Northwest Conference sets us up for the postseason," Skillman said. 
Mount Baker, which played at Lynden on Tuesday and is at Sehome on Thursday to wrap up the regular season, would win a tiebreaker over Meridian. If all three teams end up with the same record, the two teams with the fewest points allowed over the course of the season would advance. 
Of course, a Meridian loss on Tuesday or Thursday would send the Mounties and the Pioneers to the playoffs.