PULLMAN — Listed at 6-foot-4 and 310 pounds, 2012 Nooksack Valley High School graduate BJ Salmonson is far from being the biggest player on the offensive line for the 2017 Washington State Cougars.
Despite his relatively small size for an offensive lineman, Salmonson still has managed to put together a pretty nice career for WSU — highlighted by a full-time starting role for a team fighting for the Pac-12 title this fall.
While Salmonson is receiving an abundance of playing time this season, the former Pioneer has had to prove himself time and time again during his journey to the starting gig on the line. 
After earning All-State honors as an offensive and defensive lineman at Nooksack Valley, playing under current Nooksack football head coach Robb Myhre, Salmonson graduated as a member of the Seattle Times Red Chip List in 2012. He was recruited to Pullman to play under coach Mike Leach, who began his tenure with WSU football in the fall of 2012.
Salmonson, like plenty of incoming freshmen at Division I universities, was a grayshirt during the 2012 campaign before enrolling at the university in January 2013. He participated in drills that spring ahead of his redshirt freshman campaign in which he appeared in seven games, mostly on special teams.
"Coming from Nooksack, I was like the best player (on that team), so coming into (Washington State), I kind of had the same expectation, but then you get here and realize that isn't the case at all," Salmonson said, speaking on what he learned during his grayshirt and redshirt seasons. "You (become) one of the lower guys, you have to build yourself up and work up to that starting spot."
Salmonson added that he improved his technique and got "bigger and stronger" during those first two seasons in Pullman.
In his 2015 redshirt sophomore campaign, Salmonson played on special teams in all of the Cougars' 11 games. Playing behind three-year starter Eduardo Middleton for a third straight season in 2016, Salmonson made his first career start in a win over Oregon State that fall, filling in as an injury replacement.
Throughout the season, he acted as WSU's swingman on the offensive line, filling in when any interior lineman was injured and participating in all 13 games.
"That was my first work in (game action)," Salmonson said of the 2016 season. "Any chance I got was great, just to learn the competition and to feel what it was like to play at a full-game speed."
Salmonson's determination and work ethic finally earned  him the chance to start every week this fall, an opportunity he hasn't let slip out of his grasp. His solid play earned him weekly team awards during Cougar victories over Montana State (Sept. 2) and Colorado (Oct. 21).
WSU suffered a blowout 37-3 loss to Cal on Oct. 13 — Salmonson recalls something coach Leach said to him following the game that has stuck with him throughout the season.
"He said to me 'just because you're smaller doesn't mean you don't deserve to be here.'" Salmonson said. "That was great for me to hear."
Clearly, Salmonson has proved Leach's sentiments to ring true.
Now in his fifth full season with the program, Salmonson, who primarily plays right guard, is part of an experienced o-line unit for the Cougars.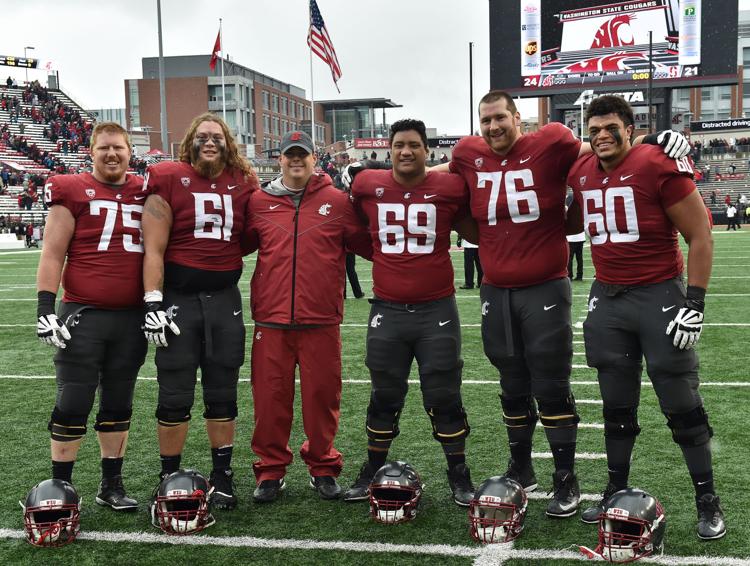 At left tackle is junior Andre Dillard. Redshirt senior and 2016 unanimous All-American selection Cody O'Connell fills the left guard spot. True sophomore Frederick Mauigoa plays center. Senior Cole Madison is the starter at right tackle.
"We have great chemistry," Salmonson said of the line. "Cole, Cody and I have been here since the beginning of the Leach days. We're all great friends, we know each other and we know what this (season) means to us. We don't want to disappoint each other. We'd do anything for each other."
Running coach Leach's "Air Raid" offensive system, predicated on big plays, the line has helped the Cougars average 33 points per game this season. The group's main goal, of course, is to protect senior quarterback Luke Falk, who has thrown for 3,224 yards and 29 touchdowns to help prove that the group is doing pretty well in accomplishing its task.
Of Leach's offense, Salmonson said, "It's great, different than most other styles in college football. It's fast-paced and high-tempo, so you just have to be ready for anything he throws at you."
The Cougars, ranked No. 13 in the latest College Football Playoff rankings, were off during the past weekend, giving the team ample time to prepare for one of the biggest games for the program in several years — the annual Apple Cup against the University of Washington on Saturday in Seattle at 5 p.m.
Washington State (9-2, 6-2 Pac-12) sits in first place in the Pac-12 North and can clinch the top spot with a victory — No. 17 UW (9-2, 6-2) has been eliminated from title contention.   
If WSU wins, it would send the team to the Pac-12 Championship game, set for Friday, Dec. 1, at Levi's Stadium in Santa Clara, California, for the first time in the seven-year history of the game.
The UW game is undoubtedly a big one for Salmonson and the Cougars, but the team knows it's important to keep everything in perspective.
"We just take it one game at a time," Salmonson said. "The next game is always the most important."
Saturday's Apple Cup will be broadcast live on Fox.
No. 11 USC (10-2, 8-1) has already clinched the Pac-12 South while the North will come down to WSU and No. 21 Stanford (8-3, 7-2) — a loss by the Cougars Saturday would send the Cardinal to the title game.