The Lynden Christian senior guard has become one of the Lyncs' all-time shooters by sharpening his skills while others sleep
LYNDEN — Andrew DeVries receives the inbound pass 31 feet deep — closer to the half-court line than the 3-point arc. Burlington-Edison senior guard Erik Altenhofen gives DeVries five feet of space. He doesn't know it yet but the cushion is too much. He'll find out in a split-second. DeVries catches the ball in rhythm, uses his patented quick release and hoists a rainbow that finds nothing but net. 
DeVries' friend, Lynden Christian High School student Paul Forbes, scribbles on a large whiteboard he's holding in the stands behind LC's bench.
DeVries' next 3 bounces off the rim, then off the backboard and back into the hoop. Another scribble. Later he nails a 20 footer, then a 25 footer. Scribble, scribble. Next is a transition 3 in mid-jog from 37 feet out that surprises even LC boys basketball coach Roger DeBoer.
"We had to stop the film and look," DeBoer says. "His heels were, not close, his heels were on the center circle. And it was nothing but net."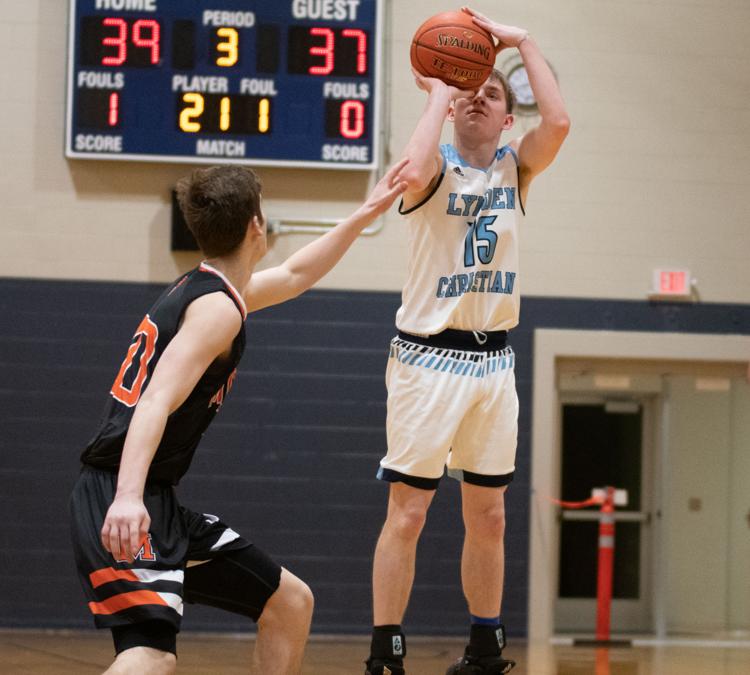 But it's his sixth long-range bomb that draws the biggest praise, a step-back 24-footer with a hand in his face that elicits chants from LC's student section, "That's the record! That's the record!"
When the final buzzer screeches across the gym, Forbes' sign shows nine 3-pointers for DeVries, a senior guard at Lynden Christian who has broken his own single-game school record.
It's not even the reason Forbes brought the whiteboard that night. He predicted, correctly, that his friend would break an entirely different record. DeVries' fifth 3-pointer of the night tied former teammate Cole Bajema's career school 3-point record of 226 treys, and his sixth broke it.
"I haven't full grasped it yet," DeVries says.
It's a lofty recognition to hold from a program that's captured six Class 1A state titles and has a storied history of talented scorers.
Bajema, the Lyncs' all-time leading scorer and a two-time AP 1A Player of the Year, is now a freshman playing for Michigan. The 3-point record holder before Bajema was Grant Dykstra (184), who held Western Washington University's career scoring record until 2017.
"To be in the same conversation as those guys is an honor and humbling," says DeVries, who also owns LC's single-season 3-point record of 85 treys he set as a sophomore in 2018.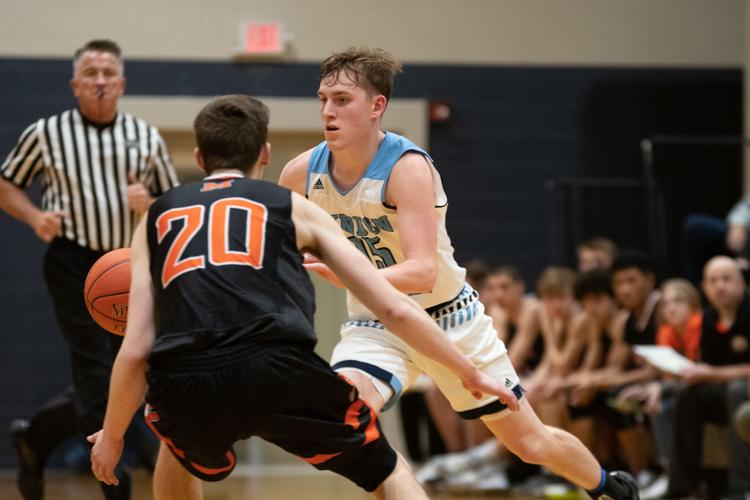 At 6 a.m. on a school day, while most of his classmates are still sleeping, DeVries turns off his alarm and prepares a homemade breakfast burrito with egg, cheese and sausage. By 6:30 a.m. he's out the door, in his car and on his way from his home in Bellingham to the Ridnour Athletic Complex in Lynden, more commonly known in Whatcom County as The RAC.
Thirty minutes later he arrives and finds himself alone in the gym owned by former NBA guard and 2000 Blaine graduate Luke Ridnour. 
Under one of the hoops is a machine called The Gun, which collects rebounds and feeds him the ball.  He begins firing off set shots from the five spots on the floor from about three feet out to get into a cadence. He goes until he makes three in a row from each location then moves back to 10 feet and repeats.
"Getting that rhythm, the feel of the ball coming off the fingers, making sure all the mechanics are right," DeVries says of his routine. 
Every time he rotates to a different spot he shoots two free throws. Then he takes reps launching shots from his left foot, then right foot. Coming off screens. Dribble pull-ups. Then 10 free throws in a row. The free throws sometimes take him longer than he would like.
All of this is done in an empty gym. Alone. Just how he likes it. The quietness helping him focus on his mechanics and technique.
By then, at 7:40 a.m., and getting close to having to leave for school. He begins ripping off deep pull ups and catch-and-shoots from NBA-plus-depth.
Before school has even started, he's put up 300 shots. It's a routine he repeats three days a week -- and one that's made him one of the most prolific shooters in Lynden Christian history.
"The people who are best at their craft are the people who are doing that, "DeBoer says. "He hasn't become great at shooting because he stays in bed."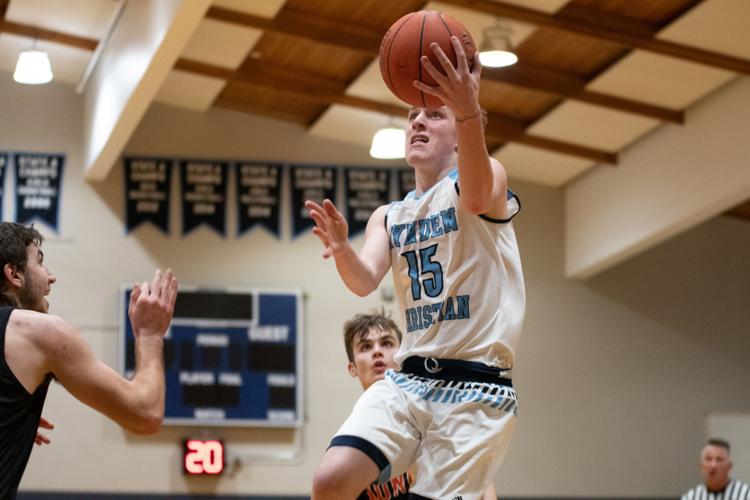 During LC football's state title game in December, he was on the sidelines with a camcorder filming the Lyncs' first championship appearance in 22 years. Six of his eight teammates were on the team, and while he was cheering them on, he was also there because he loves football. But his second favorite sport is one he knew he could never play.
"Football was kind of out of the picture because I didn't know how well I could handle getting hit," says the 6-foot, 160-pound DeVries.
He was OK at other sports growing up, he says, but basketball was the one that drew him in. 
His dad, Doug DeVries, played for Trinity Western in Langley, B.C. and later coached there. His grandpa, Ed DeVries, played for Taylor University in Indiana, while his uncle and cousins also played at universities in Canada. The DeVries family lives for basketball, an appreciation for the game that was handed down to Andrew at an early age, and he's found his own love for it.
Basketball fit his personality best. He's not a super tough guy, like friend and teammate Zach Sipma, a starting post for the Lyncs and an all-state defensive lineman, or senior running back Levi Korthuis, who inspired him to push his workouts even further.  
So instead of driving into the paint and clashing with bigs, he decided to make his mark from beyond the arc.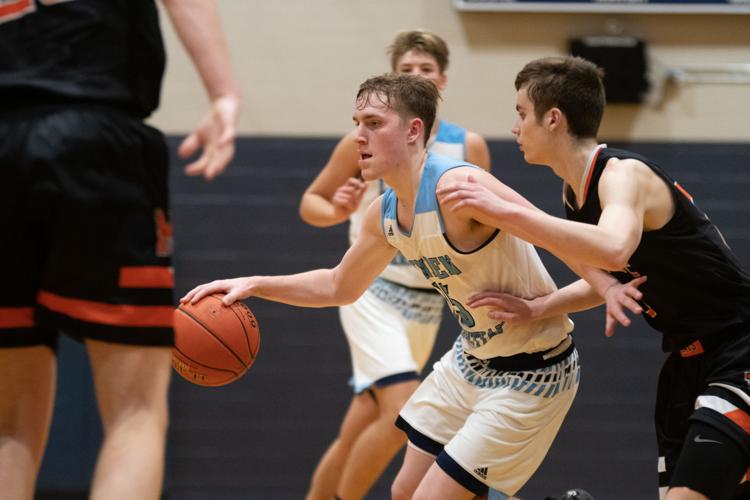 DeVries' silky smooth jump shot may be what catches spectator's attention when he lifts up for an in-game shot, but what they may not notice is the slight smile that appears in mid-air before he releases. Even DeVries didn't realize it until recently.
There are few shots that are daunting to him. All those hours spent inside The RAC heaving jumpers has paid off. He doesn't get rattled when defenders push him back 10 feet beyond the arc, or when he's called upon to take a last-second 3 with the game on the line. 
"When I'm shooting those shots, whether it's in front of a crowd or against a tough team, I'm prepared," DeVries says. "I've ran that race before."
A three-year starter, DeVries was the sixth-man as a freshman and catapulted to the second-leading scorer his sophomore year when LC won the state championship, as well as his junior season.
He earned second team all-Northwest Conference honors each of the past two years, averaging 13 points in 2018 and 12.3 in 2019.
It's now to the point where the game has become fun, he says; not to say that it hasn't been. He's just more comfortable in crunch situations when the team needs to lean on his leadership. 
"I feel once I'm one step inside half court I can get it there," DeVries says. "Maybe I'm not going to hit that a lot but I'm comfortable shooting it."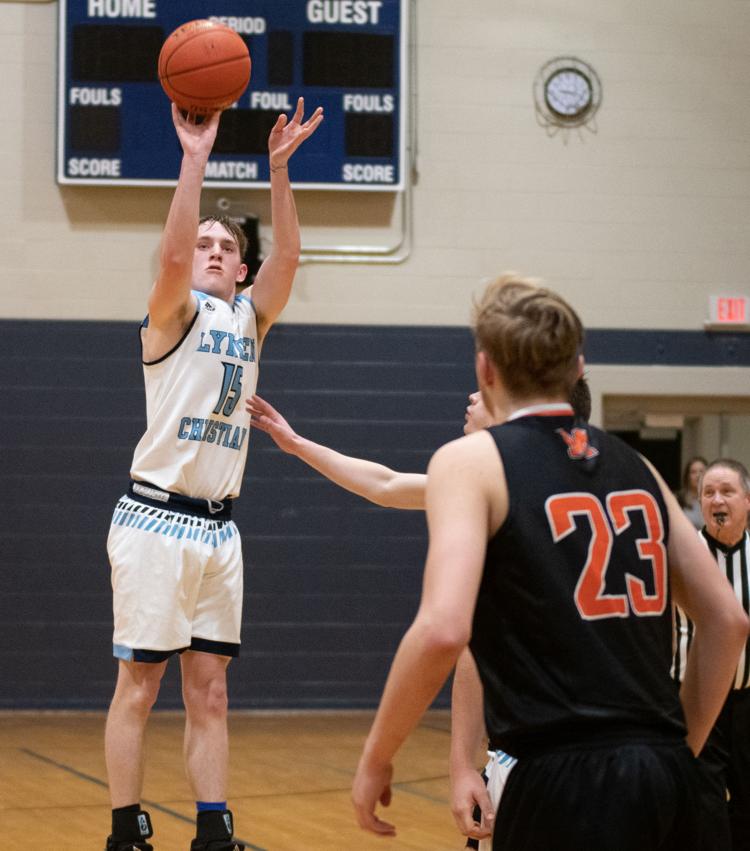 With teams keying in on his sharpshooting, DeVries has had to find ways to be more creative with his shot selection. A couple feet behind the high school 3-point line of 19 feet 9 inches is his sweet spot, but he rarely gets open looks from there anymore.
"We have learned to green-light him from anywhere on the court," DeBoer says.
His off-ball movement is overshadowed by his shooting prowess, and he's become effective at finding open space and drilling missiles off screens. He's learned that when he gets pushed back he can use pump fakes and one-dribble pull ups and still be at the 3-point line when he launches. And when he does get a shot off, its often too quick for defenders to react.
"He has such a quick release that it's very difficult to guard, "DeBoer says. "He gets it off quicker than most."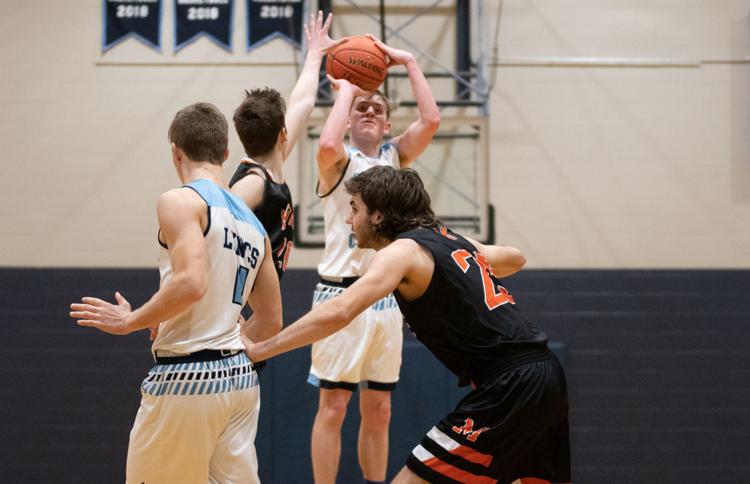 Back in November DeVries signed to play for Dordt University, a private, Christian university in Sioux Center, Iowa of about 1,400 students that has a giant billboard on Front Street in Lynden.
And while playing in college has been a goal of his since childhood, in a larger sense, basketball is more than a game for him.
This past summer DeVries spent two days reffing the annual Razz Fest basketball tourney, where thousands of people swarmed downtown Lynden to watch and compete in the second largest 3-on-3 basketball tourney in the state behind Spokane's Hoopfest. DeVries reffed mostly the kids' matchups, many of whom look up to him.
"I want to be the best basketball player I can be," DeVries says. "That starts with a love of helping people, being a leader and being an example. When I work out to become better [there's] going to be more opportunities to have a platform, be a light to kids and glorify God in a way some people don't get to.
Now he's focusing on leading the Lyncs back to the top of the 1A ranks, a place they missed last year while finishing fourth in a bid for a repeat.
For him, that journey means appreciating the small things in life and basketball along the way.
"I try to find the joy and the fun in every little thing, whether it's shooting a 3, playing defense or cheering my teammates on from the bench," DeVries says. "You never know when that 3 is going to be your last 3."