Tennis challenge smacks sports writer
BELLINGHAM — Until two weeks ago, Tully Scott hadn't swung a tennis racket since April 2019.
The soon-to-be senior at Sehome High School broke his collarbone in late April playing soccer in the second-to-last game of the regular season.
The compound fracture was painful in its own right, but the real torment came from the fact that Scott and his No. 1 doubles partner on the boys tennis team, Trevor Seaholm, were district champs on the brink of the state playoffs.
Scott and Seaholm had hit Bellingham Training and Tennis Club at 5:30 a.m. on weekdays before school to prepare for state, only to have their medal hopes dashed.
"I didn't really believe it at first. I was like, 'This cannot be happening. I messed up big time,'" Scott said. "I was super sad. I knew I was going to disappoint my partner too. It was hard missing state after preparing for it for so long."
It's one of the arguments against having boys tennis regular season, sub-districts and districts in the fall, then having competitors wait five months until spring for the state playoffs.
Either way, Scott's dream of winning a state title was put on hold.
Now, just two weeks after having a 25-pound weight limit restriction on his left arm lifted by doctors, Scott is competing again -- not against a seasoned opponent, but against me, a first-time participant.
The sun has dried Western Washington University's tennis courts this sunny afternoon on Aug. 2 after a night of rain soaked the city -- perfect weather for Scott to use me as target practice.
It's the third edition of my weekly athlete challenge series and this time I'm facing off against Scott, who saw my previous challenges and wanted to test my athletic abilities on the court.
One might think tennis looks easy to play -- I certainly did before I picked up the racket. It took one swing while Scott and I were practicing to see just how wrong I was. Scott nearly felt the wind from my first swing that completely missed the tennis ball.
The next 30 minutes aren't much better for me. I spend the majority of the time trying to deflect rockets.
I learn just how fickle tennis is. A slight adjustment in power can either send the ball flying far off toward the back fence or feebly into the net. I never do get the hang of it.
The one good return I have all game is a line-drive shot at Scott's feet with him standing close to the net. He easily digs the hit, bloops it back over the net and I'm too far back to reach it in time.
I  rarely even get racket to ball on his serves or returns as he launches torpedoes that are just out of my reach. I like to think I'm fairly quick for a 33-year-old, but playing Scott makes me feel like molasses.
I begin to see why he went undefeated through districts last season and was a first-team all-Northwest Conference selection. And it's hard to believe that Scott, 18, had not swung a racket since late April until two weeks ago.
His soccer injury was basically the worst thing that could have happened to him, sports-wise, at the worst time. 
He had never played a day of soccer in his life until last spring. It was a spur-of-the-moment decision to keep in shape while waiting for tennis state. He worked his way into a couple games on the varsity soccer team, which ended up winning its third state title in school history, but was mainly the starting JV goalkeeper.
"Never went to practice, never played a game," Scott said. "This was my first season playing soccer and I paid for it."
It was a painful decision that he's working on moving past.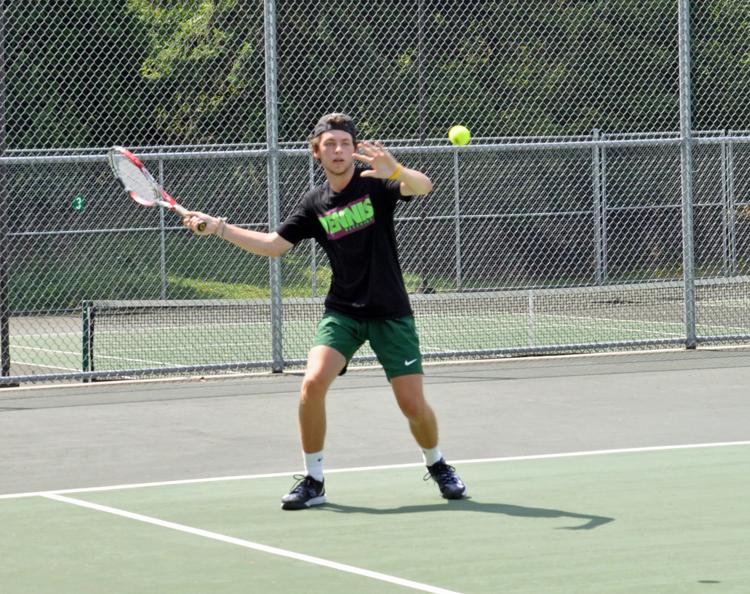 He's already tackled the mental aspect and is now beginning to get his body back in shape. He couldn't move his left arm for the first month. After the weight restriction was cleared he started hitting the gym to strengthen his arm, which had developed some muscle atrophy.
"At that point it was really weak," Scott said. "I hadn't actually used it for months."
His first time back on the court was tennis camp at the end of July and he's been playing with friends at Western's and Whatcom Falls' courts to stay fresh.
Scott is preparing to be thrusted into a leadership role on the tennis team this year as one of only two upcoming seniors, so far.
"I'm starting to embrace my role as an upperclassmen captain," Scott said. "I know it's important to have a captain on the team if you want to be successful."
Individually, he only has one goal in mind now.
"Make it to state again," Scott said. "I want to have a go at it this time. I want to see how we actually end up doing."