BELLINGHAM – For much of Friday night's non-league contest between Sehome and Nooksack Valley, the Mariners were their own worst enemy. First downs were negated by penalties and it looked as if Sehome may never sniff the end zone.
But when Sehome needed to make a stand in overtime or risk losing the opening game of its season, the Mariners had zero problems executing the play their coaches had drawn up.
Leading 14-13 after a Nooksack score, Sehome realized the Pioneers were going to go for a 2-point conversion and the win. Coach Kevin Beason called timeout and guessed Nooksack would continue trying to run up the middle.
"We made a personnel move and decided to blitz from the inside," Beason said. "Once we saw they were going to go for it we were counting on them to run the ball because they had been running it so effectively."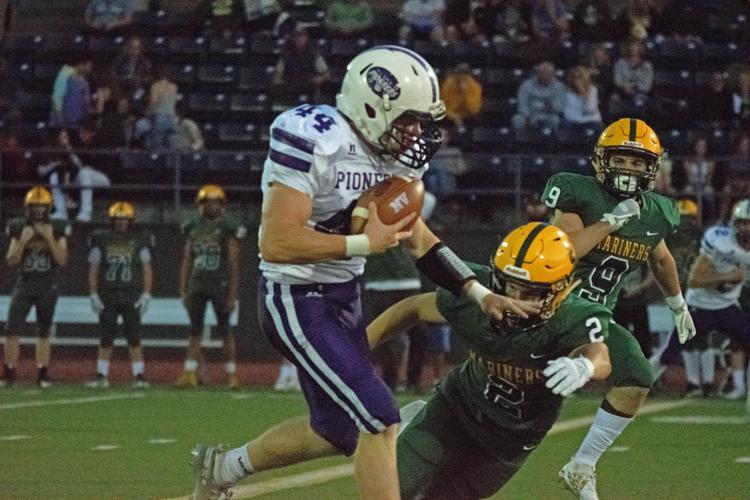 The first game for Class 1A Nooksack Valley (0-1, 0-0 1A NWC) and Class 2A Sehome (1-0, 0-0 2A NWC) was also the first overtime game of the season in Whatcom County. Despite being an overtime game, and a one possession game for the whole three-hour contest, things didn't get interesting until Sehome tied it 7-7 on a Dawson Smith four-yard touchdown run with 9:33 left in the game.
Sehome is coming off a season in which it won a share of the league title for the first time since 2001. Tonight, players looked rusty and disorganized at times, but it was to be expected in early September.
"You saw a lot of typical first-game execution breakdowns from a very young team," Beason said. "We have some experience in places, but overall we're a young team that struggled with not knowing our assignments at times tonight."
Beason noted the Mariners had multiple first downs called back due to penalties and it was difficult for Sehome to find its rhythm.
"We found a little bit of rhythm in the run-pass option game in the second half," Beason said. "We're going to continue to try and figure out who we are as an offense. We're trying to find our identity."
The catalyst for Sehome's offense was junior quarterback Jacob Kaepernick. The county's leading passer last year (2,507 passing yards and 25 touchdowns) had a shaky first half in which he threw an interception. Kaepernick said he tried to be more patient and let the Mariner offense do its thing.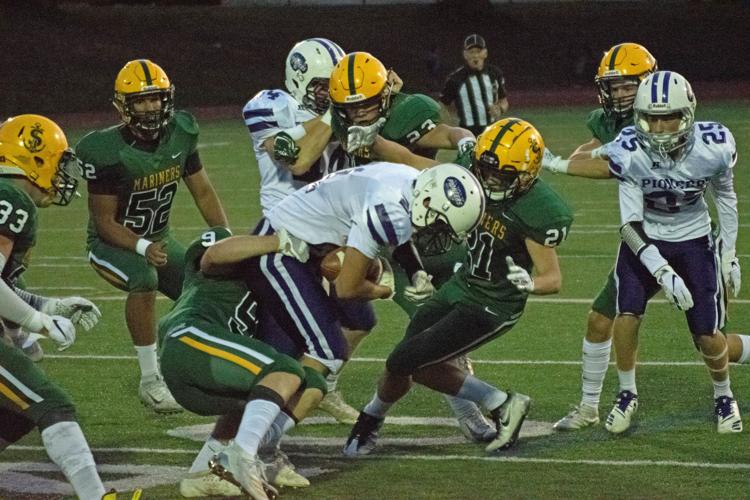 Sehome won the coin toss in overtime and elected to start with the ball. In high school, each team has a chance to score either a field goal or touchdown starting from the 25-yard line. The game ends after the first time the score isn't tied after both teams have possessed the ball.
After marching down to the one-yard line, Kaepernick bulldozed across the goal line and emerged from the pile flexing and beaming.
"There's no feeling like it," Kaepernick said. "Just trusting your teammates down on the goal line, especially on a play we haven't worked on this year."
Nooksack Valley was the first to score with 5:21 left in the first half. Cole Eldridge, the Pioneers starting tailback last season and quarterback this year, scampered in from three yards out to cap a three-minute drive that started on their own 30-yard line.
The Pioneers missed a golden opportunity to score on their second possession that would have put them up 14-0 at the half and may have kept Sehome out of reach. On 4th and 15 from the Sehome 30-yard line, Eldridge lobbed a pass to a streaking Cameron Bauman that Bauman dropped in the end zone.
The next test for Sehome will be at Class 1A Mount Baker (1-0, 0-0 1A NWC) on Sept. 13. Nooksack Valley will head to Class 1A Granite Falls (0-1, 0-0 1A NSC) next Friday and try to get back on track.
Scores from around the county
Mount Baker 21, Lynden 14
Lynden Christian 49, Bellingham 7
Sedro-Wolley 44, Meridian 14
Blaine 27, Chief Sealth 8
Sehome 14, Nooksack Valley 13 OT
Lake Stevens 55, Ferndale 0