Coppinger leads with 20 points
EVERSON — It took a little over a half to get going, but once the Nooksack Valley girls basketball team found its rhythm, there was no slowing down the Pioneers and what they wanted to do Saturday night in a 61-48 win against Ferndale. 
After a first quarter of turnovers by both squads, the Pioneers came out in the second quarter with a quicker tempo and more efficient offense. 
However, the Golden Eagles were able to match that for much of the quarter and Nooksack Valley went into halftime with a slim 28-26 lead. 
Pioneers head coach Shane Wichers said it wasn't so much Ferndale getting the best of them in the first half, it was Nooksack Valley beating itself with bad spacing offensively.
"We were getting great looks, we just weren't making them," Wichers said. 
Nooksack Valley, playing its third game in as many days, was also getting beat on the
boards in the first half, giving the Golden Eagles multiple chances at the rim. 
Wichers said the team talked at halftime about cleaning up their rebounding to get the offense flowing.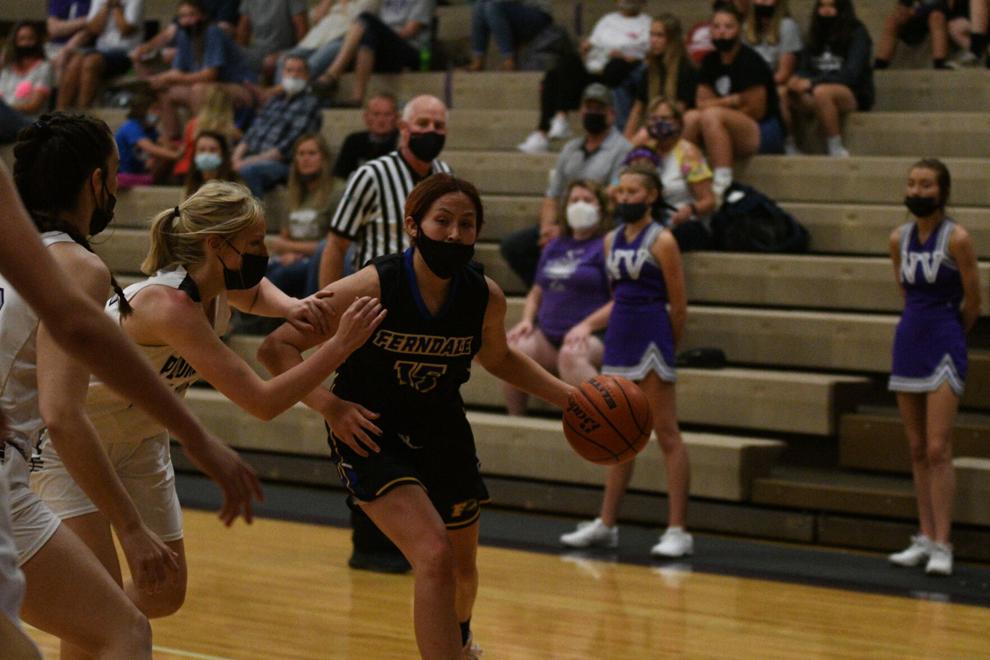 The Pioneers got a steal and layup from freshman Devin Coppinger right out of the gate in the third quarter and just like that, the offense found some rhythm. 
"We just started to execute better," Wichers said. "I think that was the biggest difference."
Coppinger, who scored a game-high 20 points, said they knew they had to perform better in the second half on both sides of the ball. 
"We just said we have to go out there as a team and play strong," Coppinger said. "We might not be hitting our shots, but defense is what matters. We just had to have faith in each other and trust each other that we're going to be there."
Part of the focus for the Pioneers was trying to contain Ferndale senior Jamie Johnson. 
Wichers said not only can Johnson score, the entire Golden Eagles team is quick up top. 
"We just wanted to keep them in front and make them take time and try to not give them anything easy," Wichers said. "I thought in the third and fourth quarter it took them a long time to work it around before they got a shot. I was pretty pleased with our defense. They hit some big shots and we didn't block out the best, but we got the win."
Saturday's game marked the last for Nooksack Valley seniors Jenna Compton and Maya Galley and Ferndale seniors Josie Cline and Johnson. 
Wichers called Compton and Galley incredible leaders for the Pioneers this season. 
"We're definitely going to miss everything they brought," Wichers said. "They just loved all the younger kids. They're special."
Coppinger said having the energy Compton, Galley and the rest of the team brought helped her as one of two freshmen on the varsity squad this year. 
"We're such an awesome group. Everyone is so unselfish with the ball and so encouraging and that's helped me to come in as a freshman," Coppinger said. 
Nooksack Valley ends the season with a 12-1 record, which included a win over Class 1A power King's and two wins over defending Class 2A state champion Lynden. The Pioneers' only loss came in its third game of the season to defending Class 1A state champion Lynden Christian.
"It's unfortunate it's only a six-week season, but they're just a joy to coach," Wichers said. "It's the kind of team you want to coach because they compete, they love each other and get the ball to whoever is open. That's really fun."
The Golden Eagles finished with a record at 5-6.