LC piles up 371 yards on the ground
BELLINGHAM -- Six Lyncs scored touchdowns as Lynden Christian football blasted Bellingham 49-7 in a non-league season-opener on Friday night at Civic Field.
The Class 1A Lyncs (1-0, 0-0 1A NWC) and Class 2A Red Raiders (0-1, 0-0 2A NWC Lake) entered the matchup each coming off their best season in decades. The Lyncs went 10-3 in 2018, winning a league title and reaching the state semifinals for the first time since 2002, while Bellingham was 5-4 and won a share of a league title for the first time since 1987.
But it was the Lyncs on Friday night who picked up where they left off last season.
The Lyncs' high-powered offense stole the show, exploding for 532 total yards, including 371 yards on the ground across nine ballcarriers.
Senior Easton Stremler led the rushing attack, running for 141 yards and two TDs on 18 carries. Senior quarterback Trajan Schouten was 11 of 19 passing for 161 yards, three touchdowns and one interception.
Lynden Christian scored on back-to-back possessions to open the game, starting with senior wideout Jackson Corkill's 27-yard TD in the corner of the end zone. Corkill led the Lyncs in receiving with five catches for 48 yards.
Stremler then ran in a seven-yard TD after Bellingham long-snapped the ball over its punters head, and all the sudden it's 13-0 with just five minutes off the clock.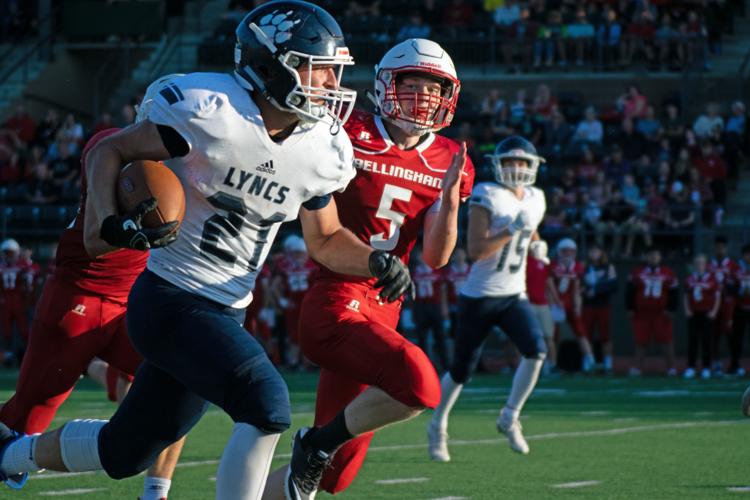 Bellingham's lone score came with 8:33 left before the break and LC in the red zone, threatening to go up by three TDs. Red Raiders' senior corner Andre Triplett snared a tipped ball and raced 94 yards down the sideline for the score to pull the Red Raiders within a touchdown at 13-7.
"Thirteen to nothing, you think you're gonna go up and score then they pick it off and run it back, now you're like, 'What the heck's going on here?,'" Lynden Christian coach Dan Kaemingk said. "Anything can happen now. That was a gut-check moment."
The Lyncs needed that wake-up call, Schouten said.
"It made us realize this is a close game and we've got to step it up if we want to win," Schouten said. "We came in too relaxed but we stepped it up at that point."
The Lyncs took the kickoff and drove the length of the field, culminating in Cole Moorlag juking a defender for a 14-yard TD reception. Schouten scrambled around the left end on the two-point conversion and LC went up 21-7 with 20 seconds left before the half.
Coming out of the locker room to start the second half, the Lyncs needed to reestablish the fact that they were in charge of the game, Kaemingk said. The best way to do that: run the ball.
"Getting into the endzone right before the half was huge," Kaemingk said. "Then scoring coming out the second half was ballgame right there."
On the opening drive of the second half, running back Levi Korthuis shed multiple defenders to break off a 44-yard run, setting up Stremler's six-yard TD run to put LC up 28-7 with 10:04 left in the third quarter. Korthuis had seven rushes for 91 yards.
From then on it was all Lynden Christian.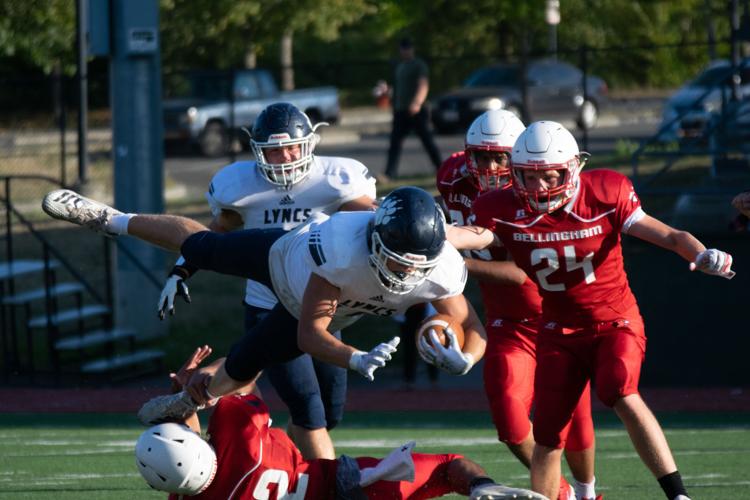 Bellingham's standout senior tailback and linebacker Jack Fields left the game with an injury midway through the third and the Red Raiders' offense sputtered, while Lynden Christian seized the game.
Five minutes later Zach Sipma hauled in a short pass from Schouten, leveled a Red Raiders' linebacker and barreled in for the score to make it 35-7 with just over five minutes left in the third.
On LC's next series, Schouten stayed on the sidelines and 6-foot-4 junior Logan Dykstra took over behind center. Most of the Lyncs' starters came out midway through the fourth and LC showed its depth. Junior running back David Bootsma had touchdown runs of two and 24 yards to put LC up 49-7 and Bellingham never threatened again.
Sipma, who also collected a sack, said the defense wanted to keep Bellingham quarterback Morgan Cavalier contained in the pocket and let the secondary do the rest.
"It's a good momentum-builder for us, just to get the mindset we can do it," Sipma said. "If we can put up those numbers first game, who knows what we can do down the road."
Kaemingk was most impressed with the running game, with Stremler and Korthuis running freely behind veteran linemen Davis Gatterman and Kase Lautenbach, who opened up major running lanes.
"That was good to see," Kaemingk said. "Getting a win and having a lot of lessons to learn is a fun way to do it. That's better than getting a loss and having lessons to learn."
The Lyncs host Class 1B powerhouse Neah Bay (Neah Bay, WA) on Saturday, Sept. 14. Kaemingk said they'll look to be more consistent for that upcoming matchup.
"We're going to work on getting into better shape," Kaemingk said. "I didn't feel we were in good shape at halftime. That'll be a commitment next week and into the future. But, all in all, I'm pretty happy with what I saw."
Pregame notebook: Bellingham honored fallen teammate Butch Mullins, who passed away on March 19, 2019. Mullins was a star athlete for the Red Raiders' football, wrestling and track teams. Bellingham carried Mullins' No. 72 jersey to midfield for the coin toss and let the clock the play-clock run down with 10 players on the field for the second play of the game in honor of him.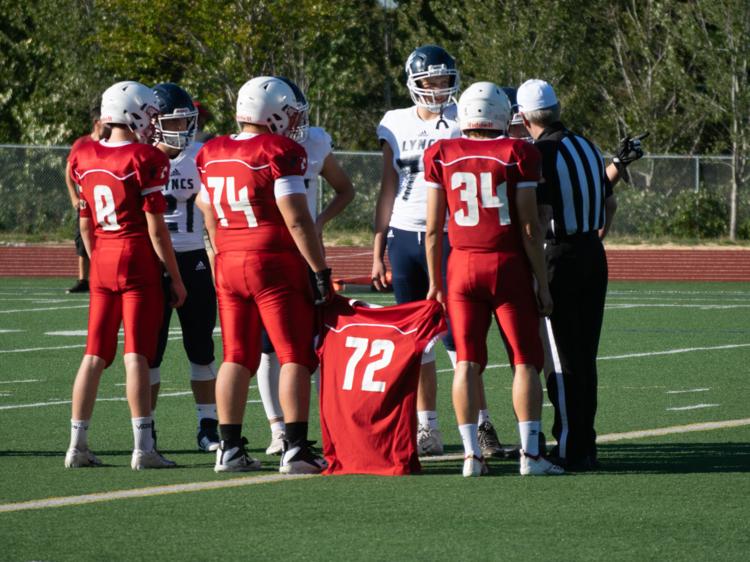 Lynden Christian individual stats:
RUSHING – LC : Levi Korthuis 7-91, Easton Stremler 18-141, Jackson Corkill 2-23, Trajan Schouten 2-3, Logan Dykstra 2-23, David Bootsma 5-49, Devonta Bootsma 3-23, Cole Moorlag 2-10, Zac Owen 1-8
PASSING – LC : Trajan Schouten 11-19-1-116, Logan Dykstra 0-1-0-0
RECEIVING – LC : Jackson Corkill 5-48, Tanner Feenstra 2-20, Levi Korthuis 1-18, Cole Moorlag 1-14, Zach Sipma 1-12, Bryce Bouwman 1-4.
Scores from around the county
Mount Baker 21, Lynden 14
Sedro-Wolley 44, Meridian 14
Blaine 27, Chief Sealth 8
Sehome 14, Nooksack Valley 13 OT
Lake Stevens 55, Ferndale 0