Storm sophomore Ben Schlenbaker reels off three-straight TDs in final eight minutes
BELLINGHAM — What was expected to be a fireworks show on offense ended up a defensive brawl for the first 40 minutes.
Squalicum football took a 16-14 lead into the final eight minutes against Ferndale and then detonated for 21 points as tailback Ben Schlenbaker carried the Storm to a 37-14 Wesco 3A North win on Saturday at Civic Field.
Schlenbaker erupted for three-straight touchdowns, two rushing and a 29-yard interception to the house, putting the stamp on the Storm's third-straight win. The electric sophomore finished with four total TDs on the night.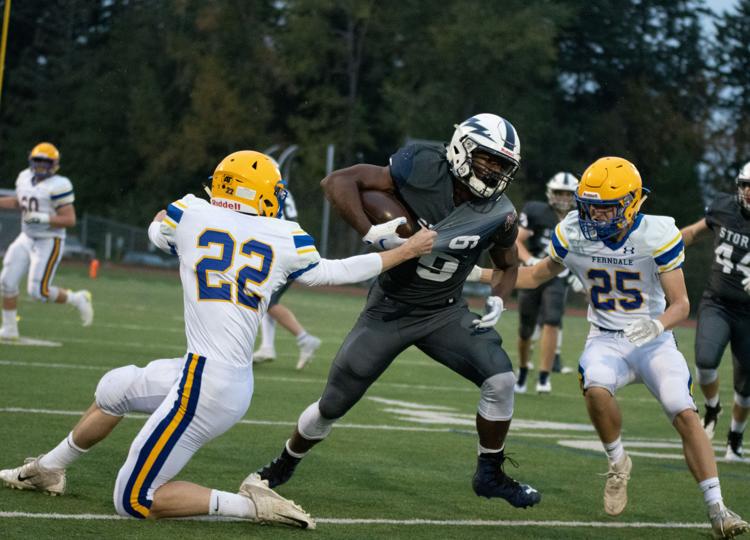 "We finally got out of our way," Squalicum coach Nick Lucey said. "Part of that is it's a big game, it's important to the kids. Our guys accepted the challenge."
Both teams were coming off consecutive weeks of red-hot offensive firepower, and both offenses went stagnant most of the night.
Ferndale (3-3, 3-1 Wesco 3A North) entered on a three-game win streak and was averaging nearly 46 points per game during that run, while Squalicum (4-2, 2-2 Wesco 3A North) had put up 52 points per game its last two contests.
A stalemate in the trenches finally broke midway through the fourth quarter as Squalicum's line, led by seniors Brandon Gimse and Adam McCluskey, busted open running lanes for Schlenbaker, the county's leading rusher.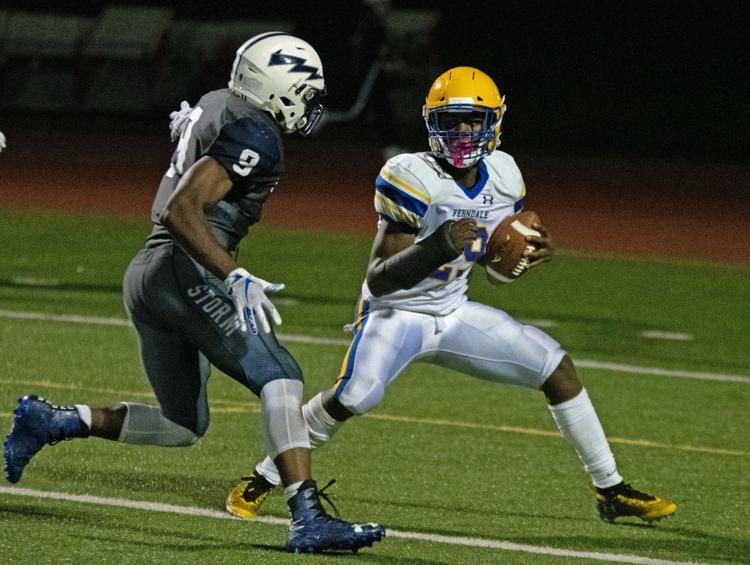 "They did a good job controlling the line of scrimmage and they got a heck of a back who made a ton of plays," Ferndale coach Jamie Plenkovich said. "We didn't tackle him well all night."
The teams took a scoreless tie into the beginning of the second quarter until Storm QB Mason Binning hit senior tight end Cesar Vasquez, who raced 60 yards down the Ferndale sideline for the score.
Ferndale freshman running back Isaiah Carlson gave the Golden Eagles a lead they would hold until 1:50 left in the third quarter with a 17-yard TD run up the middle.
Squalicum's Addison Schrock gave the Storm the lead back for good with a 23-yard field goal near the end of the third. Schlenbaker scored his first of three rushing TDs on a 15-yard scamper to put the Storm up 16-7 with 11:53 to play.
Ferndale senior tailback Jacob Broselle answered with a 38-yard TD jaunt down the far sideline on a 4th and 4 to pull the Golden Eagles within two at 16-14 with 8:43 to play.
"Broselle had a heck of a run there to cut it to 16-14," Plenkovich said. "He's been a great player for us all year."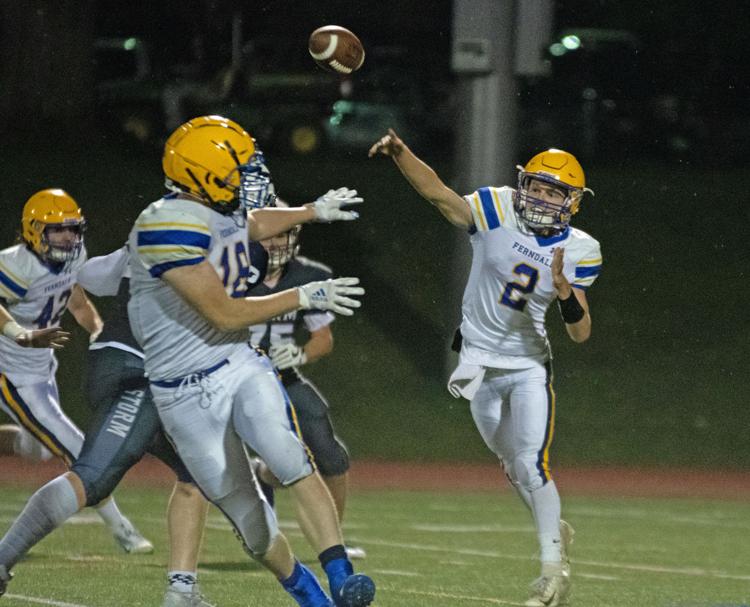 Then everything fell apart for Ferndale.
Schlenbaker ripped off a 30-yard run on the next drive, capped by his 13-yard TD plunge for his second rushing score to make it 23-14 with 7:43 to go.
"It was a momentum shift,' said Golden Eagles' lineman Malachi Ledbetter, who transferred from Maryland this year. "They were able to run away with it in the end."
The Storm stuffed Ferndale on a 4th and 2 on the Storm 40-yard line with 4:49 to play. Squalicum rode Schlenbaker's legs again, culminating in his 16-yard TD jaunt with under three minutes to go. He then picked off the Golden Eagles on their next drive and took it in for a 29-yard TD interception to seal the game.
"In practice, coach talks all the time, 'Adversity hits. You have to hit back," Schlenbaker said. "We started playing as a team. Sacrifice. It's all we did."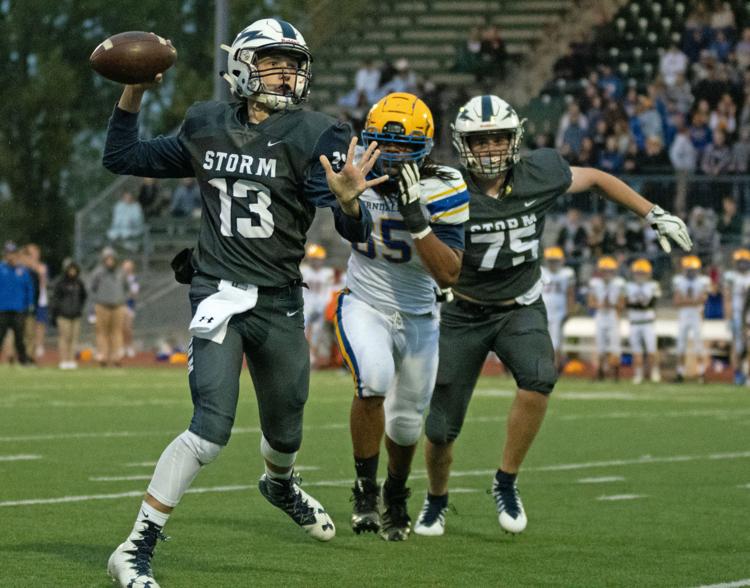 Ferndale's patented Wing-T offense, which had put up 48 points in consecutive weeks with a blend of power runs, sweeps, counters and traps, could not gain a traction against Squalicum's d-line.
"We struggled with keeping them out of our backfield," Plenkovich said. "We just couldn't get anything going consistently."
Squalicum had just surrendered 34 points a couple weeks ago to division-leader Marsyville-Pilchuck two weeks ago, a team that runs a similar offense to Ferndale. Lucey said he was proud the way his team responded against the Golden Eagles.
"That's a tough team to stop them the way [we] did and limit the number of big plays," Lucey said.
The Storm now sit in fourth place in the division, trailing Ferndale by one game. Squalicum travels to Stanwood (2-4, 1-3 Wesco 3A North) in a crucial league game at 7 p.m. Friday.
Ferndale, now in third place in the division, travels to division-leader Marsyville-Pilchuck (6-0, 4-0 Wesco 3A North) at 7 p.m. on Friday.
"We're just going to have to turn around and regroup after this," Plenkovich said.