Four Pioneers register double-digit scoring
EVERSON — While Nooksack Valley girls basketball lost in the front end of the Pioneers' boys and girls home doubleheader, the boys flipped the script on La Conner.
Nooksack woke up from a sluggish first quarter to drop the Braves 81-47 and remain undefeated in a nonleague matchup on Saturday.
The Pioneers (4-0) led just 11-8 after the first frame then outmatched the Braves' with pure athleticism, reeling of a 28-8 run to end the half. The game was well in hand midway through the third quarter with a 56-20 lead and the Pioneers kept the pressure on for their fourth-straight victory.
"The boys are working hard," Nooksack Valley coach Rich Skillman said. "We're just trying to get better every day."
Nooksack's height and speed were too much for the Braves, as ten of the Pioneers' 11 varsity players are 6-foot-1 or taller and nearly all are quick and athletic. Skillman pinned the Pioneers torpid first quarter on banking on those measurables against a much smaller Braves squad.
"Sometimes we rely too much being long and get lackadaisical, so we're just working with being disciplined and being intentional with how we play," Skillman said.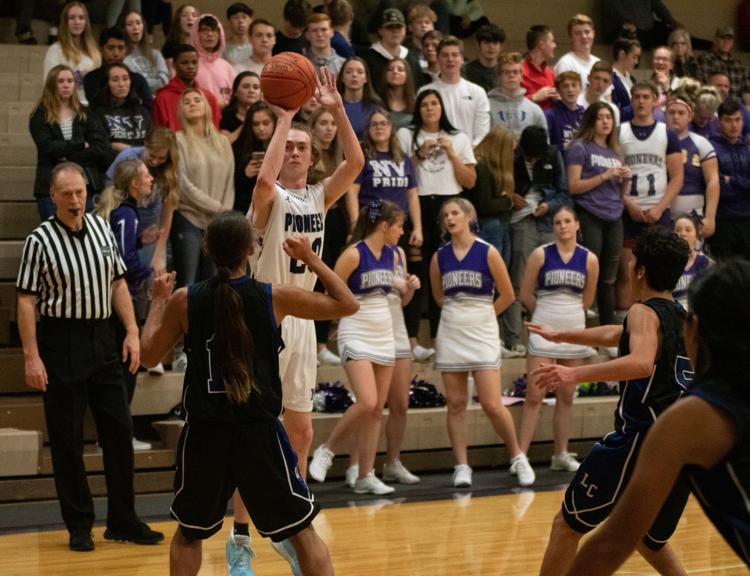 Six-foot-3 senior forward Keldon Weidkamp, who finished with 10 points, mostly on cleanups around the rim, credited Skillman for motivating the team in the final three quarters.
"Coach pushes us to all work and gel together as a team, not as individuals," Weidkamp said.
It was a balanced offensive effort for the Pioneers who had four players reach double-digit scoring.
Senior Carson Fullner-Sirmans led with a team-high 12 points, junior Cody Coppinger finished with 11 points and senior Cole Eldridge added 10. Colby Wichers drained two 3-pointers to finish with eight points.
With 10 seniors and one junior, the Pioneers are in prime position to make a postseason run  after finishing with an 8-14 record last season. Nooksack hasn't had a winning season or advanced to state in eight years, since placing sixth in 2011 with an 18-11 record.
Skillman and his team are hoping to break those streaks. All 10 seniors and the one junior, Cody Coppinger, have been playing together since elementary school.
"They're getting to a point where hopefully they're realizing this is the last year to go," Skillman said. "It's a good group, they work hard and if they put it all together I think we'll be in a good spot."
Skillman, in his fourth year as coach, has now had all these players in his system for four years and is hoping that will pay off come postseason. As a Nooksack Valley Middle School teacher he's known all of them since at least the seventh grade.
"These are all my guys," Skillman said. "There's a good relationship built up with all of them and the trust is starting to grow. It's a good thing."
The Pioneers look to remain unbeaten when they open Northwest Conference play and travel to Ferndale (2-2) for a 7:15 p.m. match on Tuesday.
Other scores from around the county:
The Lynden boys followed up the girls upset of Eastlake by dropping the Class 4A Wolves boys on the road Saturday.
The Lions' 6-foot-11 junior center Liam Hannenburg scored a team-high 15 points, while senior Brock Heppner and junior Koby Whitman added 12 each as Lynden picked up its second-straight win. Lynden survived a 23-point outburst from Wolves' 6-foot-6 junior forward Matthew Thompson.
Lynden (2-1) wraps up nonleague play and opens Northwest Conference action when it travels to Mount Baker for a 7:15 p.m. match on Tuesday.