TeVelde scores 20 off the bench in the LC victory
LYNDEN — Depth was a key strength for Lynden Christian girls basketball heading into the season and the Lyncs are starting to show why. 
Led offensively by junior Paige TeVelde, the Lyncs rolled past previously undefeated Class 2A Sequim Saturday 85-53 in the Cloud 9 Christmas Classic. 
TeVelde drained five 3-pointers for the Lyncs and scored 20 total points off the bench. Senior Riley Dykstra scored 15 and junior Emily Mellema added 12. 
Lynden Christian coach Brady Bomber said he thought the team was able to share the ball well throughout the game. 
"We made the extra pass and our girls were really unselfish," Bomber said. "That allowed us to get in a rhythm."
The Lyncs jumped out to a 26-17 lead after the first quarter, but Sequim fought back and cut LC's lead to four in the second quarter. That's where the Lyncs' depth and clutch shooting came in to play. 
Junior Lexi Hernandez and senior Liv Mellema hit back-to-back 3-pointers for the Lyncs to push their lead back out to 10 and headed into the half with a 40-30 lead.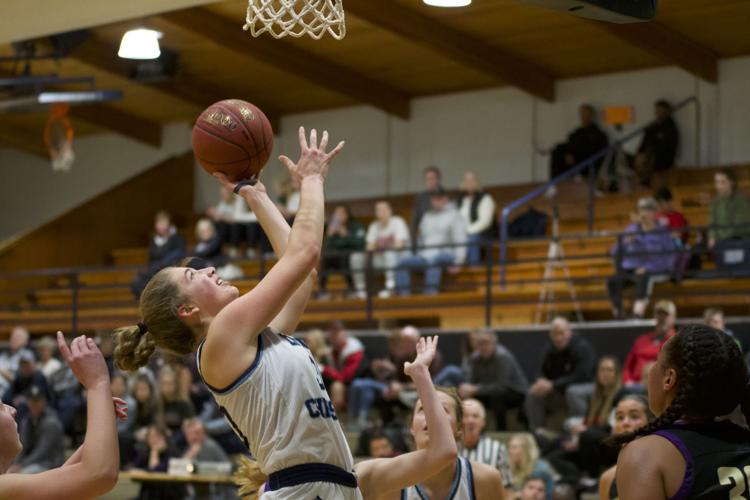 It was all Lynden Christian after the break. The Lyncs' defense stepped up and shut down almost everything the Wolves were trying to do offensively, and that opened up the other end of the floor as LC was able to find the favorable matchups.
"As the game went on we got better defensively," Bomber said. "They do some nice things that caused some challenges for us, but I thought in the second half we did a much better job on staying in the right position or staying physical when the ball was in the air. That allowed us to get some easier buckets."
That's also where TeVelde made her mark on the game. She knocked down three 3-pointers in the third quarter and two in the fourth. 
"I was doing alright," TeVelde said. "What makes our team so strong is that everyone contributes whether they're coming off the bench or playing all 32 minutes. It's just a full group."
Bomber said TeVelde is one of the best shooters on the team because of the time and work she's put in on her shot. Now, it's starting to pay dividends. 
"She shoots it and she expects it to go in and we expect it to go in," Bomber said. "Our girls were finding her in open spots. She was cutting to space, so every time she shoots it we kind of think it's going to go in at this point." 
By the end of the third quarter, Lynden Christian had a comfortable 65-41 lead. Shutting down scoring lanes and being more aggressive on defense is what allowed the Lyncs to pull away, Bomber said. 
The Lyncs' offensive barrage didn't slow down at all in the final quarter and they hung up another 20 on the board on their way to the 85-53 final score.
"It's never perfect but we have a group that when we're attacking and making the right play there's energy with the basketball, and I think the team feels that and we're able to get quality shots," Bomber said. "That's when we're at our best."
Up next for Lynden Christian is the thick of league play on Saturday, Jan. 4, against Mount Baker. 
Glacier Peak boys 71, Lynden Christian 55
Trailing by only two at halftime, it was looking like Lynden Christian boys basketball was in for a tight game for the second straight night in the Cloud 9 Christmas Classic. 
However, a total of 14 turnovers plagued the Lyncs in a 71-55 loss to Class 4A Glacier Peak on Saturday. 
The Lyncs, who dropped to 3-3 with the loss, have practiced only eight times and played six games due to the overlap with football season. 
Lynden Christian coach Roger DeBoer said he thought the Lyncs got tired in the second half.
"We didn't take care of the ball quite as well as we would have liked to," DeBoer said. "We had that one series where we turned it over six times in eight possessions and you can't give a team of their magnitude those types of run-outs."
Junior Jaden DeBoer and senior Andrew DeVries led the Lyncs with 19 points each. DeVries drilled five 3-pointers in the loss and DeBoer knocked down two.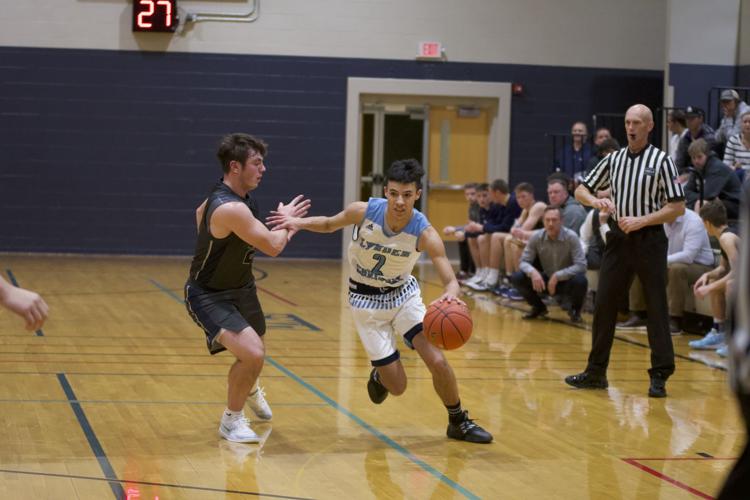 The Lyncs were outscored 27-10 in the third quarter and trailed 54-35 going into the final quarter. 
It was that small stretch of time in the third quarter where the game was lost, Roger said.
"That game was decided in a really quick block of time where they extended that lead and ended up with a 27-point quarter," Roger said. "A lot of it had to do with a string of turnovers and you take that four-minute segment away and we were right there. We competed with them even through foul trouble and all that."
Roger said the key for the Lyncs down the stretch of the season is to play a complete game of basketball. 
"We've gotta get to the point where we're playing 32 minutes of great basketball and not 20 minutes of great basketball," he said. 
Despite losing two games in a row, Roger said he's optimistic about where the team is headed after this weekend. 
He said there were plenty of moments from both games this weekend where the Lyncs competed, they just have to make sure they do it for all four quarters. 
"We can compete with some of the upper echelon teams," he said. "We knew we were going to play two really good teams that we were going to have to play super well to compete with. I think we showed flashes during these two nights of some of the things we can do and that's the part that's exciting."
Roger said he's looking forward to the upcoming week where the Lyncs will have three practices before playing again on Friday against Mount Baker. He added he hopes they start to hit their stride in full as a team toward the middle-to-end of January. 
"We've had eight total practices now and six games and you just can't improve, get in game shape and get your legs underneath you," he said. "You can't do some of those things until you have time on the court to work some of them out."