Fish visited Lummi Nation to participate in its annual community event, the Kwina Mile run
LUMMI — Through a sea of hundreds of faces, one stands out from the rest.
It is unmistakable: a red painted handprint over a young runner's mouth during the annual Kwina Mile run at Lummi Reservation on June 18.
Rosalie Fish made national headlines in May and June after she competed at the 1B state track meet in Cheney with a red handprint over her mouth and the letters "MMIW" printed down her leg. The letters stand for Missing Murdered Indigenous Women, and the athlete was making a statement.
Fish is a recent graduate of the Muckleshoot Tribal School in Auburn, and a member of the Muckleshoot and Cowlitz tribes. She ran at state in memory of four missing or murdered indigenous women: Misty Ann Upham, Alice Looney, Jacqueline Salyers and Renee Davis and the unborn child Davis was carrying.
Fish won the 800, 1600 and 3200-meter races, and she placed second in the 400 in the meet at Eastern Washington University. She placed each medal she won next to a photo of the four women on a poster she had made.
Fish seeks to lend a voice to the thousands of Native American women who are missing or were murdered — all of whom, she emphasizes, are now unable to speak for themselves.
More than 5,700 Native American women and girls were reported missing as of 2016, according to the National Crime Information Center. Of those cases, only 116 were recorded with the federal Department of Justice. Washington state is second-highest in the nation with 71 cases, trailing only New Mexico (78).
Fish wore the face paint again at the Kwina Mile, a race/walk that started in front of Lummi Community Services on Haxton Way and ended in front of the Northwest Indian College. Hundreds participated in the annual event that marks the start of Lummi Nation's Stommish Water Festival, which wrapped up last weekend.
Lummi football coach Jim Sandusky contacted Muckleshoot Tribal Schools' athletic director, Ryan Gilmore, and asked if they would send Fish up from Pierce County to help support the event. Fish and Gilmore agreed and a driver was provided for the 18-year-old.
After speaking with one of the founders of the Kwina Mile, Fish decided to wear the paint during the race.
"I asked them when they invited me and we decided it would be a good way to remind any Native people here that I still stand with you and I still care about this," Fish said. "This is still important to represent. I'm more open to wearing the paint in Native communities. I know other non-Native communities will look at the paint and create their own interpretation of it. So when I come here I know there's no way they will look at my paint and think it's war paint or anything like that."
Fish — who helped the Muckleshoot girls track team win its first trophy in school history, placing fourth with only three competitors — isn't a complete stranger to Lummi. She's visited the tribe in the past for basketball games and canoe journeys, but this was the first time she joined in a community event.
"For me, it just brings a lot of joy to know I can come here and connect with other Native communities," Fish said. "One thing that makes a Native person really powerful is the ability to connect among other Native communities and the ability to bond over something like a community run or event."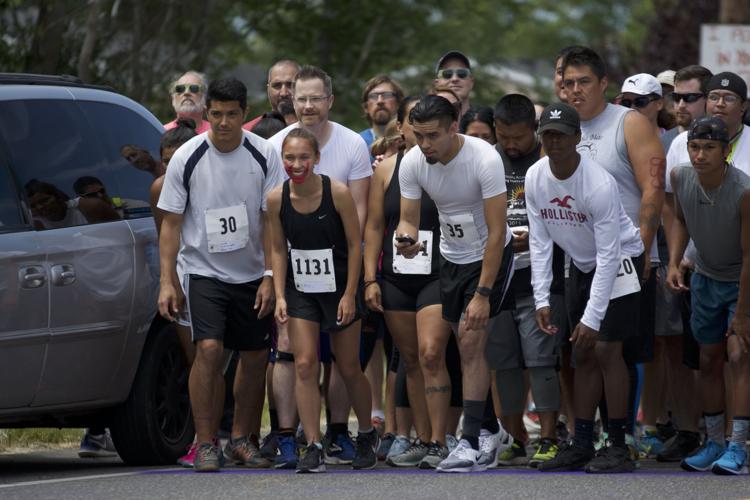 Those connections are crucial to Native tribes, Fish said. Women in some tribal communities are 10 times more likely to be murdered than the national average, according to a study by the National Criminal Justice Reference Service.
"It's a symbol of strength to be able to connect and relate to each other," Fish said. "It brings us together and makes us stronger. It makes me really happy to come out to another Native community and the way they open their arms to me. I think it's a symbol of the love that Native people have, no matter where they're from."
Enrique Medina-Sturgeon, a Lummi Nation School grad and current student at Northwest Indian College, won the Kwina Mile boys race for the eighth year in a row. He hopes to be a teacher and wants to give the younger runners someone to look up to. Having Fish at the event was powerful, he said.
"She's another person for the youth to look up to, a female role model," Medina-Sturgeon said. "She's doing a tremendous job of that, not only for the Lummi community but for all the Native communities around. She's helping bring awareness. It's great they got her out here."
Lummi Nation made her feel welcome in the one day she spent there, Fish said.
"Everyone has been really kind to me and I'm really grateful to be able to experience this in the Lummi community," Fish said. "They're making sure I'm getting shirts and shirts for my family, that I'm getting fed. They're getting me everything that I need. Really, it would take two days and I would feel like it was home."
Before the Lummi run, Fish had just run June 16 in the Brooks PR Invitational in Seattle against some of the top runners on the West Coast, where she finished fifth in the mile with a personal record of 5:01.51.
She decided against running with the red face paint over her face at Brooks PR. Instead, she used a different method to raise awareness.
"I ran with the red ribbon in my hair and I put a red handprint on my uniform," Fish said. "The red is meant to be a subtle reminder to anyone there that just because it got a little bit of media coverage that the problem is solved."
It was difficult for Fish to wear the face paint at track state in May, she said, a place where Native Americans are in the minority of schools and their customs and traditions are not widely understood.
"When there's so much prejudice toward Native people, they looked at my paint and thought it was war paint because they think Native people are violent," Fish said, "when in reality paint, in my traditions, is used as protection, as a religion. But with these stereotypes that Native people are violent, they assumed my paint was war paint. That is frustrating that I have to hear that. I just have to let it go. I'm not always very good at that."
She's honored Lummi brought her in and encouraged her to wear the paint to promote awareness of missing and murdered indigenous women across the nation.
"I'm so grateful to the Lummi Nation for welcoming me here and allowing me to be a part of this tradition," Fish said. "It was really inspiring to see this whole community come together and just enjoy a mile run. I was shocked and I'm also really joyful right now."
Fish, who has signed letter of intent with Iowa Central Community College, will run cross country for the school in Fort Dodge, Iowa, this fall. She hopes she can make it back up for Paddle to Lummi, the annual Tribal Canoe Journey July 24-28 that may bring as many as 1,000 people and 100 canoes from coastal Salish tribes.
Before all that begins, however, she had something important to take care of.
"I have to get home," Fish said. "I have a baby sister to watch."