LC has three matches in four days this week
BELLINGHAM — "Monday flat" was the term head coach Brent De Ruyter used to describe the Lynden Christian boys' soccer team in their 5-0 loss to Bellingham Monday night.
Coming off a 1-0 win against Sehome last Wednesday, the Lyncs just couldn't muster the same energy on Monday, De Ruyter said.
"The things that we were doing to frustrate Sehome and the focus that we had were not present right from the get-go, and you can't have those kinds of breakdowns against a team like Bellingham," he said. "You have to be on your A game."
The win over the Lyncs put the Red Raiders' season record at an unbeaten 6-0-1. Bellingham wasted no time scoring as senior forward Griffin Brethauer hit in the sixth minute. The Lyncs' defense upped its game after that and managed to hold Bellingham off until the 30th minute when junior forward Ryan Diefel scored.
In halftime at 2-0, De Ruyter said the Lyncs made some adjustments and created a few more opportunities in the second half, something the team can build on, but it wasn't enough to score.
"The problem is that we allowed the counter too quickly and with a team like that with the skill that they have, that's tough to weather the storm for that amount of time," he said. 
Bellingham goals by senior defender Trevor Johnson, senior forward Bay Gregory and junior forward Daniel Reyes in the 55th, 60th and 79th minutes, respectively, put the match out of reach for Lynden Christian. 
"They're physical," De Ruyter said. "They get after you. They pressure you hard. They run at you from different angles with different guys. We just did not start off on point."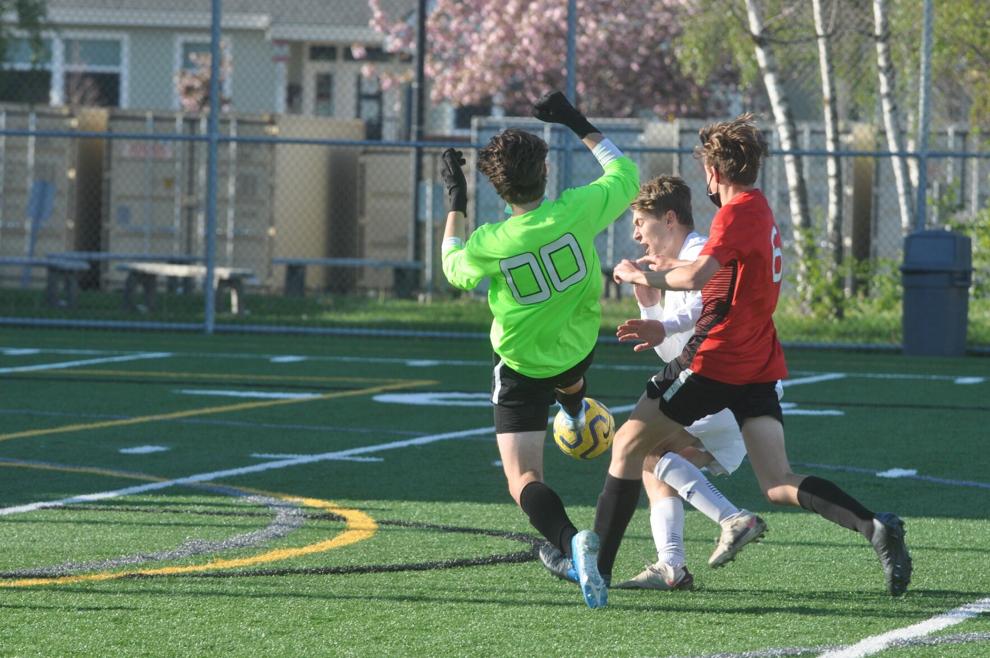 The Lyncs did put together some solid efforts toward the goal. A collision between Lyncs sophomore midfielder Aidan Veltkamp, Bellingham goalkeeper Henry White and Bellingham junior midfielder Owen Brown led to a close penalty kick by Lyncs junior midfielder Joseph Cunningham. However, the Lyncs couldn't quite convert it into a goal and some momentum.
The Bellingham loss is the beginning of a tight part of the season schedule for the Lyncs, as LC faces three opponents in four days. The score of their matchup against Ferndale on Tuesday was unavailable at press time, and Lynden Christian is set to face Squalicum Thursday evening. Then it's a break until Monday, May 3, for a match against Lynden. The last game of the season is May 5 at Blaine.
"We're doing literally a lot of catch-up," De Ruyter said. "We've had basically two full years that some of these guys haven't played regularly. These 11 games really are kind of training to them, to prepare us to be back in the grind again after being gone for so long."