A record 248 teams battle the heat and each other, entertain Front St. crowds
LYNDEN ­— Many thousands of people swarmed downtown Lynden to watch the nearly 1,000 competitors of the 21st annual Curt Maberry Memorial Classic 3-on-3 basketball tournament Friday and Saturday.
Big and small, old and young, players from kindergartners to adults drained shots, zipped passes and reveled in the second-largest 3-on-3 basketball tourney in the state behind Spokane Hoopfest.
The action began near the intersection of Front and Seventh streets and ran east, as basketball courts took over several blocks of Front Street and people packed the sidewalks, some in lawn chairs, to watch the action unfold.
It was the largest ever basketball team sign-up for the Razz Fest, featuring 248 squads of four players each, three starters and one bench player, building on last year's previous record of 220.
Part of the 2019 Northwest Raspberry Festival, the tourney had 30 "Rookie Razz" teams of second graders or younger.
Jillea Fox, 11, a soon-to-be sixth grader from Ferndale, played here for the first time ever. School basketball doesn't start until seventh grade, but she plays in AAU tournaments and was excited to compete in the Razz Fest.
"It's been fun," Fox said. "I really like playing basketball. My family is really athletic in basketball, so I like doing it."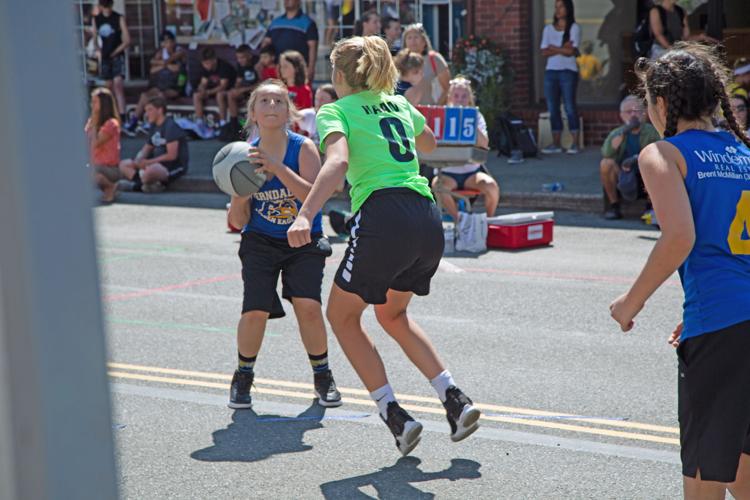 Lynden High School junior Christian VanRooyen also played here for the first time. He joined a team of two Lynden High students, Matthew Munkres and Ethan Wilson, along with a Nooksack Valley high schooler.
"I'm playing with a few guys who have been playing for a few years," VanRooyen said. "They just asked me. One of the players they thought would return didn't really want to, so I was their replacement. I just play for fun. These are my friends, so I thought I might as well give it a try."
VanRooyen said it's nice to see this farming community celebrate its love for the game.
"Not everyone here plays for the high school team. It's just fun to play and have competitive basketball without it actually being way too serious, but it gets pretty intense still."
Jeremy Juarez, 30, drove four hours up Interstate 5 to play in this event. This was the Mount Vernon High School alum's fifth year at Razz Fest 3-on-3, and he came back to play with his little brother who just turned 18.
"We've never actually had the chance to play in a tournament together, so now that he's 18 he can play with the men, the big boys," Juarez said. "I'm a seasoned vet. I'm the old man that was going to hang it up. Then he asked me to play for one last run."
Juarez said he enjoys the environment in Lynden because everyone is here for the same reason — to watch and play basketball.
"There's a lot that are similar to this, but I just think the atmosphere is different," Juarez said. "It's organized with more variety. It's a close-knit [Spokane] Hoopfest. This is a cool town and they like their basketball."