Galley's 9-point outburst fuels the first quarter
NOOKSACK — The Nooksack Valley girls once again showed why they sit near the top of the 1A Northwest Conference basketball standings.
The Pioneers on Monday displayed their skills at home in a 61-15 drubbing of the Coupeville Wolves in a matchup that was one-sided from the start.
Nooksack Valley was a force on defense early on, preventing the Wolves from scoring more than a free throw for much of the first quarter.
With five minutes to go in the quarter, the score sat at 4-1, and it was a 9-point run by Nooksack Valley junior Maya Galley that busted the matchup wide open. Galley drained two 3-pointers, a field goal and then an and-1 with 3:50 to go in the first, and the Pioneers didn't look back from there.
"I know that we wanted to come out with a lot of energy, and my coaches have been telling me to shoot it more," Galley said. "I was really focusing on that tonight."
Nooksack Valley head coach Shane Wichers said everything always starts with the Pioneers' defense, so setting the tone defensively was a key factor in taking control early.
"We knew that their best ball-handler was number two, so we wanted to limit her ability to touch it and then just get the ball, push the ball up the court and find the open looks," Wichers said.
The Pioneers successfully worked to contain Coupeville's Scout Smith, and the rest of the defensive scheme fell into place as well. The Wolves scored just three points in the first quarter and added three more in the second. The Pioneers kept mostly steady, although their scoring slowed as the game reached the third quarter. However, the Nooksack Valley defense never relented, holding Coupeville to zero points in the third quarter.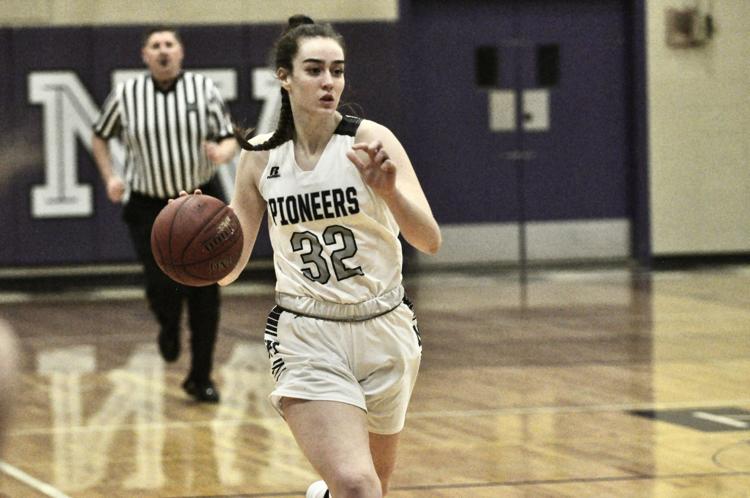 "We just key up on them so we have time to get back on defense and set it up," Nooksack Valley sophomore McKenna Wichers said.
Galley led the Pioneers with 14 total points, but the scoring was spread out among her teammates as well. Jenna Compton and Kora Larsen put up 11 points apiece, and Wichers had 10. Teyha Moore put up 7 points of her own.
The Pioneers faced King's Tuesday night at King's High School in Seattle. The game against the Wolves marked the beginning of the District 1 1A tournament. The winner of the Kings-Nooksack Valley contest moves on to the district championship game at 5:30 p.m. Friday and is guaranteed a berth in the bi-district tournament. A loss to King's would kick the Pioneers to the other side of the bracket, although their opening win against the Wolves means only one more win is needed to guarantee a bi-district spot.
"Districts are long," Shane Wichers said. "Our goal is to get to the next round, which is bi-districts. We're just trying to get wins and move ahead and play one game at a time."