Nooksack Valley emerges victorious in battle of top NWC squads, 75-44
EVERSON – In a clash of two of the Northwest Conference's top teams, one prevailed convincingly.
Entering the game at 7-2 overall and 5-0 in league play, Nooksack Valley knew they had a challenge on their hands. Meridian, one place below them in the standings, entered at 8-2 overall and 5-1 in conference contests.
A slugfest was expected, and yet the Pioneers simply proved why they are among the best that Washington state's 1A classification has to offer.
"We're really grateful that people see us that way, but that's what we've done, it doesn't mean anything about moving forward," said Shane Wichers, Nooksack Valley's head coach. "It doesn't matter – if anything you have a bigger target on your back. You've got to come out and play, we set the standard … the girls are really focused and locked in."
It does help to have one of the early candidates for 1A state player of the year in sophomore guard Devin Coppinger, who is consistently posting 20-plus points per game and eye-popping rebound numbers.
Coppinger and the Pioneers are constantly looking for ways to improve their chemistry and efficiency.
"In the moment, it seems like we did good, and we're feeling good about that, but then also what's the next step to get better?" Coppinger said. "[We're] thinking about districts and state and what we need to do to get there, and we are getting there."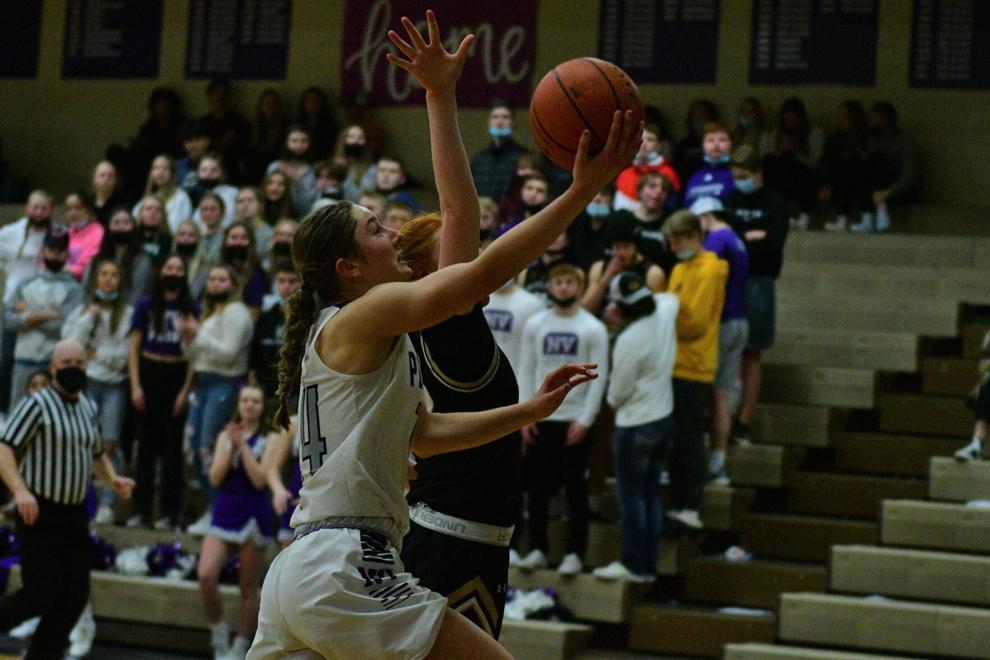 The Pioneers aren't short of depth, though, and that's what makes them so lethal.
It didn't seem to faze Nooksack Valley whatsoever that they were playing without one of their top players in sophomore guard and forward Lainey Kimball. Anyone on the team can step up to the plate when called upon.
For Meridian, their usually potent, well-oiled offense was hampered by Nooksack Valley's emphasis on shutting down senior forward Skyleigh James. The Trojans' offense generally runs through her, and she had two Pioneers flocking to her every time she touched the ball.
"It was a physical battle down there, they're a good defensive team," James said.
Wichers and Coppinger gave kudos to James after the game, noting how important it was to try and take her out of the game.
"Skyleigh's a really good player, she's the focal point of their offense so we try to do the best job we could on getting her as few touches as possible," Wichers said. "She's a great player – she moves well, posts up well, gets the ball a bunch and scored a bunch but I thought, for the most part, at making her work to get the touched she wanted."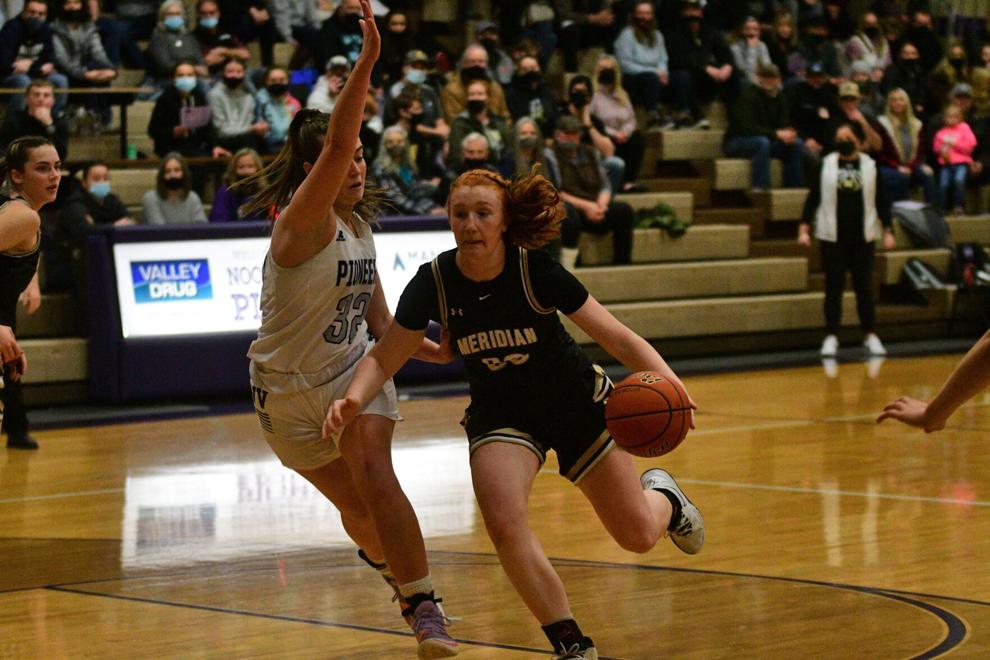 As a result, they were forced into more outside shots and tough work in the paint, which didn't bode well for their offensive momentum.
"That's a good team. That's a tough team we're playing, and we knew that coming into it," said Bree Park, Meridian's head coach. "They have eight or nine [girls] deep, and we're not as deep [on the bench] as them. They're physical, but mentally we just took possessions off and we can't do that."
When James is getting all the attention, it can often come down to whether the guards are knocking down shots or not. The Trojans are talented on the outside but just couldn't get as much to fall tonight as they are used to.
The Pioneers did more than just set the tone early. They raced out to a 16-0 lead in the first quarter, which seemed nearly insurmountable at the time.
To the Trojans' credit, they cut that deficit in half by the quarter's end, trailing 21-13 after one period of play. Meridian showed their defensive grit when they needed to.
The second quarter began with each team trading buckets. However, the Pioneers quickly caught fire once again en route to finishing the period on a 12-2 run.
It was back to a 16-point margin, with Nooksack Valley leading 38-22 at halftime.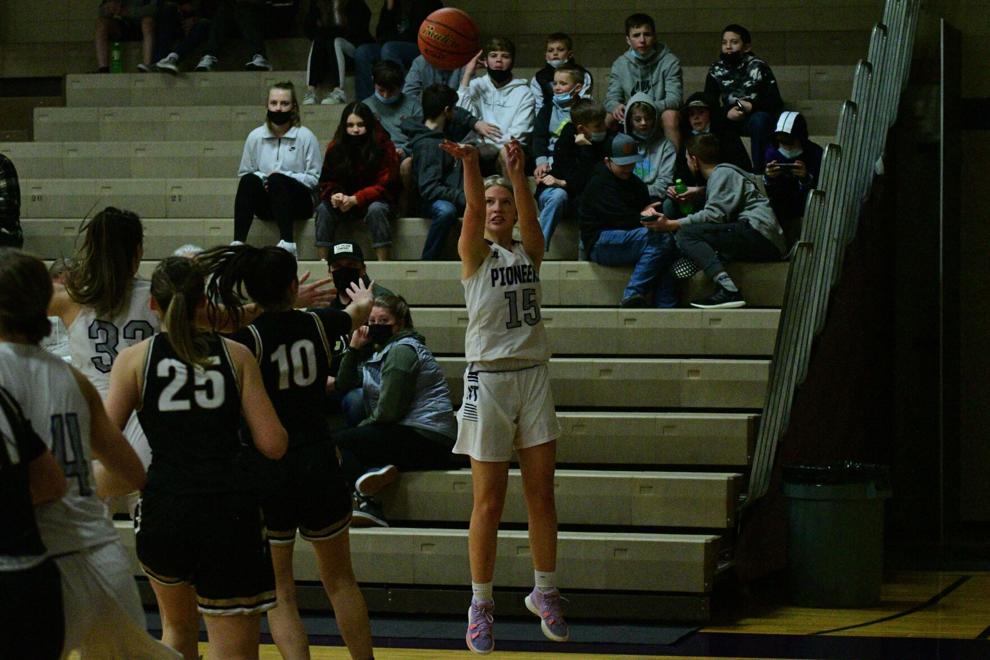 Despite the efforts in the first half, it was the Pioneers' third quarter that made the difference in the game. They outscored the Trojans 26-7, led by 7 points from Coppinger and a pair of 3-pointers from junior guard Hallie Kamphouse.
"I just look for the open shot, and Devin did a good job seeing me," Kamphouse said. "I always try to drive and kick to the open person, but I'm always looking to shoot [also]."
Kamphouse hit four 3-pointers in the game, each coming from the left corner where she's made a name for herself as a sharpshooter.
Coppinger capped off the quarter with a difficult and-one that galvanized the bench and her on-court teammates. The lead was 38 after three quarters.
Meridian outscored Nooksack Valley 15-11 in the fourth quarter, but it remained a statement victory for the Pioneers.
Coppinger led her team with a game-high 26 (5-6 FT) points as Kamphouse poured in 16. Senior guard Tehya Moore and senior forward McKenna Wichers each had 11.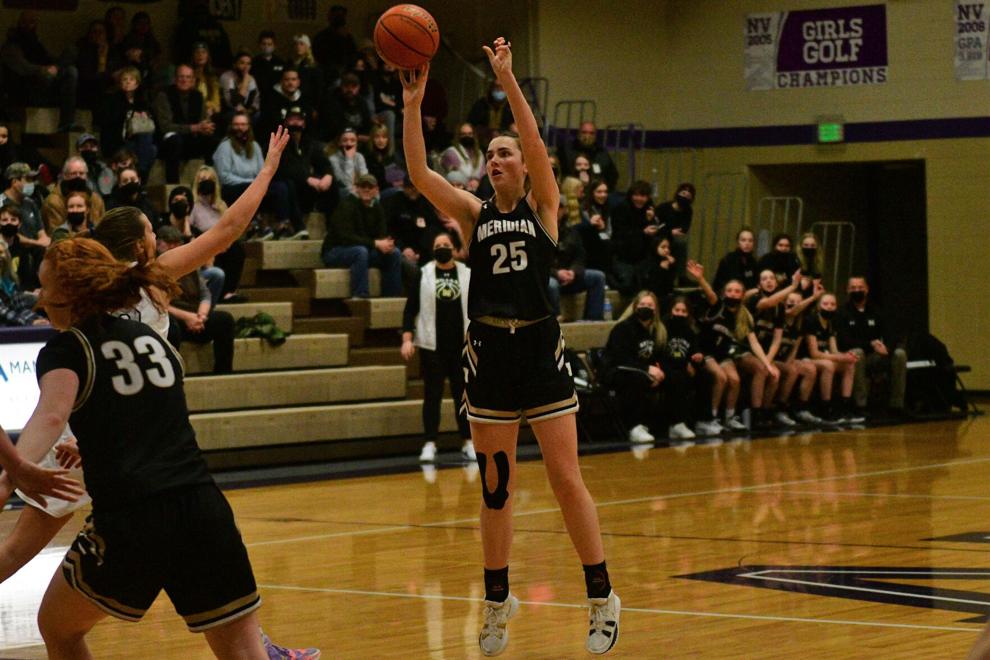 For the Trojans, James had a team-high 16 points (8-13 FT) as senior forward and guard Ellie DeWaard posted 8. Senior guard Kadance Blankers totaled 7 points while junior guard Emilee Swanson tallied 5.
"We'll ride or die with these girls, we're family, we'd run through a brick wall for one another," Park said. "We're just excited to get after it and play our game against Ferndale, get back into it because we're going to see some tough opponents these next couple weeks."
Nooksack Valley moves to 8-2 overall (6-0 NWC) and will head to Squalicum (4-3, 4-3 NWC) on Monday, Jan. 10 for a 7:35 p.m. tipoff.
Meridian drops to 8-3 overall (5-2 NWC) ahead of a home matchup with Ferndale (5-3, 4-2 NWC) on Monday, Jan. 10 as well. Tip-off is set for 7:15 p.m.