Large contingent of local grads playing college sports
WHATCOM — With talented athletes all over north Whatcom County, it's no surprise that numerous Class of 2018 high school graduates will play sports at some level of college next year. 
Starting with Lynden High School, a total of 11 Lions plan on competing in collegiate athletics. 
From the football team, 6-foot-8 lineman Trey LaBounty is headed to Stanford after earning first-team all-state honors last season. Lineman Cole Crass, a first-team all-Northwest Conference pick as a senior, will also play college football at George Fox University, a NCAA Division III institution. 
The Lynden volleyball team had a great season last fall, taking second place at the Class 2A state tournament. The Lions were led by their pair of all-league outside hitters Abi Broussard and Isabelle Jacob, and both graduates are on to the college level. Broussard will compete for Northwest University (Kirkland), which aligns in the NAIA, while Jacob signed with NCAA D-II Central Washington University. 
Lynden's Natalie Amos (basketball), Trevin Hope (baseball) and Megan Paoli (softball) are each headed to Bellevue College. Hope was the Northwest Conference Pitcher of the Year in 2017. Paoli and Amos were both all-league picks.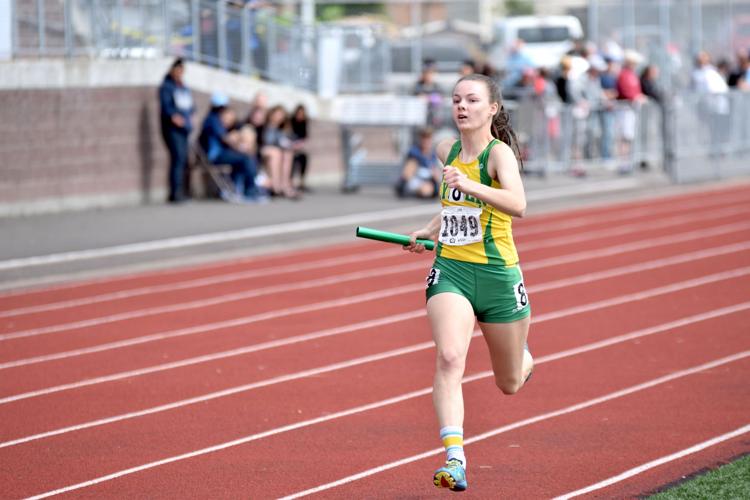 Three-sport standout Sierra Smith, an all-state selection in girls soccer last season, is off to play soccer at Whatcom Community College. She will be joined at the school by Isaiah Baseden, an all-league defender for the Lynden boys soccer team in 2018. First-team all-NWC pick Trevor Abitia will play baseball at Skagit Valley College. 
Rounding out Lynden's group of college athletes is girls golf standout Jade Ming, who earned four top-seven finishes at state for the Lions in her high school career. Ming will attend NCAA D-III Mary Hardin-Baylor in Texas. 
At Lynden Christian, three stars from the 1A state champion girls basketball team are off to play college hoops. Avery Dykstra, a first-team all-state pick last winter, is staying close to home to play for NCAA D-II Western Washington University. Sam VanLoo (first-team all-NWC), will attend Northwest University (Kirkland) and Riley VanHulzen will play for Dordt College in Iowa, which competes athletically in the NAIA. 
Two of the best distance runners to come through LCHS, Eric Steiger and Brooks DeWaard, will join VanHulzen at Dordt College. Steiger and DeWaard will participate in track and cross country. 
At the 1A state track meet last month, Steiger took second in the 3200-meter run (9:35.46, a school record) and was third in the 1600m (4:25.51) as he rounded out his track career with five state medals. DeWaard was fourth in the 1600m (4:26.29) and seventh in the 3200m (9:54.06). 
Nooksack Valley's class of college athletes is headlined by Casey Bauman, who is headed to play NCAA Division I football at Montana State University. An all-state honorable mention for the Pioneers last fall, Bauman's size, at 6-foot-5 and 210 pounds, and obvious talent make him an intriguing player to keep an eye on in college. 
Another big name to watch from Nooksack is Katrina Gimmaka, who was the Northwest Conference MVP in girls basketball last season. Gimmaka will join Dykstra at Western Washington next season as part of an impressive group of recruits for the Vikings. 
Others moving on for Nooksack are: Tre Silva (Pacific Lutheran football and track), Arlin Holder (Master's College track and cross country), Nicole Whittern and Jami Tresselt (Seattle University track) and Jordan Veening (Eastern Washington basketball). Whittern finished third at the 1A state track meet in javelin last month. 
At Meridian, the Class 1A Player of the Year in football Simon Burkett is headed to NCAA D-I Eastern Washington to play quarterback for the Eagles. Burkett, whose throwing and running ability powered Meridian to the state football finals, also earned an all-state selection on the baseball diamond for the Trojans this season. 
Ellesse FitzGerald will join VanLoo on the Northwest University women's basketball team. FitzGerald, a first-team all-NWC pick, is the first player in the history of Meridian girls basketball to receive a full-ride athletic scholarship to a four-year university. 
Meridian's Lukas Hemenway will play baseball at Saint Martin's University in Lacey. Ashlee VanDenTop, who earned seven state medals in track during her high school career, is headed to George Fox University to run cross country and track.
No notice was received of any Mount Baker graduates that are moving on to play college sports.