Post-Bajema and company, new crew has won four out of five tourneys
LYNDEN ­— For Lynden Christian boys basketball to lose five seniors and three starters — including Cole Bajema, who is now draining jumpers at the University of Michigan — one would be hard-pressed to predict the Lyncs would win 95 percent of their games this summer.
But that's precisely what has happened.
The Lyncs have reeled off 38 wins in 40 games this summer, spurning those who would believe the Lyncs will experience a sharp decline after losing Bajema, the two-time AP 1A Washington state high school Player of the Year. 
Gone now are also Northwest University commit Cole Langstraat, Whitworth University commit Cristian Colwell, along with Luke Bos and Jake Libolt.
"The community as a whole, and some of the other teams in the league, we hear all the noise from the outside saying we aren't going to be any good," Lynden Christian coach Roger DeBoer said. "That we graduated everybody and we're not going to be competitive as we've been. These guys take that personally and they're excited to show what they have to offer. We feel we have some good momentum going into this season."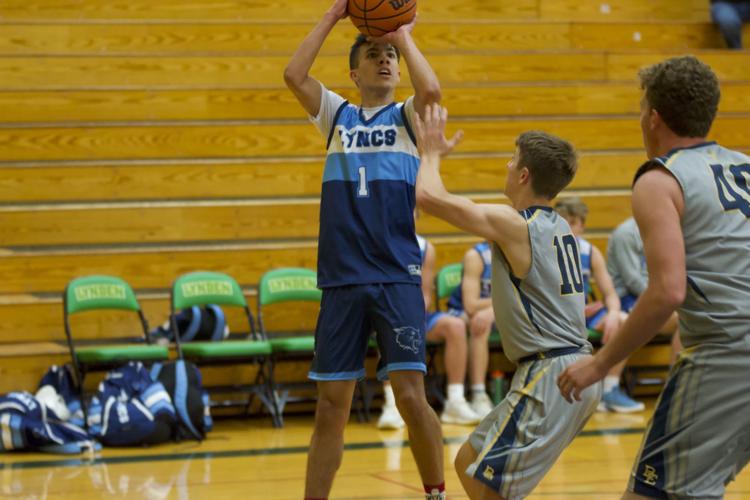 They have had a chance to prove themselves this summer, most recently in the 10th annual Cloud 9 Sports Adidas Challenge at Jake Maberry Gymnasium.
The three-day tournament, running Friday through Sunday, featured 21 varsity teams from as far away as Brewster, Washington; 10 junior varsity squads; and 13 C teams. The varsity teams included local programs Ferndale, Nooksack Valley, Mount Baker, Sehome, Lummi and Blaine.
Lynden Christian's C team went 4-1, losing 59-57 to Blaine in the championship. But for the Lyncs varsity players, the tournament gave them a chance to showcase what they'll look like without Bajema starting for the first time in three years.
The Lyncs went 4-1 to advance to the championship game where they fell 64-61 to Burlington, a team they had beaten by 15 at a previous tournament this summer. The main takeaway is this Lyncs squad is no longer a one-horse show.
They have multiple weapons on offense who can pull up and shoot as well as drive to the bucket. Incoming senior Bryce Bouwman dominated for the Lyncs offensively in a 40-point quarterfinal blowout against Athlelite 16. Bouwman showcased his explosiveness with quick drives to the rim, finishing with more than 20 points.
Missing from that game was returning three-year starter Andrew DeVries. With him on the floor, paired with sharpshooting guard Jaden DeBoer, the Lyncs are able to space the floor and create opportunities under the rim for their bigs, namely 6-foot-3 post Zach Sipma, who saw ample playing time last year.
"We're trying to keep it balanced," Jaden DeBoer said. "Everybody can score here, so no team like King's can run a line at 3 and take everybody away. That's what we're trying to stay away from."
The Lyncs are a bit undersized after losing 6-foot-9 rim protector Colwell and 6-foot-8 Bajema. Spectators got a taste of what that means for the Lyncs this year.
Coach DeBoer ran a full-court press defense the entire championship game against Burlington. The Tigers easily broke through it the first half of the game as they built a 37-24 lead going into the break. 
But as the second half wore on, the Lyncs' defensive pressure wore down the Tigers.
LC took its first lead since early in the first half with 6:57 to go, building a 53-47 cushion, but the Lyncs were unable to hold on against the Tigers' physical bigs.
"They're tough. They're really physical and we had a really hard time with them early," Roger said. "They hit a ton of shots early, which caused us a lot of problems. It dug us in a hole. But at the same time, I'm really proud of our guys for their resiliency at the end of the summer to come back the way they did and hit some big shots."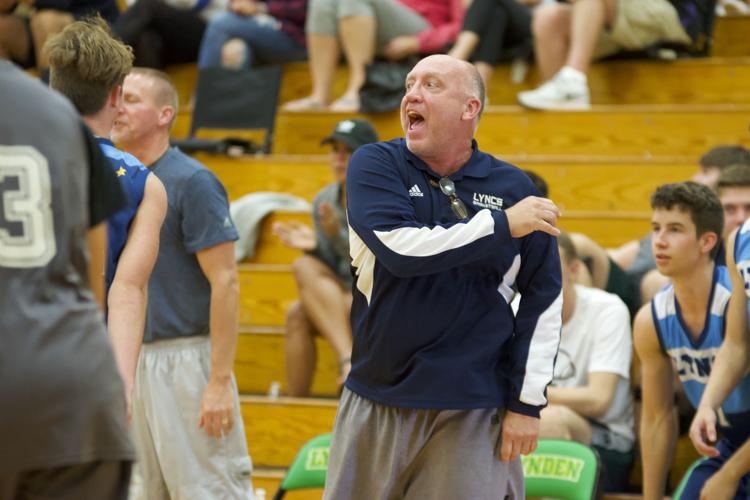 The title loss marked the first tournament this season the Lyncs have failed to win. They've won four out of five now, and DeBoer said this type of competition is crucial in the offseason.
"It's incredibly important," Roger said. "You can't create this in a practice or in a summer league game when you get in an intense moment like this with situations. You have to have that in-game-like speed with a big crowd and loud noises. I think this is one of the best things we can go through."
The Lyncs didn't even have all of their expected contributors in uniform. Andrew Hommes was in Las Vegas watching his brother, Daulton Hommes, play for the Milwaukee Bucks in the NBA Summer League, and Shale Whittern is working in Alaska right now.
"Those are guys that will be key contributors for the season," Roger said. "For us to be able to accomplish what we did with some guys not around is a great testament to these other guys as well. Once we get all our pieces together, we feel we're going to be really competitive."
Jaden DeBoer, the coach's son, said this level of success during the summer is more than they ever could have wished for at this point in the year.
"We feel great," Jaden said. "We didn't know what we were going to get in the summer. We're very surprised, but very happy with what we got. We had a pretty good summer. Pretty happy with what we did. Especially with losing the group of seniors that we did, especially Bajema. A lot of people think we're going to be down this year. I don't think we'll be down as much as people think."