LAUREL – Mount Baker boys soccer has racked up seven goals over two matches so far in the 1A District 1 playoffs, first with a 4-3 win over Sultan on Monday in a loser-out match and most recently in a 3-1 win over Meridian Wednesday afternoon.
Mount Baker (10-6-1) plays Lynden Christian (7-9-2) Saturday, May 4 at Whatcom Community College in a 1A District playoff match, where the winner will be the third seed and the loser the fourth seed in the Bi-District playoffs. Both teams have secured automatic berths to Bi-Districts that run May 6-11.
Next up for Meridian (9-7-2)  is a loser-out, winner-to-Bi-Districts match against Coupeville (6-9) at 5 p.m., May 4 at Whatcom Community College.
The Mountaineers struck first against the Trojans on Wednesday and took a 1-0 lead with 24 minutes left in the first half, but after that Meridian took over the pace of play and attempted shot after shot on senior goalkeeper Ian Green. Green had multiple saves but gave up a goal to Meridian's star midfielder Carlos Padila-Solis. The Mountaineers shut the Trojans out for the next 62 minutes.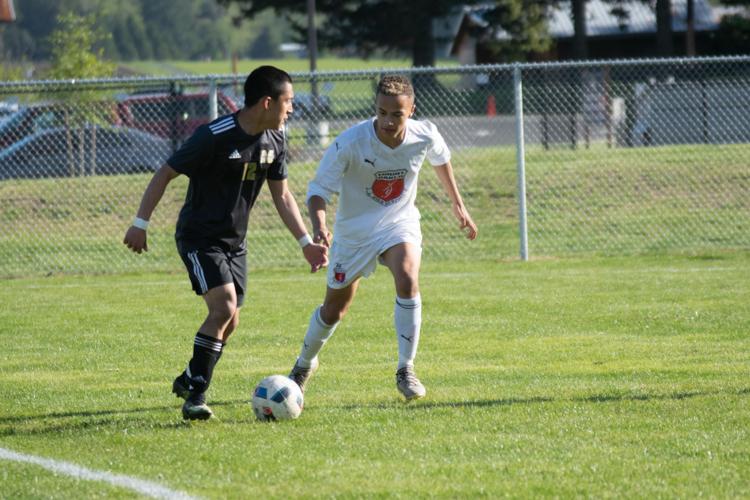 Padila-Solis took shot after shot as Meridian dominated possession in the first half, but the Trojans and Mountaineers went into the half tied up at 1-1.
Mount Baker coach Jason Jorgensen said he was happy with the team's performance overall, but was especially pleased with the team's effort after halftime.
"I think the second half was definitely better. First half I think we were a little on and off, but I think the second half [we] were a lot stronger and were winning the 50-50 balls which was great to see," Jorgensen said. "I feel like the first half Meridian did a fantastic job of winning a lot, 90 percent of [contested balls]. Our guys obviously turned it around and played with a little bit more, so that's good."
That increased play in the second half gave Meridian another pair of goals en route to their 3-1 win, including what would be the game-winning goal by senior defender Gage Corcoran.
"It was fantastic that Gage [Corcoran] got that game winner. He was in the right place, he hit a great ball," Jorgensen said.
On what Jorgensen described as a game-killing play, sophomore forward Alex DePablo Garcia pressured the Trojans goalkeeper and scored in a one-on-one situation to put the Mountaineers up 3-1 after clock stoppage.
Keeping that late-game momentum will be key for the Mountaineers as they continue in the district playoffs, and senior midfielder Clover Martin emphasized the importance of cohesive play in the postseason.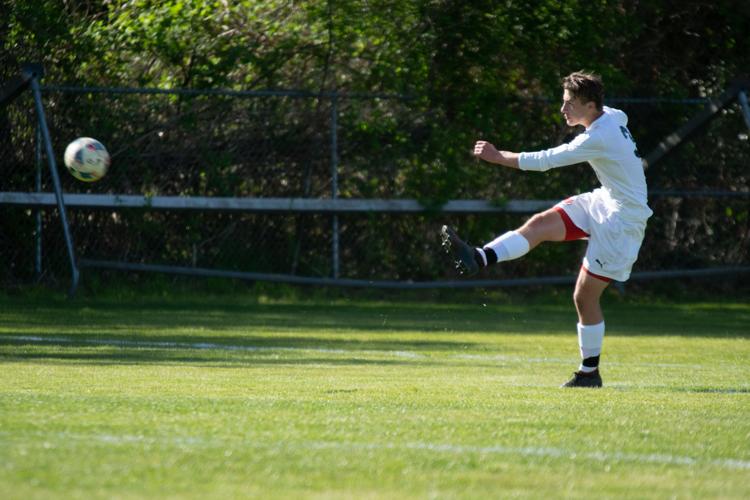 "It was a big win heading into playoffs," Martin said. "It took effort from everybody, I think as a team we pulled it off pretty well. We stuck to our game plan and had some good goals, and in the end I think it was the work that really got us that last goal, throughout the whole game."
Martin said the team's superior play in the second half was a product of a team commitment at halftime to give stronger effort and focus on winning every ball. That paid off as the Mountaineers outshot and out-possessed the Trojans by a large margin in the second half.
"I think it looked like we wanted it more in the second half and we pulled off the win, it's what we came here to do," Martin said.
Jorgensen added that Wednesday's win felt especially good after the Mountaineers were handed a 2-1 loss by Meridian at their Senior Night last Friday.
"Meridian is a very strong program and they have two very dangerous players, [so] it was great for our guys to rise to the occasion and get the win," Jorgensen said. "It was a game that our boys wanted to win not only to play on Saturday and have better seeding but to have redemption for our Senior Night."