Mount Baker, Nooksack Valley, Meridian took to the mat on Wednesday, Jan. 12, the first match in nearly a month for latter two schools
DEMING – After most Northwest Conference wrestling teams were off for nearly four weeks, Mount Baker, Nooksack Valley and Meridian were just happy to be wrestling.
"We wrestled last Saturday [Jan. 8] for the first time since Dec. 15," said Ron Lepper, Mount Baker's head boys wrestling coach. "I was really pleased with how our kids competed last weekend, and I thought they carried that over to last night [Wednesday]."
The meet was originally scheduled to also include Oak Harbor, but they ended up pulling out. Thus, the matches were set up as duals between each of the three schools, with one team sitting out while the two others went head-to-head.
Mount Baker versus Nooksack Valley. The Pioneers' head boys wrestling coach Colt Warren reported an 88-6 win for the Mountaineers, as Lepper recorded a 53-12 win for his team. Regardless, Mount Baker looked solid, pinning opponents in four of the team's nine wins.
"Overall the kids just kind of feed off each other," Lepper said. "How they approached it last night [Wednesday], they did a nice job of that. One guy kind of gets going, it inspires the other guys, and they follow up on that. It was fun to watch."
Senior Jake Anderson (138 lbs.), sophomore Daniel Washburn (152 lbs.), sophomore Vance Lawrence (160 lbs.) and senior Caleb Wagar (182 lbs.) made up the Mountaineers' pins.
Mount Baker also got victories from senior Jimmy Johnson (145 lbs.), senior J.P. Longoria (145 lbs.), junior Elijah Washburn (170 lbs.), senior Jordan Hughes (195 lbs.) and senior Thayer Brown (220 lbs).
The Pioneers secured two wins by forfeit from freshman Martin Ventura-Salazar (113 lbs.) and sophomore Cian Coppinger (285 lbs.).
"We're still pretty green and young, and we're still trying to cultivate within our wrestlers, you know, the wrestler mentality," Warren said. "Going up against [Mount] Baker, they're a seasoned team and have an amazing coach and they're an amazing program. It was a learning moment for us, and it was good for our kids to see what hardnosed wrestling looks like."
The team has just one senior in team captain Chep Lopez. It was only Nooksack Valley's third wrestling competition of the year as, like most teams, scheduling has been difficult.
The Pioneers haven't seen the mat since they joined Mount Baker at Mount Vernon on Dec. 15.
"I saw a lot of good things that our guys did, and our one girl who wrestled, it's just day by day. We're getting better, and it's a fun season that's for sure," Warren said. "I'm just happy we get to compete because we're practicing all the time and it's really difficult to be a wrestler and practice all the time but never compete. So I feel incredibly thankful we were able to compete, and the kids loved it too, they were itching to get out there."
Mount Baker sat out the second dual, as Meridian stepped up to the plate to take on Nooksack Valley. The Pioneers took the win by a score of 21-14.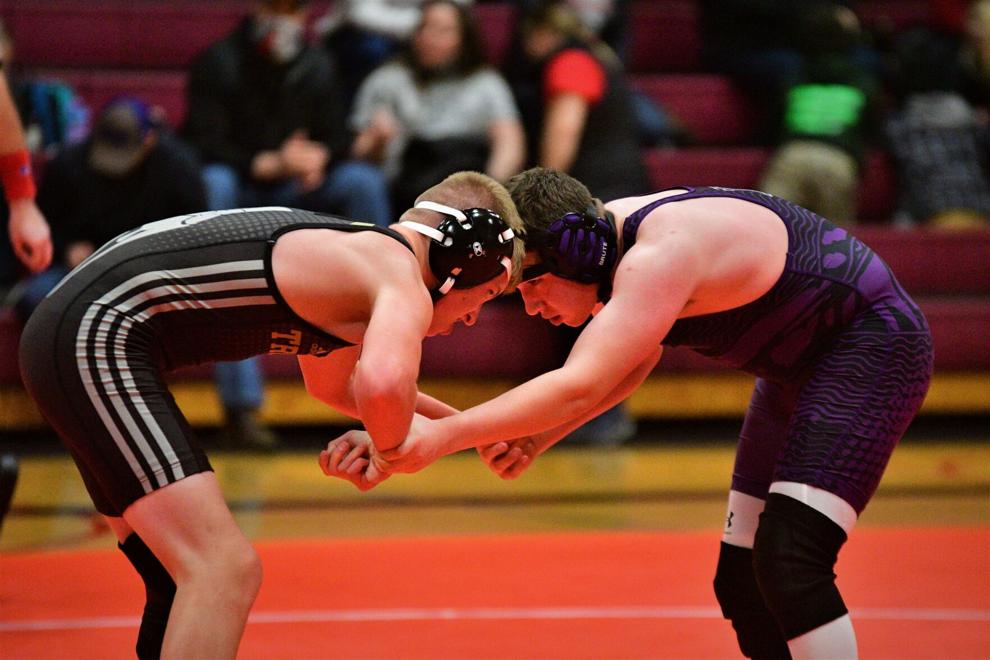 Nooksack Valley got pins from junior Shon Visser (170 lbs.), Coppinger and senior team captain Lopez (170 lbs.), as Freshman Cameron O'Bryan (145 lbs.) earned a hard-fought decision victory as well.
Meridian didn't keep any formal results or scores, but the Trojans' head boys wrestling coach James Summers was pleased with the experience his team has gained from the matches.
"Getting that mat time has been pretty critical and seeing, in a few matches, some change has been good," Summers said. "We're a young team and got a lot of growing to do but it was good to see them improve some."
Summers said senior Corbin Marshall (182 lbs.) and freshman Liam Wolven (126 lbs.) were a few of the Trojans' wrestlers who particularly stood out to him.
With how inconsistent the team's mat time has been, Summers said he's more focused on the small improvements in technique he sees in the kids than whether they are outright winning. The opportunity to compete at all is what has become the most valuable.
"We're just trying to get as much time as we can on the mat and hopefully it continues," Summers said. "Hopefully we get to a bigger tournament, but right now we're just trying to take it one week, or one day, at a time."
The final dual of the evening was between Meridian and Mount Baker, with the Mountaineers getting the victory 54-6.
Mount Baker recorded pins in five of their nine wins. Daniel Washburn, Elijah Washburn, Anderson, Johnson and Wagar made up the pin victories for the Mountaineers.
Forfeit wins for Mount Baker came from Longoria, Lawrence, Hughes and Brown.
Meridian's lone victory in the dual came from freshman Dennis Boskakov (285 lbs.) to round out the meet's available results.
The Mountaineers will be traveling to Rainier High School on Saturday, Jan. 15 for a multi-school tournament at 9:30 a.m. Nooksack Valley will host Ferndale and Mount Baker once again on Wednesday, Jan. 19, at 7 p.m. Meridian is set for a dual versus Mount Vernon at home on Wednesday as well, with a start time of 6 p.m.