Strong run game drives Mounties to victory
LYNDEN — The week one matchup between Lynden and Mount Baker almost had a storybook ending. Almost. 
The Lions took possession with 52 seconds left in the game and no timeouts trailing Mount Baker 21-14, looking to drive the length of the field to potentially send the game into overtime. 
The next few plays didn't generate any yardage and a holding penalty had the Lions staring at a 4th-and-20 deep in their own territory. 
Then, some high school football magic happened. Junior quarterback Baylor Ayres found senior Brock Heppner down the seam and Heppner ran up the field for a 57-yard gain before being dragged down from behind at Mount Baker's 30-yard line. 
Lynden quickly spiked the ball to stop the clock, but Ayres couldn't connect to his receivers on either of his next two passes toward the end zone. The Lions looked on as the Mounties celebrated the upset. 
"I wish they didn't get that [57-yard completion], but we still had a chance to finish and we did, which was great," Mount Baker coach Ron Lepper said. "Last year, we scored on the last play of the game and came up short, so I'm just really proud of our kids for competing the whole game. That's what we asked them to do."
Lynden went up 7-0 early, scoring on the first drive of the game after senior Steven DiLorenzo powered through for a one-yard rushing touchdown, but the Mounties answered right back. Mount Baker marched down the field, draining most of the remaining time in the first quarter, and junior Mason Jacoby scored with a one-yard rushing touchdown of his own.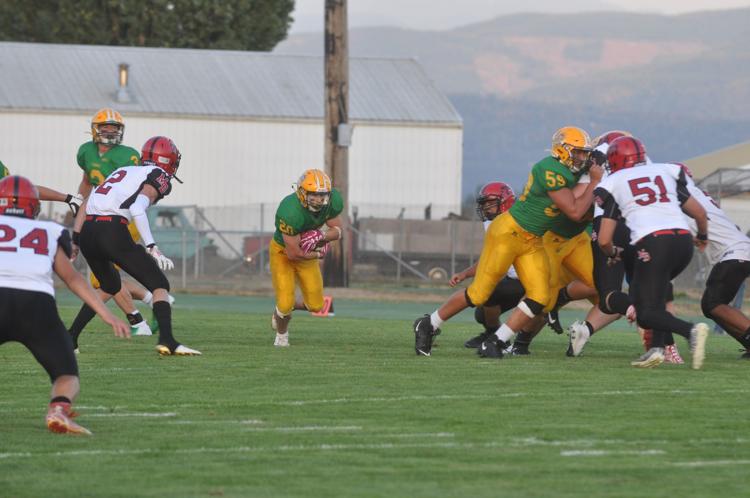 Jacoby said the Mounties knew they were the underdog heading into the game, but the team doesn't give things like that too much attention. 
"We try to stay out of that," Jacoby said. "We don't pay attention to what other people say. We've been under coach Lepper for a lot of years now, so we just focus on what he has to say and we believe in this program."
Mount Baker started clicking after the touchdown. After a partially-blocked punt, the Mounties had the ball again at their own 38-yard line. 
Jacoby found senior tight end Waylon Kentner for a long connection to set up Mount Baker right outside Lynden's 20-yard line. Not much later, Jacoby found Kentner again for a six-yard score to put the Mounties up 14-7.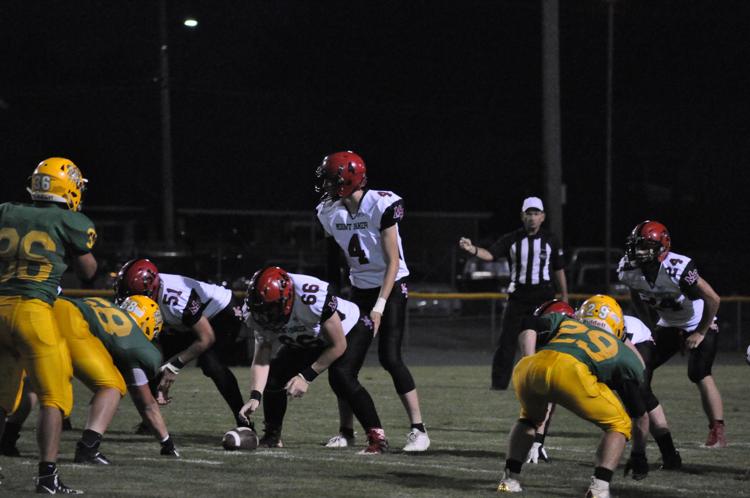 "Our game plan was to just stay focused on what we had, not think about who they are as a program and just come out and play to the best of our abilities," Jacoby said. 
Mount Baker took that 14-7 lead, and all the momentum, into halftime. 
The Mounties added to their lead on the first possession of the second half on another rushing touchdown, this time from senior Jason Lee, from three yards out. 
Lepper said there were a lot of unknowns about his team entering the game, but win or lose, he wanted them to compete the entire game. 
"We're still evaluating people and we had a lot of question marks," Lepper said. "We have a lot of guys who haven't played and it's their first time suiting up. We just wanted to see how we respond and we're really proud of that. If we lost it would've been a heartbreaker because of the way it went, but at the same time our kids battled and that's all we ask for. We don't talk about winning or losing. We just want to play hard and the kids did that tonight."
One of the big question marks heading into the season for the Mounties was if the young team would be able to repeat the successes of years prior.  
"I think we can definitely do it," Jacoby said. "We've all been behind them watching and learning. I think we can definitely build on that and be better."
Mount Baker hosts Sehome next Friday in Deming while Lynden will travel to Ferndale.