LAUREL — The Meridian volleyball team didn't know much about its opponent Forest Ridge in the opening round of the bi-district tournament on Thursday. That didn't seem to matter as the Trojans steamrolled their way to victory in straight sets (25-14, 25-10, 25-11).
It looked like the match could be a long and close one as the two teams were trading points early in the first set, but the Trojans found momentum and once they did, there was no stopping them the entire match. 
Meridian started to take control in the first set jumping out to 13-6 lead before Forest Ridge called a timeout. The teams began to battle back and forth again, but the Trojans had a comfortable enough lead to own the set.  
The Trojans racked up 24 aces as a team throughout the match with sophomore Finnley Claeys leading the team with six. Sophomore Malaysia Smith had five aces on the night to go with 25 assists.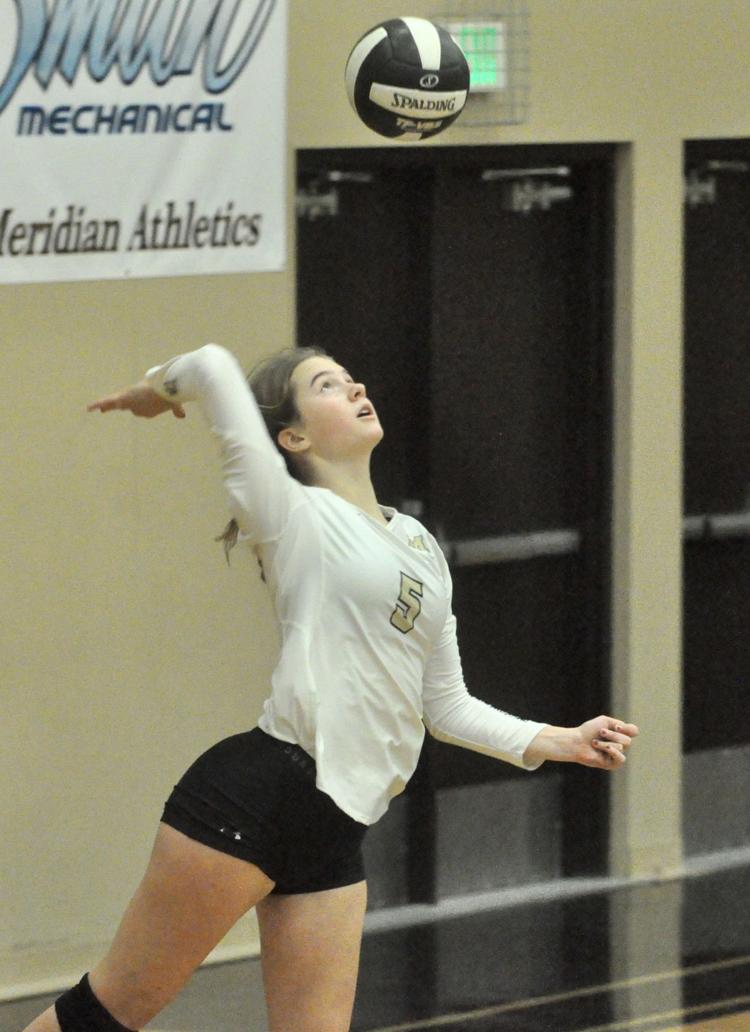 Meridian coach Shannon Claeys said they didn't know much about Forest Ridge as a team, but they didn't go into the match blind. 
"We took advantage of the NFHS Network," Claeys said. "Overlake puts all of their games on there so I was able to watch a little bit of film on them. We expected them to be a little scrappy and they had a couple decent hitters, but we just served the ball so well tonight and didn't make too many errors and just played great defense."
The Trojans never relinquished momentum in the match, winning the first six points of the second set before Forest Ridge called a timeout to cap off an 8-1 run before dominating the rest of the set. 
The win means the Trojans' season continues. They play again Saturday and could possible play three matches in a row if they continue to win. One win on Saturday sets up another match with Northwest Conference foe Lynden Christian. Claeys said they're excited for the potential rematch. 
"We play Bush first at 11 a.m. and if we win that [we play] Lynden Christian," Claeys said. "We beat them for the first time in a long time, so we're looking forward to beating Bush and getting to see Lynden Christian again."
The Trojans have a long upward climb if they want to earn a trip to state, needing to win their first match on Saturday and then once more in either of their later matches, but Claeys said the team believes in themselves.
"We've competed with some of the top 1A teams in the state this year so I think we have the confidence going into any match we can win it," she said. "Playing in a loser-out game, even if you're really confident about it, is still a little nerve wracking at times."
Senior Makenzie Flake led the team with 11 kills in the match while sophomores Jolena Hoefer and Finnley Claeys added five each. The Trojans also had a hitting percentage of .288 as a team on the night. 
"This team really just takes it one game at a time, one point at a time and just wants to do better every single chance they can get," Claeys said. "They just play so well as a team."