Bellingham's Livi Lackland-Henry captures individual title
BELLINGHAM — Meridian sophomore Kayla Aalpoel scorched her season PR by over a minute to place fifth at the Northwest Conference girls cross country meet on Wednesday at Civic Field.
Her time of 19.02.5 helped her match last year's fifth place finish at the NWC meet in 2018, and was four-tenths of a second away from career PR.
It was made even more impressive by the fact that Aalpoel is less than a month removed after fully recovering from a preseason knee injury that sidelined her for the first two weeks of the season.
"I just want to keep improving," Aalpoel said. "This is probably going to be my best time of the year. I want to keep building on today and make it to state."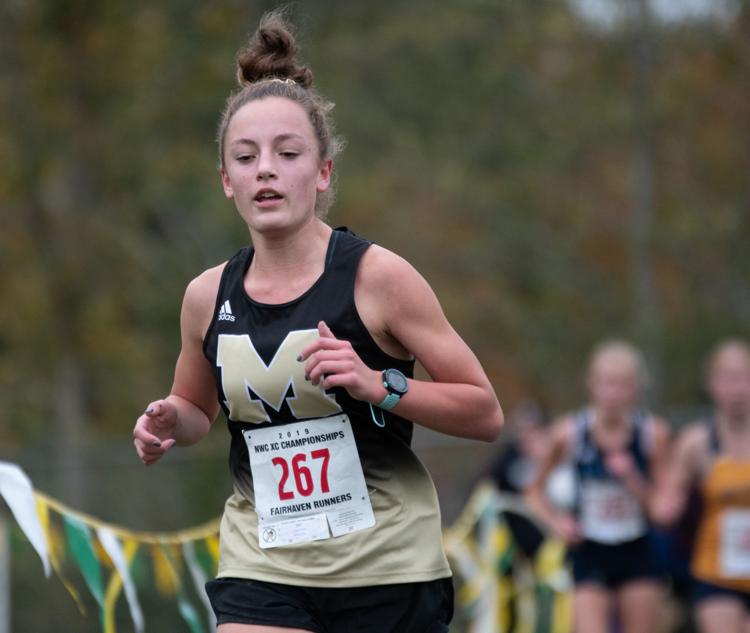 For comparison, Aaelpoel ran 15 seconds faster on Wednesday than her time of 19:17.5 that earned her sixth place at Class 1A state in 2018 as a freshman.
She's been running hill circuits and performing speed workouts on the Trojans' track to try and break into the top-5 at state this year.
"I'm hoping," Aalpoel said. "That's my whole goal."
Bellingham's senior Livi Lackland-Henry captured the girls race with a time of 18:14.13 to help the Red Raiders to a second-place team finish with 76 points.
Sehome girls won the team meet with a score of 64. The Mariners were led by three top-12 finishes, led by freshman Evelyn Buetow, third place, in a time of 18:53.48; Senior Rosie Kirker, eighth place, in a time of 19:31.94; and freshman Julie Gill, 12th place, with a time of 19:42.25.
Lynden Christian sophomore Maya Ewing used her patented second-half surge to PR by 24 seconds with a time of 19:12.13 to claim sixth place, improving on her 22nd-place spot in the same meet as a freshman in 2018.
"To have a good second half you have to have a good first half," Ewing said. "But I run stronger in the second half."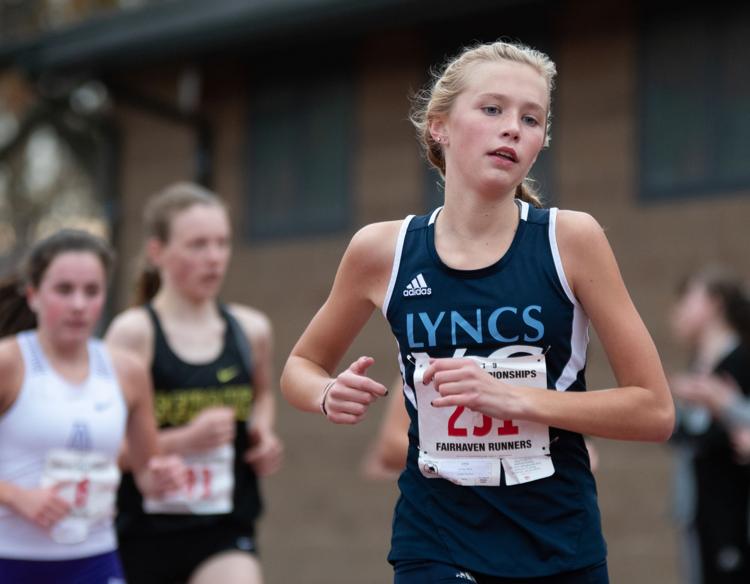 Ewing, who placed 45th at state last season, is hoping the Lyncs can make it to state as a team this year. She put in extensive offseason training on the trails around Lynden to prepare for state.
"We're almost there," Ewing said. "I want to have a good race at districts so our team can make it. I'm excited to see what happens."
Ferndale junior Jaclyn Denham, who took second-place at the NWC meet a year ago, battled back from a foot injury suffered three weeks ago to place 15th in a time of 19:52.47.
It's the second-straight year Denham has dealt with an injury during the season after having a tibial stress fracture in one of her shins in 2018. The foot injury this year put her a minute off her career PR of 18.25.
She was hoping to get a sub-20-minute time Wednesday, and she achieved that.
"It's a little disappointing, but every year is different," Denham said. "I need to stop comparing."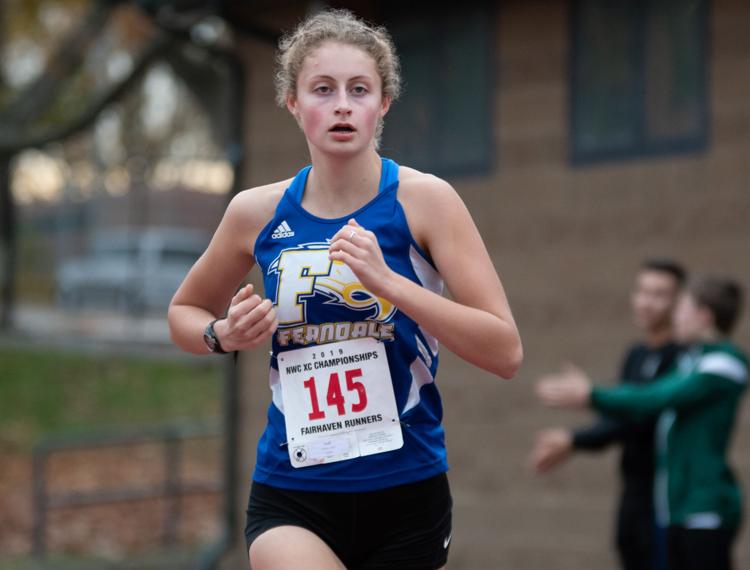 She's kept her cardio up by biking to take pressure off her foot leading up to this race, and wasn't able to perform more strenuous track workouts until last week.
Now her goal is to get healthy enough to qualify for state, where she placed 47th in the Class 3A state championships as a sophomore in 2018.
"This race is important but I'm definitely looking forward to districts next week to see what I can do there," Denham said.
Class 1A, 2A and 3A girls cross country districts is at South Whidbey High School at 10 a.m. on November 2. The top-28 runners advance to state.