The Trojans took home the 1A District 1 trophy on Thursday, while the Lyncs squeezed into the crossover's second spot 
LAUREL – Meridian and Lynden Christian ended up right where they believed they should have.
The top-seeded Trojans and No. 2 Lyncs finished Thursday's 1A District 1 volleyball tournament with first and second place spots, respectively.
Additionally, Meridian had the trophy-raising opportunity they'd been looking forward to after being named the 2021 1A District 1 champions. The Trojans showed exactly why they deserved the crown, looking the part of a possible state contender.
It was a hard-fought, exciting tournament by all four teams. However, in the end, two had to be eliminated. Nooksack Valley and Mount Baker's seasons ended following the tournament.
Both Meridian and LC advanced to the 1A District 1/2 crossover this Saturday, Nov. 6, at Kings High School. A win there sends them to next weekend's state tournament that runs Nov. 12-13.
Now, let's talk about the games.
No. 1 Meridian vs. No. 2 Lynden Christian
The Trojans swept LC (25-23, 25-8, 25-23) in the opening round of the tournament, advancing to the crossover and claiming the district championship.
"I am so proud of them," said Shannon Claeys, Meridian's head coach. "[We were] having such great success this year, winning games, and then losing Malaysia [Smith] was quite the blow for us. Everybody realized they all had to pick it up, and we just came together as a team."
The initial set of the first-place match was a close one, as the Lyncs weren't going to go down without a fight.
It was back-and-forth nearly the entire time, with a score of 12-all midway through. Meridian embarked on a 7-3 run and were suddenly in control.
LC would close the gap to two, trailing 23-21, but after traded scores a few serves later the Trojans held a 1-0 advantage after the first game.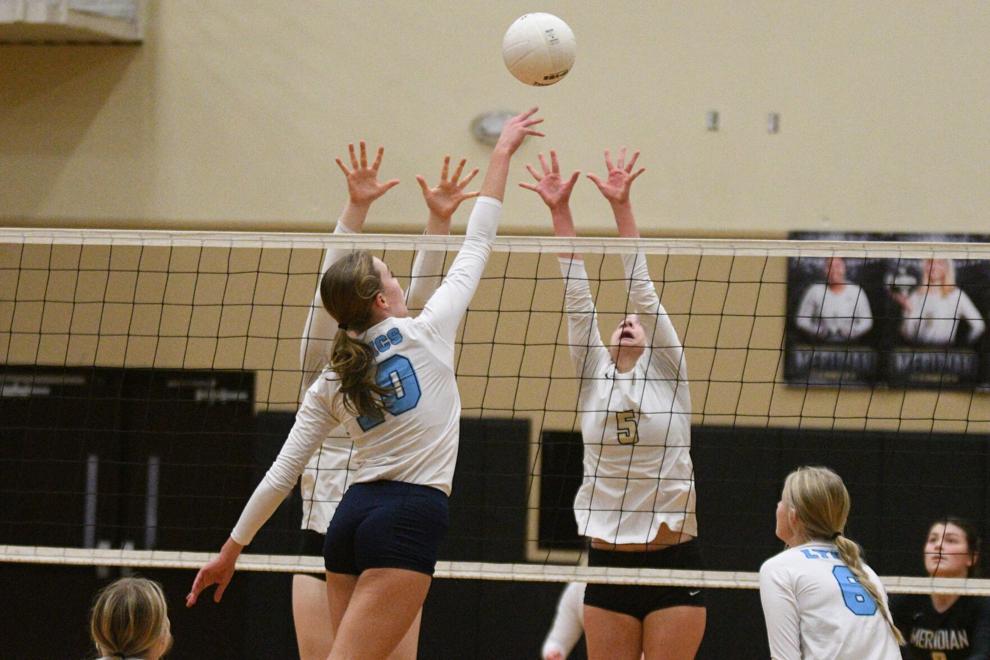 Meridian rode that momentum straight into the second set. The Trojans jumped out to a 7-3 lead early, but that was only a taste of their ensuing dominance.
With senior outside hitter Jolena Hoefer serving, Meridian mounted a 12-0 run to put the set far out of reach for the Lyncs. Meridian took the second game 25-8.
"That second set was a statement," Claeys said. "But I knew that LC was not going to go away easily, and they definitely came back fighting."
Heading into the third, LC had to play their best volleyball if they hoped to get back into the match. To their credit, the Lyncs battled hard.
Returning to their gritty play of the opening set, LC held strong. They trailed 18-12 late but closed the gap to just three points by the time Meridian eclipsed the 20-point mark.
It was match-point for the Trojans at 24-23, and senior outside hitter Jolena Hoefer did what she's done all season: emphatically kill volleyballs.
A dig by the Lyncs to counter Hoefer's swing was sent out of bounds, and the Trojans were champions.
"It was breathtaking," Hoefer said. "We worked so hard, we overcame Malaysia's injury, we readjusted with Hayden [Claeys] as our setter and she's doing great. To overcame and take LC in three [sets] felt amazing."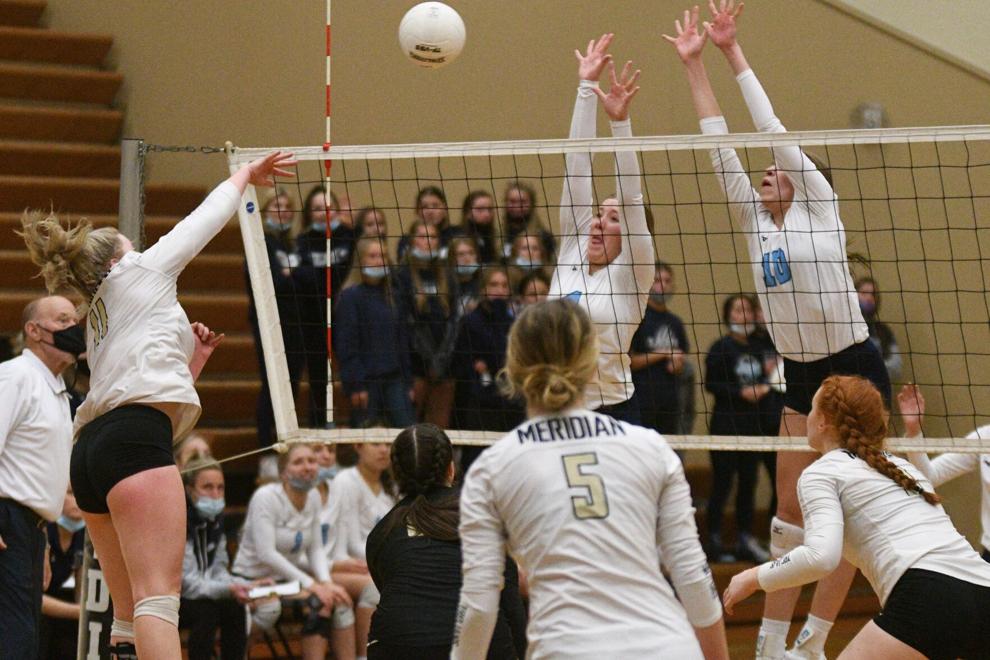 Hoefer finished the match with a team-high 17 kills and 13 digs. Senior outside hitter Finnley Claeys followed her up with 12 kills, 9 digs and 4 aces, while junior setter Hayden Claeys racked up 39 assists, 8 digs and an ace.
The Trojans' junior libero Avery Neal totaled a team-high 17 digs and an ace, as senior middle blocker Skyleigh James also had 5 kills.
It was an evidently emotional victory for Claeys and the Trojans.
"I'm just kind of lost for words," Claeys said. "I'm so excited though, because I don't know when the last time Meridian was District 1 champs, so it's pretty awesome."
For LC, their night would get much better from there.
No. 3 Nooksack Valley vs. No. 4 Mount Baker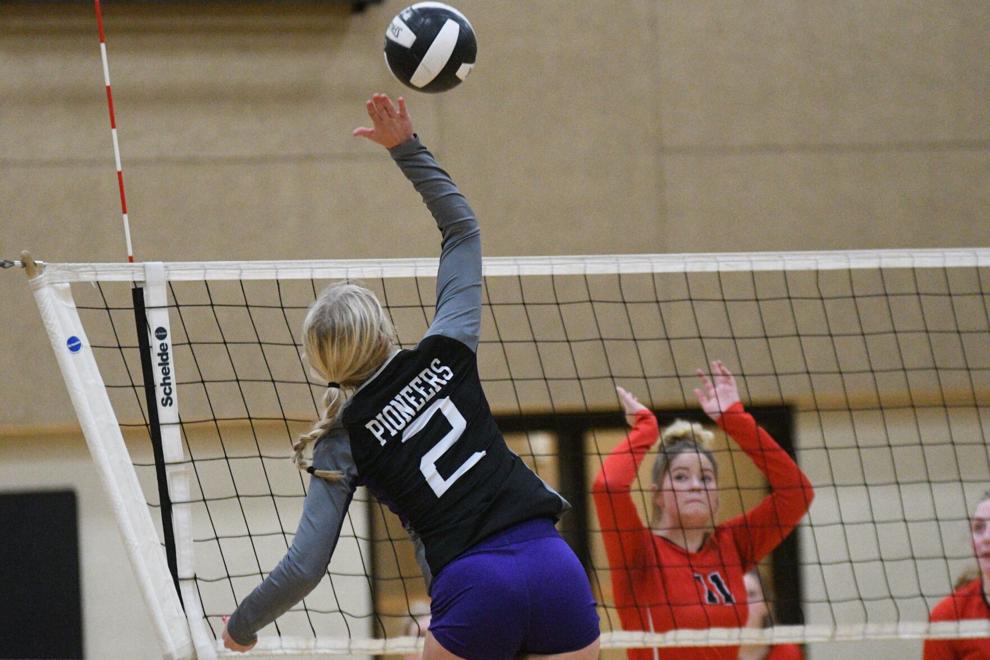 The Pioneers eliminated the Mountaineers in four sets (24-26, 25-22, 25-19, 25-14), taking the latter three straight games after losing the first.
Mount Baker controlled the entire opening set, holding an early 14-9 lead. Despite being the underdog, the Mountaineers came out ready to play.
Nooksack Valley did battle back to tie it at 21, but Mount Baker was able to stay one step ahead. The Mountaineers went up 1-0 following a 26-24 set victory.
Reinvigorated, the Pioneers decided it was their turn.
They never sacrificed their lead in the second once gaining it. Leading 22-16 late, Mount Baker chipped away at the deficit to come within two by Nooksack Valley's game point opportunity.
The Pioneers still got it done, 25-22, and tied the match at one game a-piece. They never looked back, either.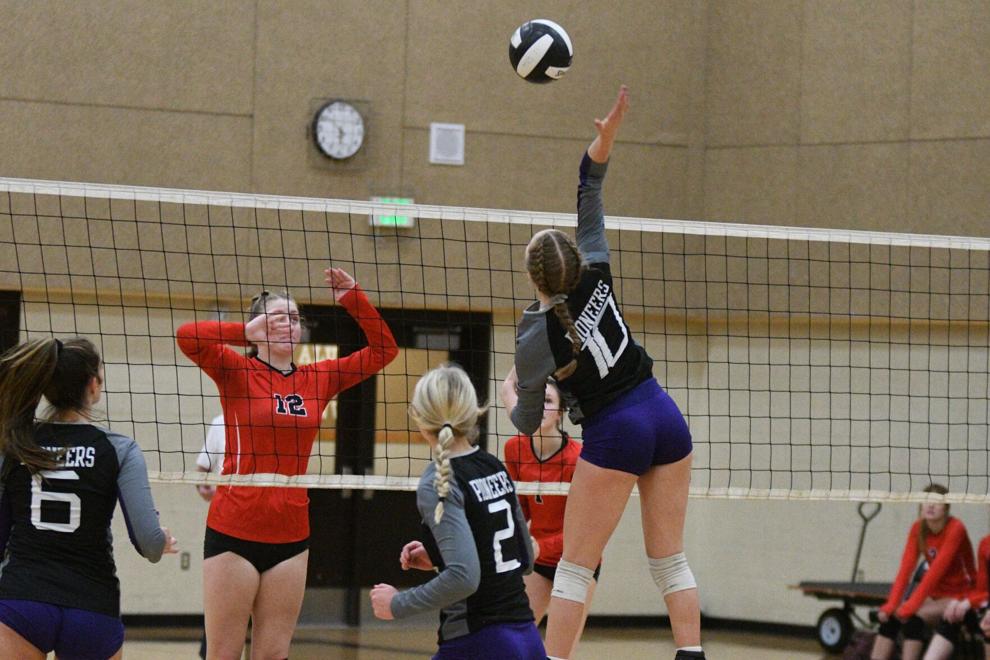 Winning the third set by six, it seemed Nooksack Valley had finally tapped into the energy they lacked in the first two sets.
Then they found the overdrive switch to seal it, taking the fourth 25-14 and advancing to the second-place game against LC.
Despite the loss, Mountaineers head coach Brittany Ross is happy with the progress her team made during the season.
"I am super proud of them, really," Ross said. "We had goals for a certain number of wins, we met that … they played their hearts out tonight. They battled really hard, I mean, we had nothing to lose, we were the underdog, right? We gave them a run for their money, I couldn't be prouder of them."
Ross is optimistic about what is next for her team.
"My juniors are really going to lead this team next year, and I see only growth from them," she said. "I've got a freshman that's on the court most of the time, and there's only good things to come."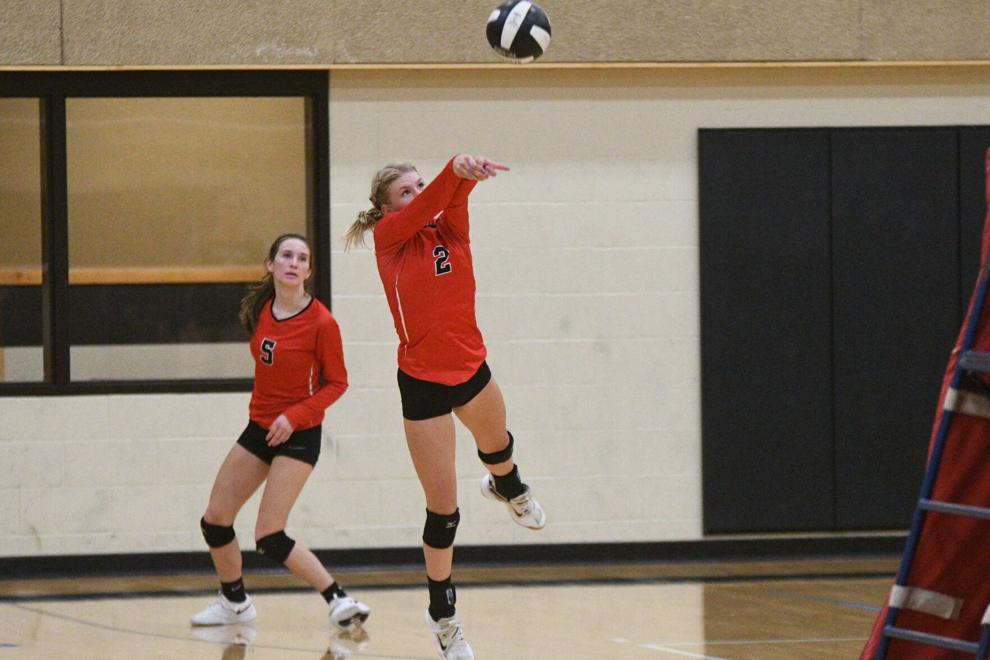 For Nooksack Valley, sophomore outside hitter Lainey Kimball had a monster game, tallying a team-high 20 kills and 31 digs. Junior outside hitter Hallie Kamphouse followed her up with 14 kills and 14 digs.
The Pioneers' senior libero Ellie Van Berkum led the team with 35 digs and three aces. Sophomore setter Devin Coppinger accumulated 14 digs defensively, coupled with 43 assists, 4 kills and 2 aces on offense.
Mount Baker was led by junior setter Grace LaVergne who stuffed the stat sheet, recording a triple-double of 16 kills, 30 digs, 12 assists, 2 aces and a block.
Junior outside hitter Rylee Ross tallied 7 kills and 27 digs, as senior outside hitter Trinity Anderson had 2 kills and 29 digs. Freshman setter Annalee Cohn finished with 19 assists and 6 digs.
No. 2 Lynden Christian vs. No. 3 Nooksack Valley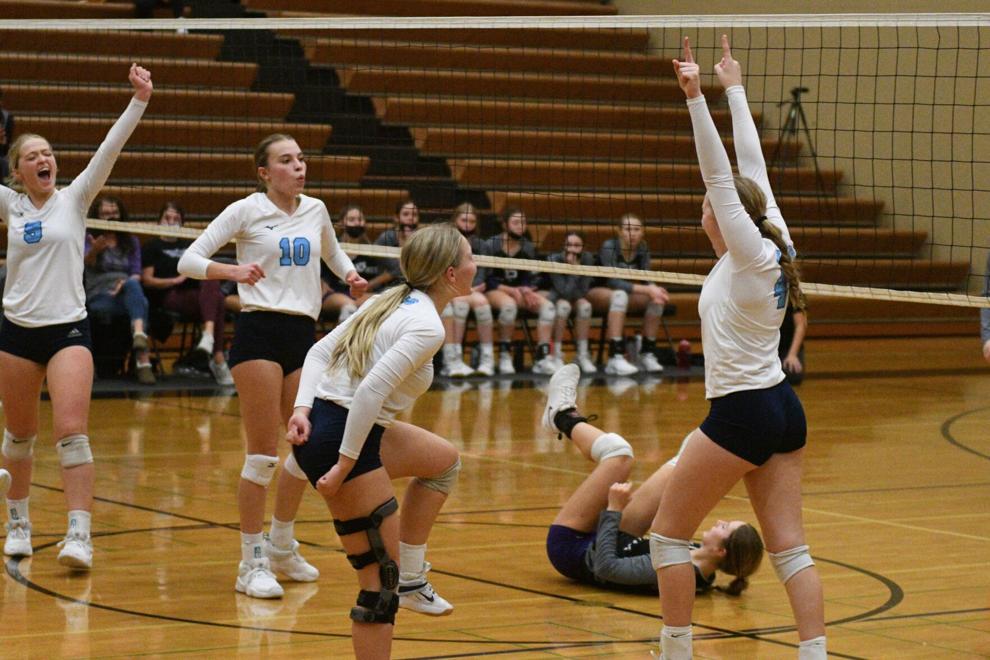 The Lyncs had their season on the line for the first time Friday evening in the second-place game; the Pioneers had survived once already.
Fortunately for LC, they were able to secure their spot in the 1A District 1/2 crossover with a five-set, rollercoaster match victory (25-14, 20-25, 25-20, 22-25, 15-9).
"It feels great," said Kristy VanEgdom, the Lyncs' head coach. "I feel like we've been through so many different hurdles this season with COVID and quarantine and on and off [playing], and we just haven't been able to find a consistent, solid two weeks together.
VanEgdom said the team's confidence has grown far from where it was at the beginning of the season, which was going to be needed for this matchup.
The Lyncs lost just over a week of their season at the end of September into early October due to a COVID-19 shutdown of the school's campus.
"It's been a long season but coming out with a new coach it's been exciting," said Lyncs junior libero Sofia Rader. "We deserve it, we played our best and played for each other."
Senior middle hitter Ava Decker shares the feeling Rader expressed.
"We've had our ups and downs this season," Decker said. "But I think this is really going to be our time."
From the jump, it didn't look like the match would go the distance.
LC ran out to a 17-7 lead to take a firm grasp on the opening game. The Lyncs didn't slow down, and it was a statement 25-14 victory to go up 1-0.
Remember how the Pioneers' match against the Mountaineers began? They mirrored it.
Nooksack Valley trailed 14-10 midway through the second but didn't go away quietly. They cut the deficit down to one, as LC led 19-18, forcing a Lyncs timeout.
The Pioneers continued to push forth, capping a 6-0 run by gaining a 21-19 lead. LC would only score once more before Nooksack Valley tied the match at 1-1.
At this point, it was clear we had a barnburner on our hands.
In typical Lyncs fashion they, too, stormed right back. However, an early 13-8 lead quickly dwindled to a long-standing two-point advantage. LC kept pace, leading 19-17 late in the third.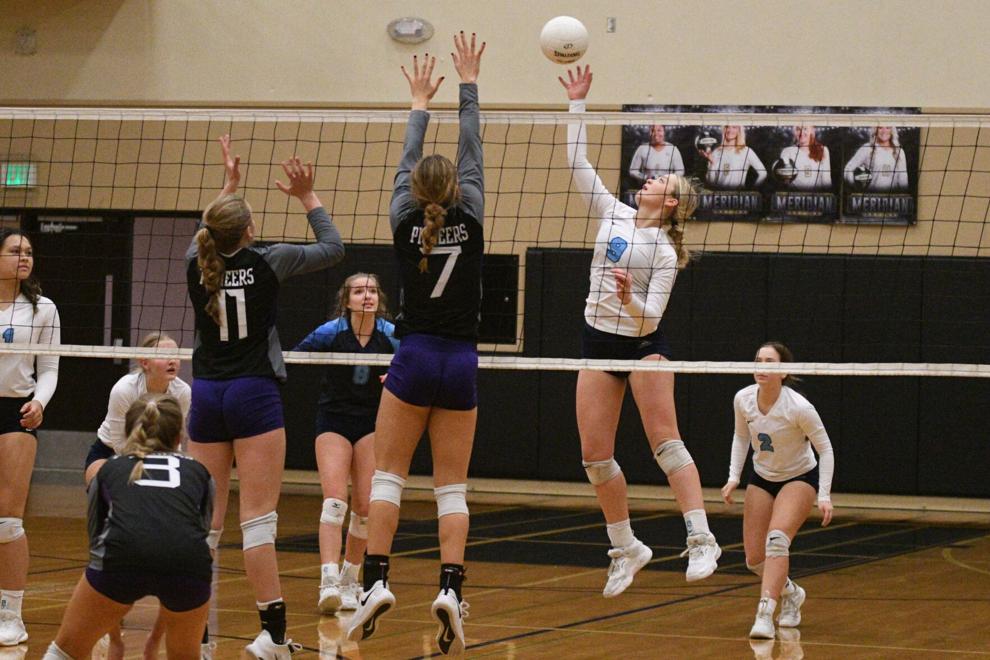 Pushing their lead back to six, the wind seemed to fade out of the Pioneers' sails. The Lyncs went up 2-1, winning the third game 25-20.
Nooksack Valley knew they had to bounce back once again. Luckily, they had no problem with that task all night long.
The Pioneers led the entirety of the fourth set, with their largest lead growing to eight. LC did, however, make a late push to put some pressure on.
Kimball continued her electric evening, killing the final ball to spur a fifth set.
When you think about a back-and-forth sporting affair, this was pretty much as close as it gets
Additionally, in a sport that plays to a best of five, and teams are trading sets almost algorithmically — you want to be the one who led first.
At the start of the fifth, it was all Lyncs. They scored the first four points of the set and didn't take their collective feet off the gas pedal.
Trailing 14-6 at the match-point — or season-point, if you will — it was now or never for the Pioneers. They scored three straight, trying to make a final run at victory.
Nooksack Valley served, and LC dug. A perfect assist from Lyncs senior setter Mayson Mellema was finished off by senior right side hitter Megan Smit, putting a careful tip over the top of the Pioneers' defense.
The Lyncs secured their spot in the crossover.
"From [playing] Meridian, they are a very strong team, and I think we dropped to not playing our best," Rader said. "We came from that to coming out stronger in the Nooksack game, and I think that really helped us play for each other and for our team."
For LC, junior outside hitter Reganne Arnold led the team with 14 kills, followed by senior outside hitter Reagan Schouten with 11.
Freshman middle/right side hitter Malia Johnson had 7 kills and senior middle hitter Ava Decker had 6 to accompany 4 blocks.
Smit had 5 kills in addition to the game-winner.
Nooksack Valley was led offensively by junior middle hitter Taylor Lentz, who accumulated a team-high 15 kills, 5 digs and 3 blocks. Kimball impressed once again with 11 kills, a team-high 21 digs and 3 aces.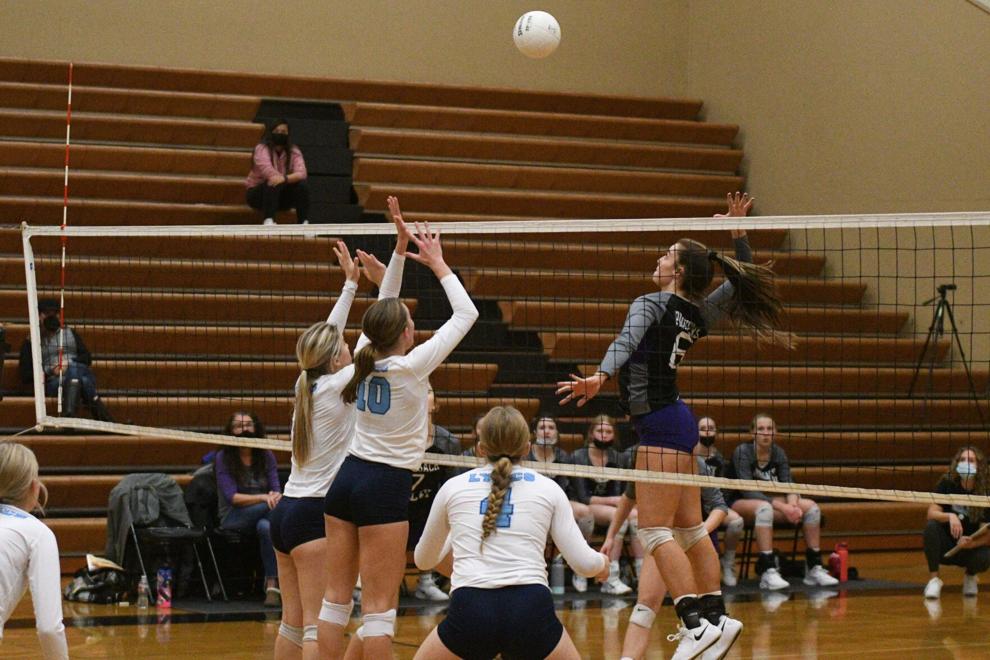 Coppinger recorded a triple-double, posting 10 kills, 32 assists and 17 digs, while Kamphouse had 8 kills and 17 digs.
Van Berkum was the Pioneers' defensive rock once again, leading the team with 31 digs.
"We had a pretty good strategy, and we prepared a good gameplan. The girls felt confident that we could execute it," said Katie Emmons, the Pioneers' head coach. "What happened is that we lost the serve-receive game, and it's really, really hard to win a match when you lose the serve-receive game."
Emmons is proud of the tenacity her team showed, even when trailing.
"They fight, they literally never give up," she said. "Even when we're down 14-9 [in the fifth set], they still fought, they still were good teammates, they're great girls to coach."
LC will play the first game of the 1A District 1/2 crossover, travelling to Kings High School on Saturday, Nov. 6, at 12 p.m. Meridian will play at 2 p.m. The opponents for each team is not yet available.