Trojans advance to second day of state tournament
YAKIMA — The Meridian boys basketball team is rolling at the right time. The Trojans picked up another win Wednesday afternoon, their sixth straight, with a 61-49 win over Bellevue Christian in the opening round of the state tournament at the SunDome. 
It's the first time in 10 years the Trojans have been in the state tournament. It would've just felt wrong for them to exit on the first day. 
It was a back-and-forth affair between the Trojans and Vikings for most of the game with each team having small bursts of rhythm, but neither group was able to turn those into a big run. 
Meridian led 14-9 after the first quarter, but would trail 26-25 at the half. The Trojans shot 36 percent from the field in the first half and go-to scorer Jackson Short was held to only four points. 
Trojans coach Shane Stacy said Bellevue Christian closed shooting lanes and forced them into settling for long 3-pointers for much of the first half. 
"They put [Bellevue Christian's Joseph] Primas there down underneath the hoop," Stacy said. "He wouldn't even go out on the perimeter and defend, he just stayed right there. That clogged up a lot of our alleyways."
Stacy said they were doing what they wanted to in the first half, but gave credit to Bellevue Christian for being able to slow them down offensively. 
Back-to-back layups from Short and senior Ryan Johnson, followed by a steal and 3-pointer from Jordan Veenstra gave the Trojans a 32-28 lead in the third quarter and forced a Vikings' timeout. Meridian took a 43-37 lead, its largest in the game at that point, into the final quarter.
The offense was finally able to break out and pull away in the fourth, putting up 18 points in the frame on its way to the 61-49 final score. 
Stacy said they were able to push through and string together a run by coming out in the second half and putting the ball in Short's hands. 
"We weren't getting him enough touches in the first half," Stacy said. 
Short scored a game-high 17 points, while senior Joseph Plagerman added 13 and Johnson contributed 12. 
This was the second meeting between Meridian and Bellevue Christian this season. The Trojans previously beat the Vikings in late December in overtime also in the SunDome.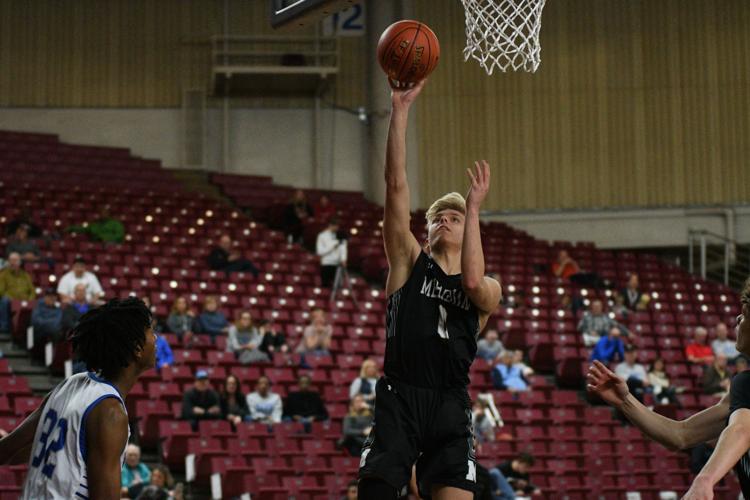 Stacy said playing Bellevue Christian earlier in the season was helpful in that the Trojans were able to look at and learn from what they did wrong in that game. 
"They beat us in so many statlines of that game, especially rebounding," he said. "They were 42-25 [in rebounding] when we met them back in December and we beat them 35-25 today, so we flipped that script and turned them over just as many times as last time. It worked out well for us that way."
Plagerman, one of the tallest players for Meridian, said getting in the way of Bellevue Christian's Primas was key in winning the rebounding battle. Plagerman grabbed two boards, but was a force inside on both sides of the ball for the Trojans. 
"I thrive in there. I love being in there. I wouldn't want to play anywhere else," he said. "[They've] got a big guy like Primas and you can't outjump him. It was just getting a body on him and getting him out of the way."
The win guarantees the Trojans at least two more games and will have them playing in the tournament until at least Friday.
"That game is just a huge win to get and just gives us even more confidence going in tomorrow," Plagerman said. 
Stacy said the team is able to relax a little more now that they've secured a win on day one. 
"You hate to define your season on one moment, but it certainly is a breath of fresh air right now to really get settled into Yakima," Stacy said. "We're excited to experience this."
The Trojans will step onto the court again at 12:15 p.m. against a familiar opponent in Lynden Christian. 
Stacy said it's a great opportunity for both the Trojans and Lyncs to showcase the talent in the Northwest Conference. 
"What more could you want," he said. "An opportunity in the state quarterfinals to play a rival — I just think it's awesome."