Trojans fall just short of trophy day at state with loss to Cashmere
YAKIMA — Sports are just a small part of life. 
That's the message Meridian coach Shane Stacy told his team after the Trojans' season-ending 62-56 loss to Cashmere Friday morning at the state tournament at the SunDome. 
A win would've put the Trojans in the 4th/6th place game tomorrow, but Meridian's season will come to an end at 20-10 overall. 
The Trojans and Bulldogs battled up and down the court for all 32 minutes with Cashmere's size advantage becoming an x-factor down the stretch. 
Meridian couldn't find an answer for Cashmere's 6'6 Carter Alberts in the paint. Alberts led the Bulldogs with 17 points. 
"He was the difference," Stacy said. "There's nothing complex about it. We just didn't have the bodies to throw at him and he did a great job."
The two teams were knotted at nine after one quarter and Meridian trailed 28-24 at halftime. Cashmere started to stretch its lead in the second half with Meridian seniors Jackson Short and Jordan Veenstra in foul trouble. 
It started to look like the game was slipping away from the Trojans early in the fourth quarter, but Short scored five straight points in what would become a 9-0 run to bring the Trojans back within three points late in the final quarter. 
The defensive press from Meridian was about to cause another turnover in the backcourt, but the officials ruled Cashmere called for a timeout just before a travel. 
The Bulldogs found a basket on their possession out of the timeout and would take back the momentum the rest of the way.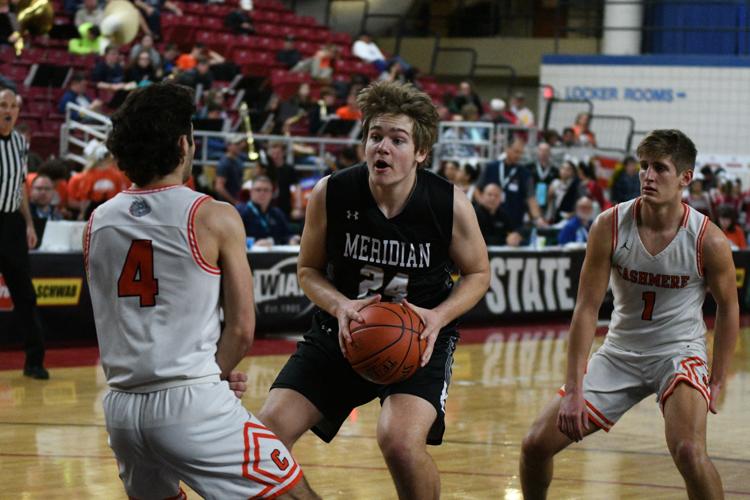 "That team did a great job of not getting flustered," Stacy said. "They don't go real deep and those guards did an awesome job. I'm really happy for [Cashmere coach Levi Heyen] because he's one of the good guys in the coaching business."
Short, who fouled out in the fourth quarter, scored a team-high 12 points while senior Ryan Johnson and sophomore Braiden Blackwelder added eight each. 
Senior Corey Hemenway said playing at state is something he and the rest of the seniors had been dreaming about since they were six years old playing together, along with changing the Meridian basketball program. 
"I think we all gave 100 percent effort and tried to give it one last stand as a brotherhood to go out with a bang, but we didn't get it done," Hemenway said. "Even though we won't get to spend one last day together we're still brothers no matter what."
Stacy said something similar in that he didn't care about winning a trophy tomorrow, he just wanted one more day with this group. 
"We always try to maximize the time we spend with our loved ones," he said. "You don't know how long you've got with them. That's all this was about. Just one more day."
Meridian will lose seven seniors next year including Cameron Webster who was injured prior to basketball season. 
Stacy said the group of seniors taught him a lot in how they responded after losing Webster during football season. 
"To regroup after we lost him and get this far was pretty cool," Stacy said. "It's almost unfair. I don't know if anything will ever live up to this group. This is the finest group of young men I've ever been involved with."