Trojans' sharp shooting and defensive pressure created problems for the Pioneers all night 
EVERSON — If there was any sign of rust from having an unexpected week off from the Meridian boys basketball team, it certainly didn't show Monday night against Nooksack Valley. 
The Trojans (9-3, 4-2 NWC) were firing on all cylinders the entire game as they toppled the Pioneers (9-4, 3-3 NWC) 68-54 and took over fifth place in the Northwest Conference. 
Meridian looked like it hadn't missed a beat as the Trojans jumped out to a quick 12-4 lead in the first three minutes of the game. Meridian led 25-12 after the first quarter. 
Trojans coach Shane Stacy said games being canceled because of the snow last week definitely throws the team out of its routine, but he thought they were able to work around it. 
"We try to emphasize there are some things that are out of our control and our energy is not one of those," Stacy said. "I thought we brought some good energy tonight. The guys did a great job."
Senior Jackson Short led all scorers with 22 points for the Trojans. Senior Ryan Johnson added 13 and senior Jordan Veenstra contributed nine.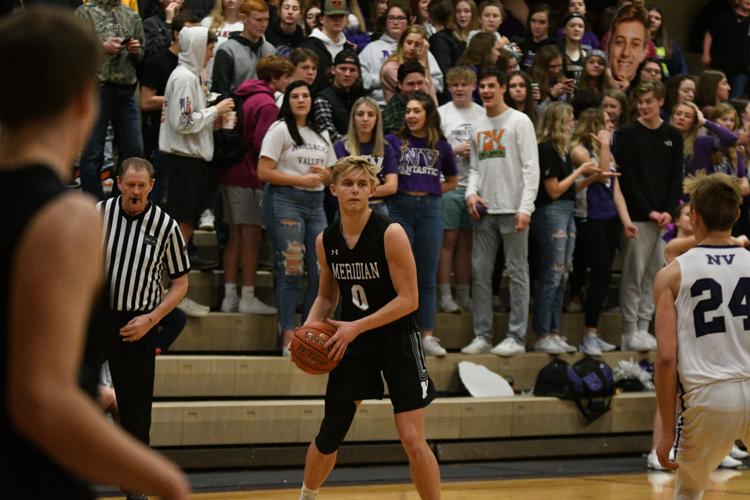 Early on, Meridian was finding points inside the paint which eventually opened up shots beyond the arc. 
"I think we had some really good interior passing early on and I think that opened it up outside for us and shot the ball well outside," Stacy said. "Pretty good selfless basketball and it showed tonight."
Short said the team wanted to try and move the ball inside as much as they could from the get-go. 
"We knew if we got the ball in the high post they weren't going to come and contest it," he said. "We would get the ball to the high post, have our guy attack the middle and our two bottom guys feasted on that all night."
Pressure from Meridian's defense forced Nooksack Valley into turnovers through all four quarters. The Pioneers also found themselves making unforced errors, continually giving the clicking Trojans' offense the ball back. 
"We knew they had one ball handler and we tried to make him as uncomfortable as we possibly could," Short said. "We let the rest of them dribble around, make their own mistakes and put as much pressure as we could without fouling. We knew their big guys weren't super aggressive so we took advantage of that."
Senior Cole Eldridge led the Pioneers with 14 points, while junior Cody Coppinger scored 12 and senior Keldon Weidkamp added 11.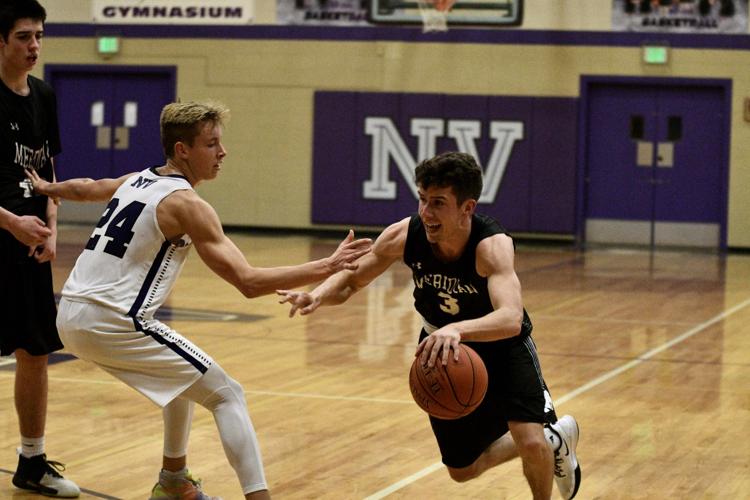 Getting Nooksack Valley into transition and shooting from the perimeter was a key part in slowing down the Pioneers' offense, Stacy said. 
"Our pressure provided some difficulties for them at times and got them out of rhythm," he said. "We tried to get them to go up and down the court a bit, rather than slow it down. At the half court they're pretty tough because they've got shooters and size inside."
It looked like the Pioneers were on the verge of making a comeback late in the game cutting the Trojans' lead down to eight, but back-to-back 3-pointers by Short and Veenstra proved to be the dagger. 
The Trojans next host Sedro-Woolley (6-7, 1-5 NWC) on Wednesday at 7:15. Nooksack Valley will travel to Lynden (10-1, 5-0 NWC) to take on the Lions on Thursday at 7:15.