Enthusiasm is contagious for building skills for fun, future
LYNDEN ­— With Lynden High School boys basketball capturing its second consecutive state title in March and Lynden Christian sending two of its stars to Division I programs — Cole Bajema to Michigan and Isabela Hernandez to San Diego State — basketball is going as strong as ever in town.
That excitement showed last week as 212 campers packed into Jake Maberry Gymnasium participating in two youth basketball camps held June 24-26.
"It's the most we've ever had," LHS boys varsity basketball coach Brian Roper said. "The pounding of the ball, I still hear it for a couple hours after practice. I'm not sure if it keeps me young or makes me older, but I sure love our week of camp."
Activity was in two sessions for each of the three days: 9 a.m. to noon for fourth through ninth grade boys, which had 116 kids, while the boy and girls in first through third grades went from 1 to 3  p.m.
The boys camp is in its 15th year. Three years ago, Roper and assistant coach Blake VanDalen saw enough interest to add the boys and girls of the younger age. Ninety-six kids turned out for that camp this year.
"That one is taking off like we never imagined," Roper said. "The coaches and camp counselors slept well at night. Those little guys just have so much energy. They're a lot of fun. Their joy and enthusiasm for being in the gym is contagious. By the end of the day, we were all pretty worn out — in a good way."
The camp was directed by the high school coaching staff, who instructed the camp counselors consisting of high school and middle school basketball players, who in turn did most of the actual coaching. There was about a 1-to-4 ratio of counselors to campers.
The fourth through ninth graders were taught fundamentals, terminology and skill work to help prepare them for the high school level. The younger kids learned ball handling and competed in relays and contests.
"If you put fun in any fundamental drill, kids will get better just as a product of a dribble relay or a shooting contest," Roper said. "We want to be a little bit goofy with the youngest kids and bring the fun to them. They give a lot back because kids who are turned loose in the summer have a lot of energy and they make it fun for the coaches and high school players."
Roper said he enjoyed watching the high school and middle school players work with the younger kids as well. They learned patience and how to teach from the ground up. Some of the basketball moms, who are also elementary school teachers, helped instruct the first through third graders.
While the event was focused on basketball and having fun, it's also part of the bigger picture of serving the youth in the community.
"We often remind our own [high school] players that they're role models in our town and it's a chance for them to serve," Roper said. "It's also a chance to build our own program. Our hope is that young kids fall in love with the game, learn some fundamentals and learn the importance of things like being a good teammate, playing with class and showing respect. It's all those things together that make it worthwhile."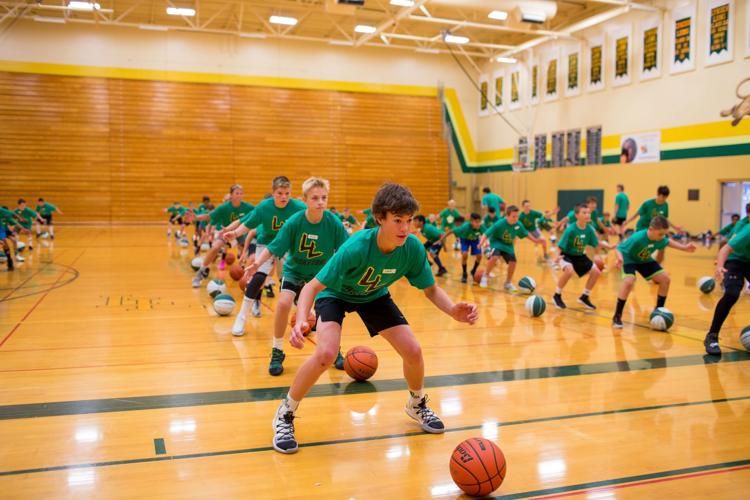 It won't be long before many of these kids are suited up in Lynden High School or other jerseys and showcasing their skills in front of parents, friends and fans.
"All the players on our varsity basketball team were at one time Lynden basketball campers," Roper said. "It's part of having the whole program that builds year after year. That's our goal.
"It's also a mutual thing. Because we live in a town where a lot of people love basketball, a lot of the parents of these campers played basketball. So it's kind of a natural fit because, let's face it, it's a town that has a history of loving and supporting basketball."
Roper hopes to see the program continue to grow. With record-breaking numbers this year in sports-crazy Lynden, it doesn't seem like too big of a stretch.
"For me, the best part is having a third grade kid high-five me and say he can't wait to come back next year," Roper said. 'That's what makes it worthwhile."