Steven DiLorenzo breaks school's single-game rushing record with 320 yards
LYNDEN — Instant classic. Barn burner. Whatever words describe a jaw-dropping high school football game can be used here. This is the one a fan hopes they don't miss.
No. 8 Lynden is 11 minutes away from an upset victory over No. 2 Steilacoom, then watches in bewilderment as its 21-point fourth-quarter lead evaporates in the span of four minutes.
The Sentinels throw a 14-yard TD strike; recover their onside kick; quickly throw another TD pass; then take a pick six 37 yards to pull within two at 49-47; all in four minutes and 28 seconds.
Players and hundreds of fans look on in disbelief. If there is a service dog in the stadium it probably scratches its head in confusion.
Steilacoom goes for the two-point conversion on each of its last two TDs and twice comes up empty-handed, highlighted by Lynden senior Eric Bode's defended pass that would have tied it up at 49.
That sets up an incredible turn of events.
Lynden comes up short on a 4th-and-1 from its own 48; The Lions then stop the Sentinels pass on 4th-and-15 with 3:50 to play; Bode hauls in a 21-yard reception on a 3rd-and-19 to put the Lions on Steilacoom's 37-yard line with 1:50 to play.
Holding on to a 49-47 lead, Lynden faces 4th-and-15 from the Sentinels' 45-yard line with :46 seconds left in the game. The Lions have three options: either kick it out of bounds and move the ball about 15-20 yards back; punt to the No. 1 junior athlete in the nation, Steilacoom's five-star wideout Emeka Egbuka; both of which eventually put the ball in the hands of Egbuka. Or the third option: be bold and go for a first down.
"There's one human being out there that we absolutely can't let the ball get to," Lynden coach Blake VanDalen said.
The Lions line up four wide, with senior Brock Heppner alone at the far sideline. Egbuka is back deep to return what the Sentinels think is going to be a punt.
"[Steilacoom's] corner was talking to me, 'I hope they throw it your way. I hope they throw it your way.' I didn't say anything. I just ran my route," Heppner said.
Junior Baylor Ayres takes the snap, Heppner runs a go route down the sideline, gets separation and reels in Ayres' on-the-money throw at the 22.
"The ball was thrown perfectly by Baylor," Heppner said. "I couldn't have caught it if it was anywhere else."
Steilacoom corner Jayden Coalson, who has three receiving TDs of his own on the night, misses the tackle and falls. Heppner sprints down the sideline with one defender to beat.
"I saw [Egbuka] and I was like, 'Don't get tackled,'" Heppner said.
Egbuka takes a bad angle, the two meet at the 10 and Heppner cuts back toward the middle of the field at the last second and beats Egbuka and another defender to the end zone, diving. Lynden senior Marko Samoukovic knocks in the extra point to put the Lions up by nine with 46 second remaining. The game is all but over.
Senior corner Evan Potter snares a leaping interception moments later with six seconds remaining to seal Lynden's 56-47 win over Steilacoom.
"That was probably one of the most exciting high school football games in a long time," VanDalen said. "It had everything; ups and downs for both teams, fast scoring, methodical scoring, great defense, mistakes."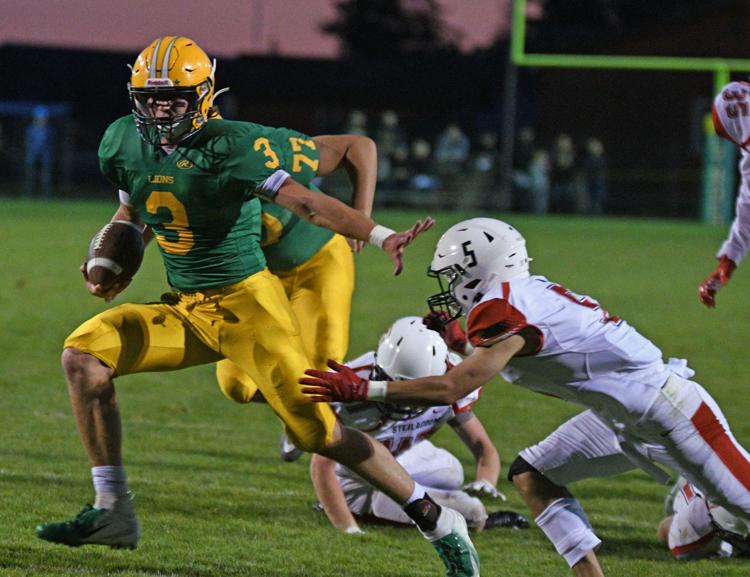 The fourth-down call was just one of many daring decisions made by VanDalen and the Lions throughout the night. It started after Lynden scored on the opening drive of the game, which led to Samoukovic's squib kick that caught Steilacoom off-guard and gave the Lions the ball back.
Senior tailback Steven DiLorenzo, who finished with three rushing TDs, then punched in his second-straight rushing score and before the crowd could catch their breath Lynden (2-1) led 14-0 just over six minutes into the game.
DiLorenzo would end up breaking the school's single-game rushing record with 320 yards on 25 carries. That's 12.8 yards a pop. The previous record was Nick Ellis' 311 yards against Anacortes in 1996.
"It felt amazing," DiLorenzo said. "I've been waiting since last season when I hurt my leg. I've been waiting for those big holes to appear and take off."
Steilacoom (1-2) would come back to tie it up at 14 all, starting with Ebguka's 46-yard touchdown reception down the sidelines where he burned double coverage.
But Lynden pounded the ball with a relentless run game, highlighted by big yardage from DiLorenzo and Caleb Wheeler. The Lions took a 35-21 lead into the break. DiLorenzo's 65-yard TD jaunt, his third of the night, gave the Lions their largest lead of the game, 49-28, with 14 seconds left in the third.
Even with that 21-point cushion, the lead never felt safe. Steilacoom had passing plays of 87, 45 and 42 yards at that point, and Egbuka was a threat to score any time he touched the ball.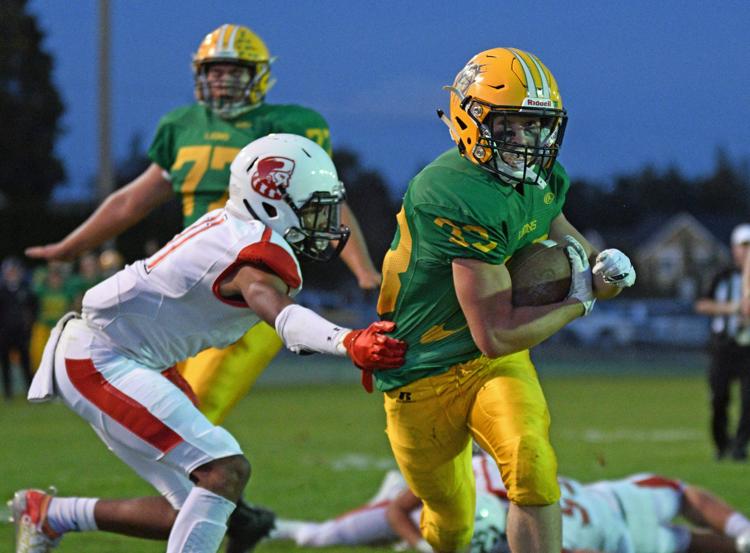 Turns out, the lead wasn't safe.
The Lions watched their 49-28 fourth-quarter lead vanish over four minutes as Steilacoom mounted a furious comeback attempt.
The 6-foot-1, 190-pound Egbuka, pulled in a 46-yard reception that set up the Sentinels' first of three scores. Steilacoom then recovered an onside kick, scored again, and Egbuka jumped a slant route and took a pick six 37 yards to the house to pull the Sentinels within two at 49-47.
Bode's heads-up play on the Sentinels' two-point conversion pass prevented the Sentinels from tying it up with 6:48 left to play.
It was a rollercoaster ride marked by two top-flight teams that made each other pay for their mistakes; from Steilacoom's two pick sixes, to Lynden's squib kick and fourth-down masterpiece.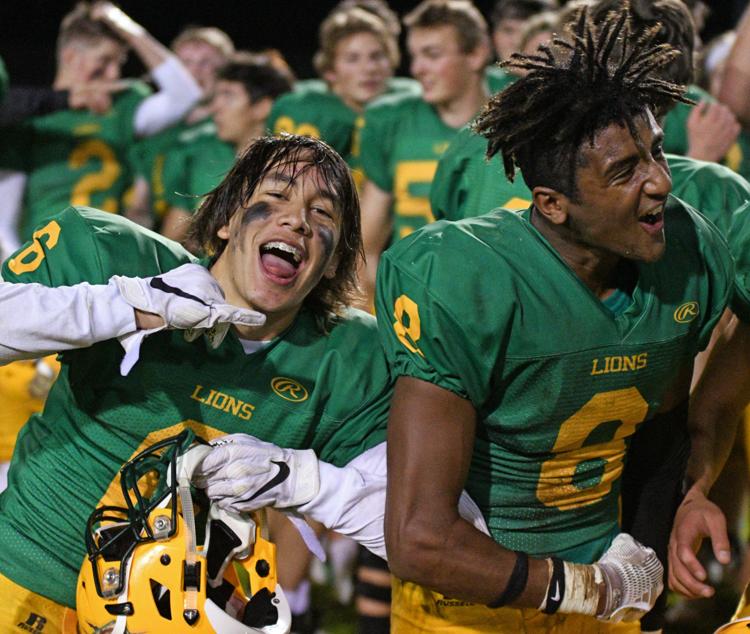 "It was one of the craziest things I've ever been a part of," said Heppner, who finished with a TD pass, run and reception. "I don't even know what happened, really."
The Lions rushed 54 times as a team for 455 yards, possibly a school record that is being confirmed by the coaching staff.
Now Lynden faces another top-10 opponent in fourth-ranked Archbishop Murphy, a team coming off a 27-21 upset over top-ranked and two-time defending champion Hockinson.
"Unfortunately, on Monday, I get to tell [the team], 'That was fun. But it's 0-0. It wouldn't matter if were 0-3 or 3-0. It's 0-0," VanDalen said. "They get the weekend, but Monday it's all about league, finally. Now we'll see how much better we can get."