ELLENSBURG — In the final game of the season, the Lynden Lions volleyball team fell to White River High School in four sets (25-19, 17-25, 17-25, 26-28). With the loss, the Lions finished sixth in state for the 2019 season.
The Lions were able to take the first set of the match, something they accomplished in all four games they played over the course of the whole tournament. The set point came on an error by White River. The Lions were unable to get much momentum for most of the second and third sets.
The final set was a thriller. Lynden trailed White River 20-14 before going on a 10-3 run to take a 24-23 lead. The Lions were unable to secure the set point and White River tied it up at 24-24. Both teams battled for advantage until eventually White River capitalized, scoring back-to-back points to win the set 28-26 and win the match 3-1.
Lynden coach Chris Elsner was happy with how the team responded to the tough middle part of the match.
"It was a back and forth game, but we found it again in the fourth set. I think being able to respond is what we've been able to do all year," Elsner said. "I'm always just so happy when they're able to respond and keep scoring and they did that, they found it."
Elsner also talked about the team's resiliency in the final set. Despite the loss, she felt that the team deserved credit for keeping their heads held high.
"They just never give up on anything, they always find a way," Elsner said. "Today, it wasn't our day to finish strong but it in no way defines our season. They're just amazing student-athletes that choose to find joy in everything they do and it's just so fun to coach that culture."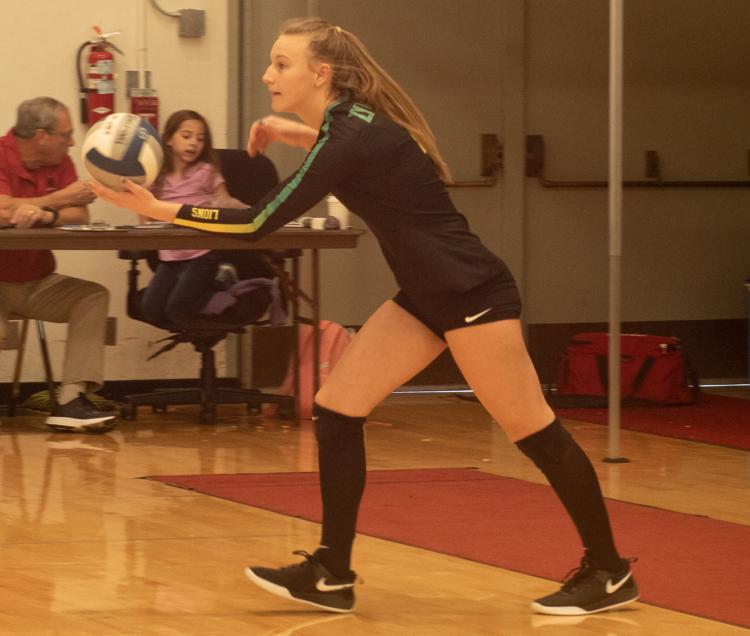 For six seniors on the team — Emily House, Kennedy House, Savonne Sterk, Sophia Ingalls, Elisabeth Petersen and Robin Scarlett — this was their final high school volleyball game.
Emotions were high after the game, and even though the team couldn't end the season with a win, senior setter Robin Scarlett said she wouldn't have wanted it to be any other way.
"We've come so far. We could've finished better and it would've been nice to finish better but I wouldn't have wanted to place any better or any worse with any other team," Scarlett said. "I'm so happy and content with how far we've come as a team."
Scarlett finished the match with a team-high 39 assists, as well as 16 digs and four blocks. Junior outside hitter Anna Vanderyacht finished with 15 kills, 24 digs and one block.
Junior middle hitter Faith Baar had 15 kills to go along with two digs and four blocks. Senior libero Kennedy House had 15 digs and senior outside hitter Emily House had 11 digs. Senior middle hitter Savonne Sterk finished the match with 10 kills and 15 digs.
"We've been playing with each other since like sixth or seventh grade," Sterk said. "They're just a bunch of goofs and they just like to have fun and we just really enjoy being with each other."
Elsner thanked her assistant coaches after the game for all the hard work they put in this season.
"They are incredible and they put in endless hours," Elsner said. "They are committed to all the little things it takes to create a program like ours. They know how important it is to help our players grow. They're amazing."
Lynden finished the tournament 2-2. Their overall season record was 17-4, including postseason games.