Senior Maddie Nolte provides Lions' spark in 2-0 rivalry win
LYNDEN — Lynden girls soccer coach Carlos Melendez noticed his team was lethargic in the first half against Lynden Christian after taking a scoreless tie into the break. One non-starter, senior Maddie Nolte, was energetic, however, so he decided to start her in the second half.
Less than five minutes into the second half, Nolte chipped a shot from six yards out that snuck past Lyncs' keeper Ellie VanHulzen's left hand and into the back of the net, giving the Lions the spark they needed en route to a 2-0 league win on Tuesday at Bender Fields.
"We got a quick one and it settled everything down," Melendez said.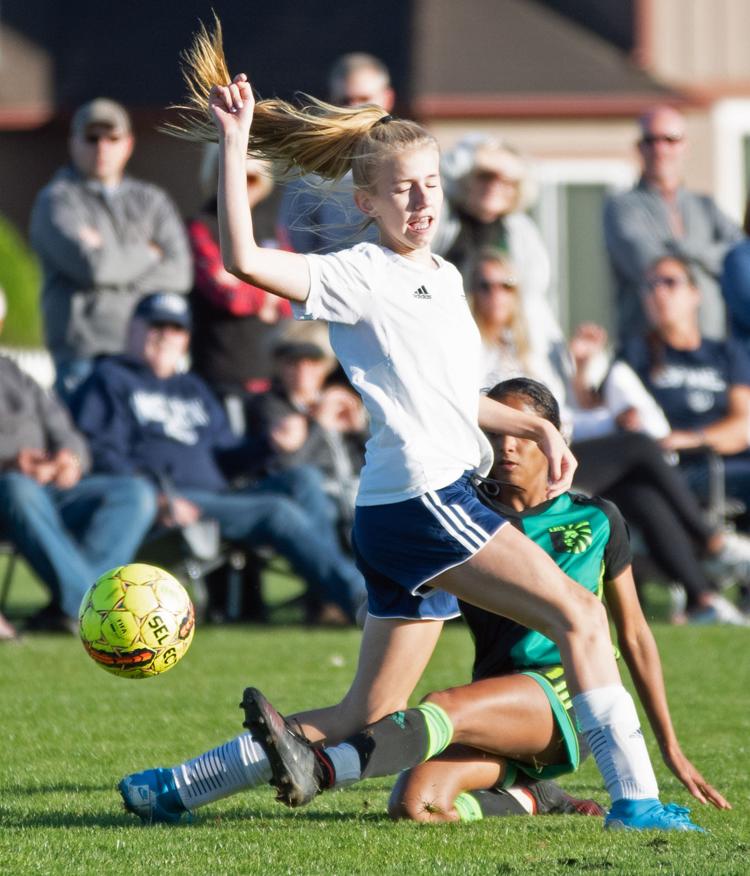 It had been a physical dogfight to that point, with both teams playing to a stalemate with equally ferocious defenses. Junior midfielder Ellsie Saldivar, the Lions' leading scorer on the season, knocked in a short penalty kick late in the second half for good measure to help seal the cross-town rivalry win.
"It's our rival, but we're good friends with them," Nolte said. "It's fun to play against them. It's a wonderful experience as a senior."
The win gives undefeated Lynden (8-0, 5-0 NWC) possibly its best start in program history. The Lions had never advanced to districts when Melendez took over as coach in 2014, and this is by far his best start ever, he said. They broke off a 10-match win streak two years ago, but have never started this hot.
The Lyncs weren't going to make getting that eighth-straight win easy. Melendez figured the LC would come back stronger this time around after falling to the Lions 3-1 in the season opener.
The Lyncs' loss wasn't for a lack of effort. It's just that the Lions were able to capitalize when it mattered, and when the Lyncs were given opportunities they didn't take advantage of them, Lynden Christian coach Blake De Ruyter said. Still, it was a step in the right direction.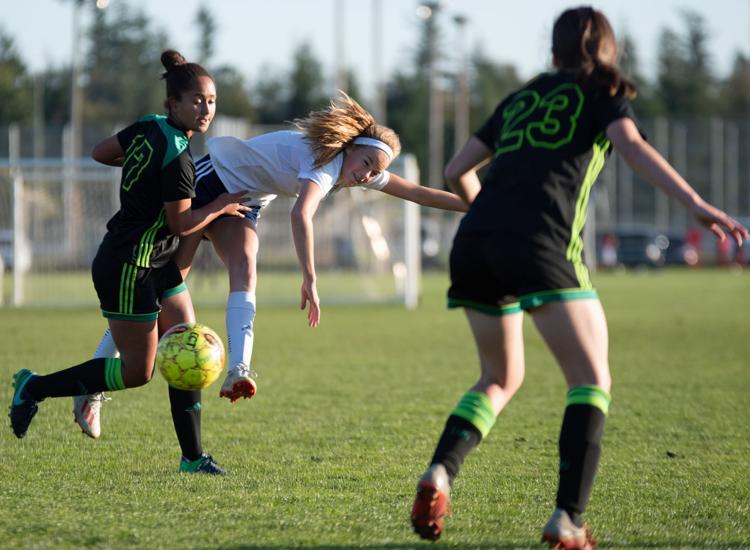 "Our ability to track back defensively, hang with them and match them physically, for the majority of the game, it was a huge step for us," De Ruyter said. "Our first battle I felt we didn't always match that physicality. That was a key for us."
LC tested Lynden's physicality the entire first half, something that has become a badge of honor for the Lions this year.
"We knew [LC] was going to come out ready to play — and they did," Melendez said. "They're a big, physical team and they have athletes, just like we do. They take anything out of the air."
But what was a good first half for the Lyncs became a great second half for the Lions. Nolte notched her goal to start the second half, the Lions settled down. They started changing pace and getting more involved, which created opportunities up top.
The Lions depth, one of the team's hallmarks, was a factor as well. Melendez once again rolled out all 18 players to try and wear out the Lyncs.
"Any time you can do that and not lose any levels of energy skill level it's always a plus," Melendez said.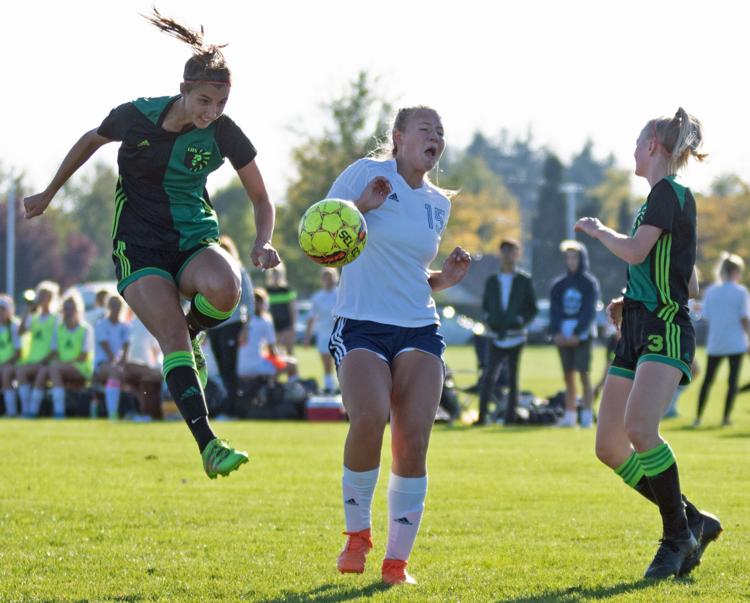 It also helped that two of Lynden's forwards are state-class sprinters. Junior forwards Jenna Smith and Mercy Berkmeyer were both a part of Lynden's state champion 4x400 relay team in 2018.
"Our forwards are fast," Melendez said. "You put them up there and you let them run and it creates all sorts of problems on the wings."
LC was hampered a bit when one of its key defenders, senior Maggie VanderGriend, went out early in the first half with an injury. But her replacement stepped in admirably, De Ruyter said.
"With Maggie getting hurt early, that could have been a difference maker, and it wasn't," De Ruyter said. "Holly VanHofwegen stepped in and did a great job at center back and I really don't think we lost a step at all."
De Ruyter saw major improvements from his team across the board since that week one matchup. The Lyncs were in the tape room Monday reviewing film as the coaches wanted to show the players how much they've improved.
"They were looking at themselves and laughing because it's just so different; to a point where they said, 'OK, can we stop now?'" De Ruyter said.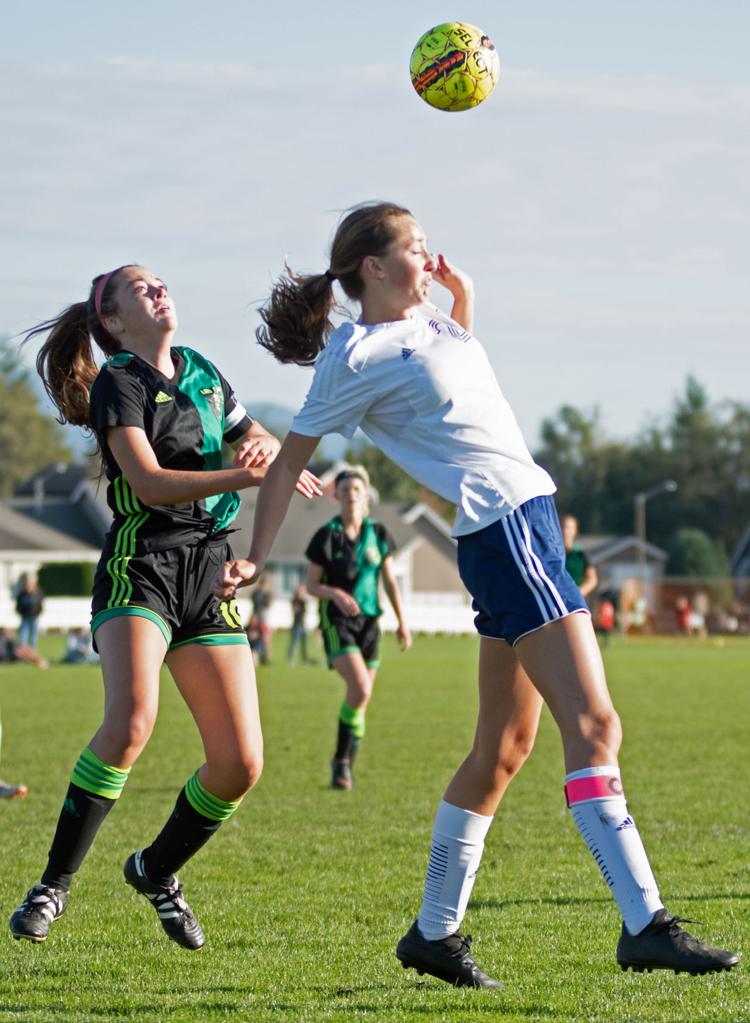 The Lyncs likely won't face a 1A team as physical and fast as Lynden, at least not until deep into the playoffs. But if and when they do, they'll be ready after Tuesday's battle, De Ruyter said.
"That's what the girls have to remember: this is great preparation," De Ruyter said. "You get to play a team of this caliber and it's going to matter when it gets to the postseason."
For the Lions, they're not worried about the win streak. They're concentrating on their next opponent, Meridian (2-5-1, 1-3-1 NWC), when they travel to Laurel for a 4 p.m. match on Thursday.
"It's just taking it one game at a time," Melendez said. "That's the hard part, focusing one game at a time, trying not to look ahead in the schedule."
The Lyncs next host 3A Ferndale (4-3-1, 3-2-0 NWC) at 4:30 p.m. on Thursday.