Lynden's Kennedy House tallies game-high 20 digs
LAUREL — Lynden volleyball rebounded from its first loss of the season by sweeping a previously-one-loss Meridian team (25-20, 25-16, 25-19) in a Northwest Conference match Thursday night in Laurel.
Lynden's (5-1, 4-1 NWC) four-match streak to start the season came to an end Tuesday in a high-powered battle with LC, but the Lions rallied Thursday to fend off a fiery Trojans squad.
"I think the girls were just excited to get back into the court," Lynden coach Chris Elsner said. "It's good to play volleyball again and regroup."
The Lions were without 5-foot-8 junior middle hitter Sierra McPhail, who suffered a concussion in the LC game after getting hit on the head by an elbow while blocking. McPhail will be out at last week, Elsner said, and has a doctor's appointment on Monday for further evaluation.
It was a marked improvement for the Lions against Meridian as they dominated the second and third sets after settling in.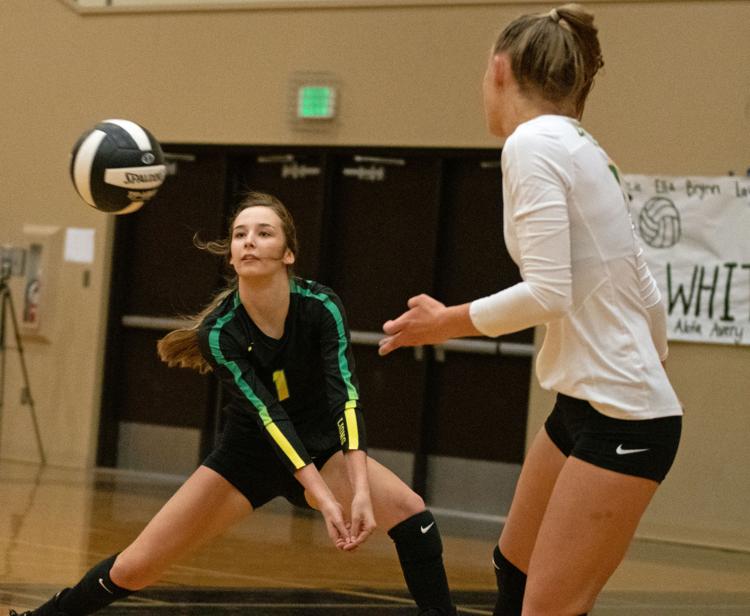 "It feels good because we were focusing on putting everything together, especially from LC," said senior libero Kennedy House, who had a game-high 20 digs. "We had good team flow. That helped us get a good pass, set and hit and putting it away."
The Lions were focused on uniting as a team and shoring up some mistakes they had made two days ago. House said they refined one of those especially well.
"Definitely serving," House said. "I thought that was a lot better; and picking spots on their court and really picking them apart."
House and junior outside hitter Anna VanderYacht each hit three aces, while Emily House recorded two.
VanderYacht led with a game-high 12 kills to go with 12 digs. Senior setter Robin Scarlett had a game-high 31 assists. Senior outside hitter Savonne Sterk registered nine kills and four digs, while Emily House added five digs and four kills.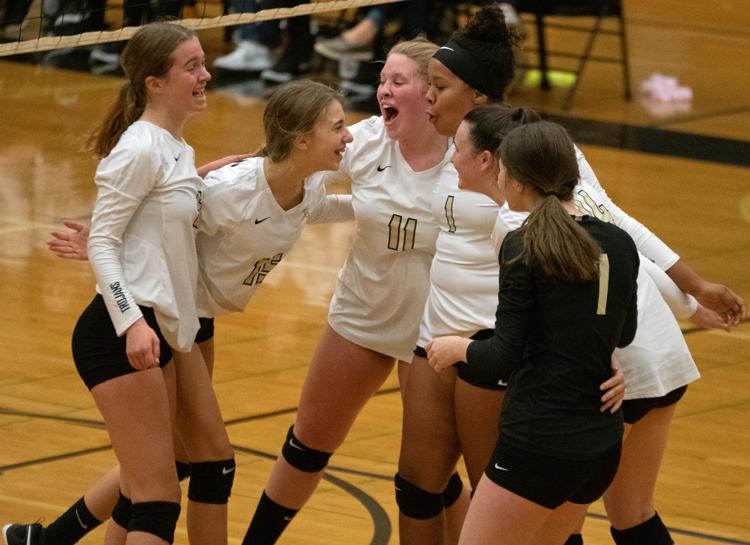 The Trojans (5-2, 3-2 NWC) had won five of their first six games entering Thursday's matchup with Lynden, toppling 2A schools Sedro-Woolley and Anacortes along the way, only losing to undefeated Burlington-Edison.
Despite falling to the Lions, eighth-year coach Shannon Claeys was pleased with how her team battled against 2018's 2A state runners-up.
"There was a lot of positives tonight," Claeys said. "We played hard, didn't give up and that was good to see. I'm really proud of the way they played."
Sophomore setter Malaysia Smith had a team-high 24 assists. Senior outside hitter Makenzie Flake led the offensive attack with eight kills to go with eight digs. Sophomore middle blocker Alofa Fraser had seven kills and zero errors on .778 hitting, and sophomore Finnley Claeys added nine digs and six kills.
The Trojans had trouble matching Lynden's hitters, and made errors in key moments that let the momentum swing back in the Lions' favor. The Trojans also didn't capitalize when Lynden made errors of their own.
"Lynden is a very strong team," Claeys said. "They have some strong hitters and we managed their hits pretty well, most of the time, but we couldn't put the ball on the court when we needed to."
The Trojans' touches on the block helped set up their defense that was in-sync most of the night, Claeys said. It's all a part of the Trojans' never-give-up attitude that has helped them early-on this season.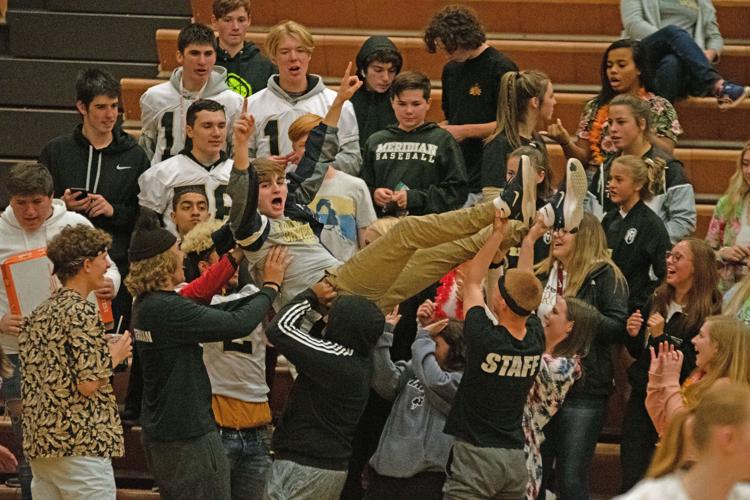 Meridian has come out on top in a few close matches this year, including during a five-set win over Anacortes on Wednesday. Every set other than the fifth was within two points. The Trojans even came back from a 20-11 deficit and won. Same against Sedro-Woolley, where they trailed 24-17 and rallied for the win.
"Seeing them never give up, keep fighting and making plays, it's really exciting," Claeys said. "They're a hard- working group and really fun to coach."
The Trojans' goal is to qualify for state this year, something they haven't done since 2009, when they went two-and-out. They won state titles in 1998 and 2004.
Going toe-to-toe with some of the top 2A/3A teams in the state, like Lynden and Burlington and Ferndale, is helping prepare them for what they hope will be a deep postseason run, Claeys said.
"They want it so bad," Claeys said. "We know we have a lot of work to do. We just have to keep fighting and believe in ourselves, and I think this group really does believe."