Any evidence of a weekend snowstorm was absent as the Lynden and Nooksack Valley cross country teams ran the Ramstead trail in Everson for their first races of the season.
The snow had melted, the sun was out and for the first time in more than a year, there was competitive high school cross country in Whatcom County. 
A sense of relief and excitement filled the air from runners and coaches throughout the duration of the 3200-meter race.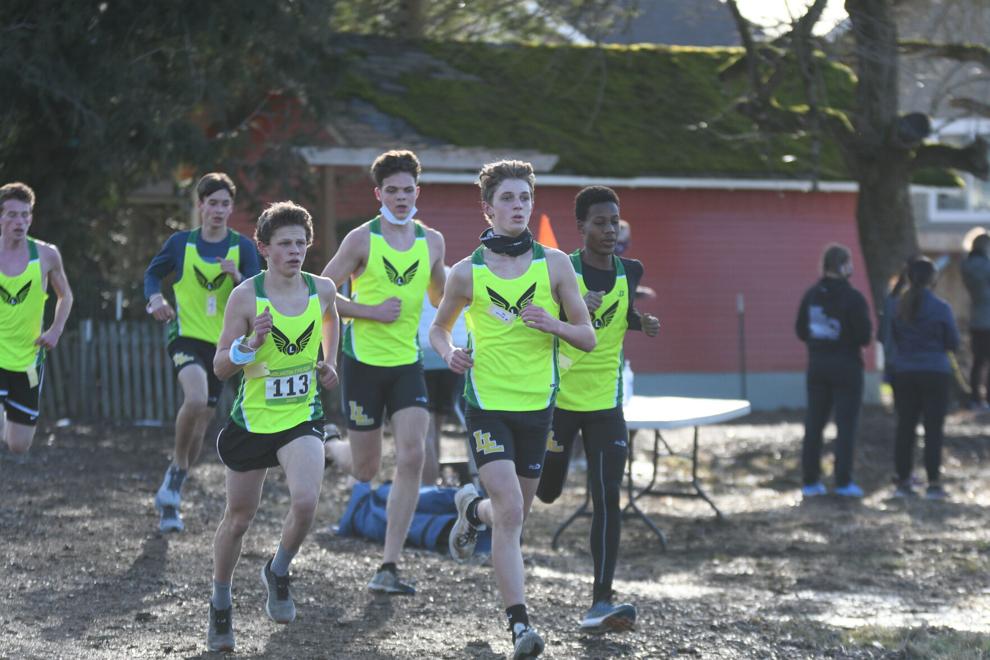 Lynden head coach Layne Hutchins said it was awesome just to see them running again. 
"We've had a good group of these kids who for the last two and a half, three months, have been getting together on their own about five days a week," he said. "To finally have them be able to run competitively is just so cool."
Lynden sophomore Caleb Schouten won the boys' race with a time of 13:51.19. His teammate, freshman Gage Ellis, wasn't far behind him with a time of 13:51.67. 
Nooksack Valley senior Troy Riley finished in 15:51.81, good for first on the Pioneers and eighth overall.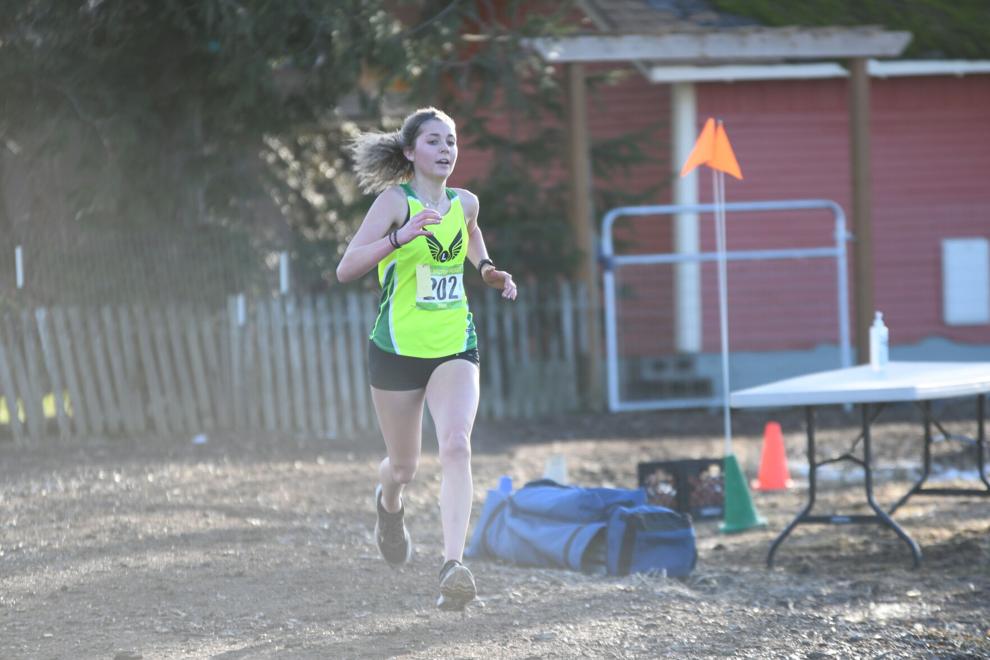 On the girls side, Lynden sophomore Anna Ellis finished first in 17:16.29. Junior Noa Lovegren finished in 17:47.36 and freshman Olivia Verburg finished with a time of 18:04.54 for second and third place, respectively. 
For Nooksack Valley, senior Lily Snow finished first on the team and fourth overall in 18:12.83.
Pioneers head coach Madison Guillen said Snow, the rest of the girls and the boys team were all impressive in their first competition. 
"All of them did fantastic," Guillen said. "The community is really excited to see them out here competing again."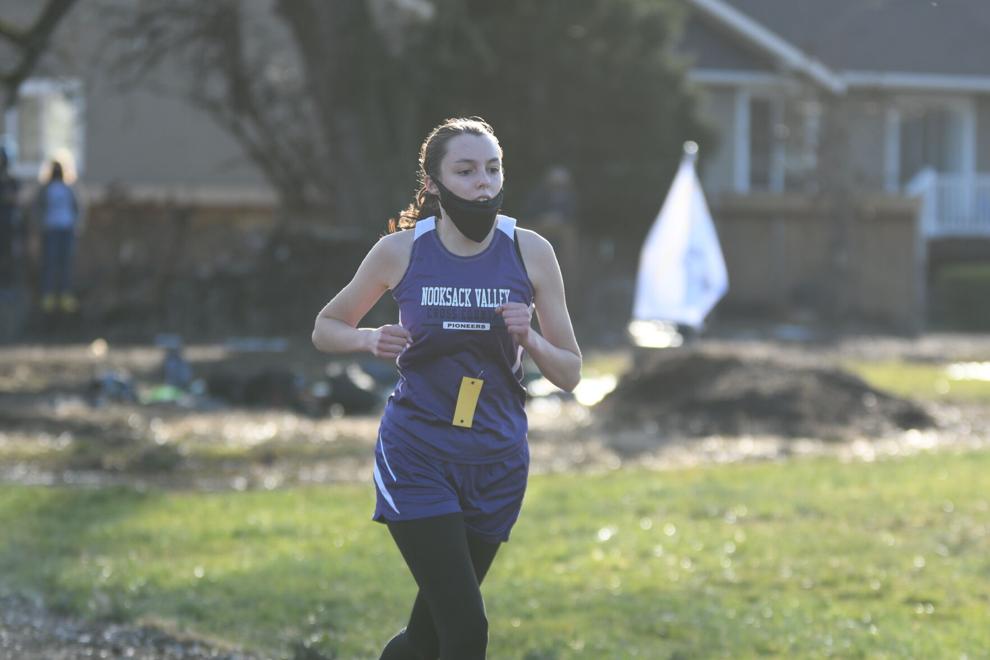 Being the first race of the season, Hutchins said he thought both the boys and girls team looked strong.
"Our general game plan was to run the first lap fairly easy, be under control and then try to run a little faster and a little faster. Our kids did that," he said. " It's good in cross country not to run the first part too fast and feel miserable for the rest. I'm positive and I think they came away positive too."
Guillen said she wanted to see everyone give it their all, but there was also a bigger picture.
"They haven't been out here for so long it's really more about them being out here and getting used to running, being out in the environment and nature and enjoying being outside again," she said. 
Heading into a season without a culminating event like state is different, so individual and team goals have also been adjusted.
Hutchins said the big thing is making this condensed season something for the kids to enjoy. 
"I told them the other day there's no big carrots out there this year," Hutchins said. "There's no big invites that are fun things and there's no district or state. We need to enjoy it, but let's work and try to improve. I think they've bought into that so it'll be fun to see what happens."
Up next for the Lions is a home race Thursday, Feb. 25, against Mount Baker at 3 p.m. Nooksack Valley will travel to Lynden Christian Wednesday, Feb. 24, for a 3:45 p.m. race. 
1. Caleb Schouten, soph., Lynden, 13:51.19 
2. Gage Ellis, fr., Lynden, 13:51.67
3. Porter Wilhite, soph., Lynden, 13:53.79
4. Noah Krause, fr., Lynden, 14:11.28
5. Vincent Medina, soph., Lynden, 14:15.27
6. Kai Wolfisberg, soph., Lynden, 14:15.82
7. Daniel Mrak, fr., Lynden, 15:37.53
8. Troy Riley, sr., Nooksack Valley, 15:51.81
9.Ruben Perry, jr., Lynden, 15:57.85
10. Eric Riley, sr., Nooksack Valley 16:20.46
1. Anna Ellis, soph., Lynden, 17:16.29
2. Noa Lovegren, jr., Lynden, 17:47.36
3. Olivia Verburg, fr., Lynden, 18:04.54
4. Lily Snow, sr., Nooksack Valley, 18:12.83
5. Anja Lovegren, soph., Lynden, 19:10.99
6. Merry Tamminga, jr., Lynden, 19:34.49
7. Karis Oommen, jr., Lynden, 19:45.30
8. Melissa Brossow, jr., Lynden, 19:54.14
9. Ame Harlan, soph., Nooksack Valley, 20:07.46
10. Kennedi Wilson, sr., Lynden, 20:44.66